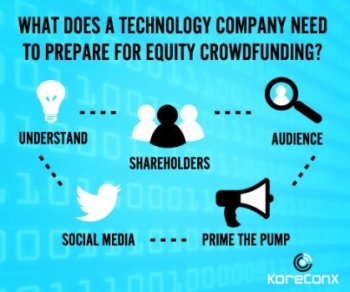 Equity crowdfunding has been gaining momentum as regulated crowdfunding. With its ability to reach a large global audience, many start-up companies are beginning to turn to equity crowdfunding as an alternative to other private equity models. Before launching your tech start-up on a technology-based platform, however, there are a series of steps that you should go through to ensure the highest probability of success.
Understand the Environment – Is Equity Crowdfunding the Right way to Raise Capital for your Company?
Before focusing your company's equity efforts towards crowdfunding, it's important to make sure your company is a fit with raising capital through an equity crowdfunding platform. Additionally, you'll need to decide on the offering type of either equity or debt you want to use to raise capital.
Equity crowdfunding is best suited to companies with a strong social following. As equity crowdfunding's momentum has been highly supported by advances in mobile technology and social media that make access to funding portals highly ubiquitous, it's paramount that your company have a large social media presence and following. If you don't yet have that, then you might not be ready yet for a successful campaign.
Prepare your Start-up to Offer Shares and Gain Outside Shareholders
Start-ups using equity crowdfunding portals are subject to full disclosure. This means that firms must provide financial statements that are reviewed by accountants. In addition to providing financial statements, companies issuing securities are required to file a form known as a prospectus, which outlines additional details of the investment and its associated risk.
The prospectus and other disclosure requirements vary depending on the jurisdiction where equity crowdfunding is taking place. It's important to understand the legal environment where your tech start-up intends on issuing shares, as it will affect the level of disclosure you must provide.
Under Title IV of the JOBS Act in the United States, start-ups can raise equity under two Tiers: Tier 1 and Tier 2.
Under Tier 1, companies can raise up to $20 million and are subject to SEC review and State Blue Sky law review. In other words, start-ups must be reviewed by the SEC at the national level, as well as by the regulatory bodies of each state they intend to issue shares in. Under Tier 1, companies do not have to have their financial statements audited.
Under Tier 2 however, the opposite holds true; companies require SEC review but are not subject to State Blue Sky law review. Companies under Tier 2 are allowed to issue up to $50 million. Start-ups issuing under Tier 2 are required to use a transfer agent, and must have their financial statements audited.
Once your start-up has met the disclosure and prospectus requirements under the jurisdiction you intend on issuing shares under, the next step is to hire a securities lawyer to draft a proper shareholders' agreement. This agreement will outline the relationship that will exist between your start-up and external shareholders.
Focus your Efforts on a Properly Defined Target Audience
Companies that can effectively connect with their target market will likely realize success on equity crowdfunding platforms. Because traditional angel investing is highly centralized, many products that are highly desired by their target audience aren't funded, since angel investors don't understand the hidden demand for them.
For example, Oculus Rift failed to receive funding from accredited investors; these investors were disinterested because of a lack of proven demand. When Oculus Rift launched on Kickstarter, many seasoned gamers who wanted to experience virtual reality were on board with the company's vision. As a result, 9,522 backers pledged $2,437,429 to bring the product to life.
It's these technology enthusiasts that back many great tech innovations, even if other investors don't see the demand for them. Equity crowdfunding opens up the door for products to receive funding based on merit, as gauged by their target audience. If tech company crowdfunding campaigns can deliver high value to their target audience, then they're much more likely to receive funding from them.
Prepare a Strong Social Media Outreach Strategy and Produce a Very High Quality Video
With a plethora of social media platforms to choose from, such as Facebook ($FB), Twitter ($TWTR), and LinkedIn ($LNKD), you have the potential to reach hundreds of millions of users around the world. Additionally, a social media marketing strategy is free to pursue. While it may be worth spending on paid advertisement in some cases, it's always worth investing in a social media strategy that offers substantial reach to your target audience.
You need to be able to effectively tell your company's story over social media. Many of your potential crowdfunders will never see your product in person. Instead, they'll conduct research online, and decide whether or not they want to invest in your start-up. For that reason, it's crucial that you are able to justify your product's value and capture investors' attention in order to realize success in the equity crowdfunding environment.
With technology start-ups, it's crucial that the video showcasing your product is simple, elegant, and packed with value. Since most crowd members won't understand the intricacies of the product, it's best to showcase the practical aspects of your product, and go into how that product will deliver value to its target consumer. If your video can illustrate this value-added, then prospective investors will be more likely to receive your product positively, and as a result, become more likely to invest in your start-up.
"Plan and Prepare" your Offering by getting your Current Investors Involved in your new Offering
The key to equity crowdfunding is momentum – if you plan and prepare properly, you can get all your current shareholders, customers and partners to be engaged in your offering. The key for your company is to get to 30% of the offering on your own prior to launching, to build great momentum with the crowd. The Golden Rule has not changed since it has started, and it requires the company to pay close attention to make sure that it has this in its strategy to be successful.
DISCLOSURE: The views and opinions expressed in this article are those of the authors, and do not represent the views of equities.com. Readers should not consider statements made by the author as formal recommendations and should consult their financial advisor before making any investment decisions. To read our full disclosure, please go to: http://www.equities.com/disclaimer