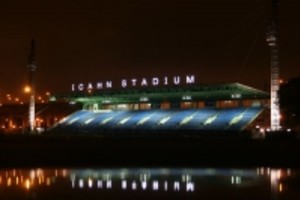 for Carl Icahn, that stock is Voltari (VLTC) , up nearly 80% to $13. It makes sense as he owns a nice piece.
Shares in VLTC have had this kind of move before - during a 3 week period in March the stock went from $1 to $20 in about 15 trading days- so today's move is little surprise if you follow Carl Icahn and his motivations. He is currently the most influential investor on the planet, a bona fide master of the universe.
Icahn knows that digital advertizing is a huge, huge market and, frankly, I don't understand why the world is unwilling to take a leap until a large fund gets involved. In the case of the investment in Voltari, the company advocates that mobile marketers stop making ads and start making tools. Ads should stop trying to bluntly sell and instead provide a rich media portal that connects consumers with the unique mobile elements that smooth the path-to-purchase.
The company currently provides relevance-driven merchandising, digital marketing, and advertising solutions, primarily over smart phones and other mobile devices to brands, marketers, and advertising agencies. It also offers predictive analytics services. The company was founded in 2001 and is headquartered in New York, New York - logical place if you want to be close to Carl.
Nine million shares have moved in the first hour and it has been a wild ride so far. I am dizzy watching the trading, and I did this for a living for 3 decades, so if you want to jump into the digital advertizing water with a master of the universe, know that it may do exactly what it did back in March during those volatile days.
Today the range in price is $9.50 to near $14 and back in March shares screamed from $1 to $20 then took an about face and traded back down to $4, so this is no place for the weak of wallet.
I suggest that shares are worth about $10 - $12 in the mind's eye of digital marketing run rate, and I think Carl Icahn knows that - he just woke up on a Monday morning - and threw a master of the universe dart at the dart board and it landed on Voltari.
DISCLOSURE: The views and opinions expressed in this article are those of the authors, and do not represent the views of equities.com. Readers should not consider statements made by the author as formal recommendations and should consult their financial advisor before making any investment decisions. To read our full disclosure, please go to: http://www.equities.com/disclaimer