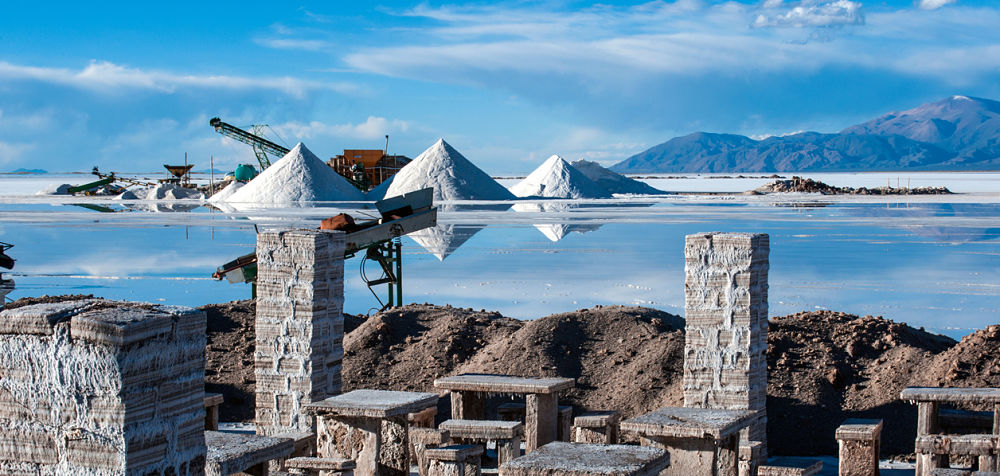 The lithium market has been unquestionably the hottest segment of the resource sector, and one of the most talked-about investment areas in the broader market in the past few years. Yet, not all opportunities in the space should be categorized with the same brush. Oddly enough, not all companies are equipped to effectively manage such massive tailwinds successfully. When all is said and done, it's the management teams that can focus on maximizing quality projects with discipline that will make the difference.

For Liberty One Lithium (LBY:CA)(LRTTF:OTC), it's a major reason why the company tapped industry veteran Brad Nichol, PEng, MBA, to become its CEO and President as it enters such a critical stage of its growth. For Nichol, Liberty One Lithium presented too good of an opportunity to pass up, particularly as the company looks to advance its exploration and drilling program at its very promising Pocitos West property in the famed Lithium Triangle region of Northern Argentina.
Equities.com had the opportunity to speak with Nichol for an update on Liberty One's most recent developments at Pocitos West, his vision going forward, and why he believes Liberty One Lithium has all the primary traits of a winning junior resource company.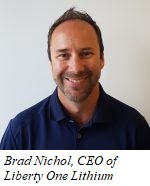 EQ: To start off, could you provide us a brief overview of Liberty One Lithium and your operations?
Nichol: Liberty One is a company focused on producing lithium. Our main property is called the Pocitos West, located in Northern Argentina. It isn't our only property, but it's our main focus. Basically, it's a salar, or a salt flat, and it is within a very prolific lithium area known as the Lithium Triangle, which encompasses Bolivia, Argentina and Chile. About 20 to 25 kilometers to the north, there are some proven reserves, and production about 25 km to the south. Then a little bit further south, there is another company that is exploring and seems to be having success.
So, we believe we're in the right neighborhood, if you will. We're certainly on trend with lithium discoveries and lithium production, but more importantly, we're in the famous Lithium Triangle. What that means is, not only are we in the right neighborhood, but we're on the best street. That was one of the main reasons that I joined the company, because our location is fantastic, and I would say that's the main asset that we have in Liberty One.
EQ: Very recently, the company announced that results of the geophysical survey at the Pocitos West property were better than expected. Can you give us a little bit more information on the results and perhaps the impact that has on your strategy going forward?
Nichol: That was a fantastic surprise. Typically, when you do these surveys, you find high spots and low spots and that was our initial expectation. What really surprised us is that we found one huge zone that covered the entirety of the 27km long property from north to south. Essentially, it means that we could have an absolutely massive resource at some point in the future if we can prove this out.
Ultimately, what the geophysical survey is measuring is highly conductive material, which means it's brine. So it suggests that we have brine across the entire property. It's a 160 square kilometers of potential brine. It's huge.
EQ: That's very exciting. Knowing that you have a property that possesses this much potential can serve as a huge advantage for the company. What is your strategic approach in leveraging this advantage?
Nichol: Liberty One Lithium is founded on three guiding pillars. That's how I like to phrase it. The first is location. Just like in real estate location is everything, but location is more than just where you are on a map. Location is about weather, it's about geology. It's about the regulatory environment and access to utilities and to infrastructure. That is what we've got, not just in the Lithium Triangle, but right here at our Pocitos West property.
We are literally about 5 km from Pocitos Town, which gives us access to labor and there is bit of infrastructure there. We've also got 4,000 meters of altitude working with us. It's very dry, with hardly any rainfall, and it's extremely windy. It's perfect for evaporation. When we get to that point where we've actually got reserves and we are ready to evaporate and concentrate the brine, we are in the perfect location in the world. This is the place to be.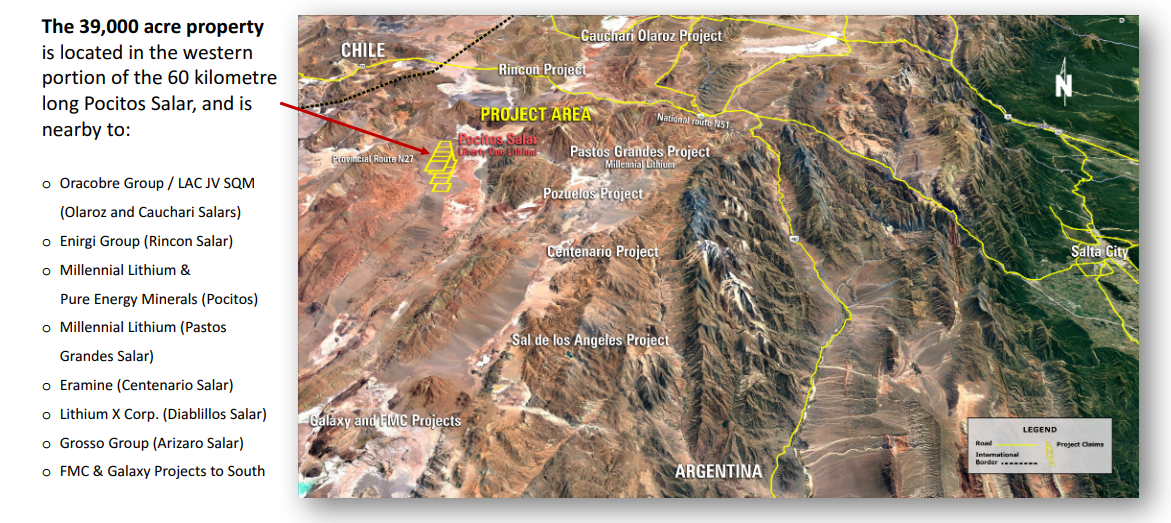 Image via Liberty One Lithium
EQ: You mentioned there was some infrastructure in place. Can you elaborate on that?
Nichol: Well, infrastructure is considered within that pillar location to us, but we've got natural gas pipelines that run right beside the property. We've also got high-voltage powerlines that run beside the property. We've got a rail line that runs right through the middle of the property. We have a deep-water port a short distance away. There are roads going literally right past and through the property, so for us, all the big infrastructure problems are already solved.
EQ: The regulatory environment is also within that first pillar. How would you describe the environment for your property?
Nichol: We're in Argentina, and Argentina is very mining friendly and the specific province we're located in is ranked as the number one place in all of Latin America to do business. They have approved five projects in the last year alone. These are big mining projects. It's even set up and structured differently from a regulatory standpoint. When you look at regulatory environment with regards to the Lithium Triangle, Bolivia can be a little bit tricky. The same is with Chile. Chile has some serious restrictions on lithium mining and how companies can operate.
But our experience in Argentina shows us it's not mired in bureaucracy and ministries. It's essentially a judge that can give approval or not. It certainly makes things quicker. Of course, the downside there is that, if the judge is on vacation then things could take a little longer. But ultimately, it's much quicker, it's much speedier and a much more efficient place to operate.
EQ: Going back to the three pillars of Liberty One Lithium, what is the second pillar of the company?
---
---
Nichol: The second is the team. We've got a full team of lithium experts. They're not just mining or technical experts, these people have spent their lives looking for lithium, working in Argentina in the lithium space, maybe in a regulatory capacity or with a service company or a laboratory.
Even more so, our man leading the team in Argentina is a renowned, experienced lithium professional. He's a geologist and he's been looking for lithium his whole life, and has been living in Argentina for almost a decade. He's extremely well known in the community. So, together this team is unbeatable. There is nobody else that can do it quicker or better than what we're doing in Argentina today.
EQ: That's impressive. And the third pillar?
Nichol: The third pillar is the core on which this company is built, and that's the management of capital. Now, that can mean a few things. As we all know, when a market is hot, capital tends to flow into that market or industry. In this case, everybody knows lithium is pretty hot, but what it also means is that capital is going to find places to park itself, even if they maybe aren't the best places. In that mad rush to get into a hot market, sometimes capital is less efficient than it should be. That applies not just to the capital coming into companies, but also in the way that those companies use capital.
The biggest threat to a junior mining company is lack of capital. We certainly have solved that because we've got more than $3 million in cash and we have raised just over $6 million since we started going down this path. We've got our property paid for. We've made our upfront payments. We've got a drilling program that is fully funded. We've been able to raise money at continually higher prices. Our market is extremely liquid. Not only are we efficient with capital from a management standpoint but we're also very good at raising capital at continually higher prices when we need it. We certainly aren't going to need any capital for probably another year or so. Again, capital management is built into the core fabric of the company. It's founded on these three principles of location, team and capital management.
EQ: Wonderful. As you mentioned, the lithium market is incredibly hot right now. The price of lithium continues to soar as demand is expected to vastly outpace supply in the coming years, particularly with trends like electric vehicles and electronic devices driving that growth. From your perspective, how do these giant tailwinds factor into your decision making and strategy?
Nichol: I have spent months doing research not just on the company, but on the industry as well, and this was one of the factors that drove me to join Liberty One. But I didn't just join the company, I also invested a very significant amount of my own money into it. I wrote a check at the highest price that the company has raised money to date. So, I'm in for the long term and I'm in because I think this company far exceeds what some of the nearest competition can offer.
Again, even when it seems that everybody wants to put money into lithium, it's still a scarce resource. Capital is not free and it's not readily available for people that wait. I think it's obvious that lithium demand is going to outpace supply for the next decade – the question is what happens as we approach 2030. When you look at all the research, it says you've got a market that is growing very fast. But it's not just all driven by electric vehicles, either. It's in-home batteries, all kinds of new technologies, and things that are driving society towards battery or renewable energy, or computer technology as opposed to using combustion engines. That social license ultimately is what is going to drive people towards using batteries, and therefore more and more lithium in society today.
EQ: Right, and analysts have said that we could be looking at lithium the way we look at oil today in the somewhat near future. But bringing this back to Liberty One. The company had a big year this year, acquiring a major stake in the Pocitos West. The geophysical survey results that came in kind of validated the property. What are some next steps and upcoming milestones we should be watching for as you move forward?
Nichol: We have looked at the results from the geophysical survey. As I said, we are astounded by how huge the extent of the brine horizon was; and hence, how big the potential lithium resource could be. Right now, we are looking at a drilling program and are picking locations as we speak. We have already applied for the drilling and environmental permits, and are in the final stages of approval there, so we should have something relatively quickly. Really for us, the big next step is the drilling program. The geophysical survey tells us that we have some really massive, contiguous and ultimately very thick brine sections across the entire property. Drilling will allow us to, in a sense, dip our cup into the ground and pull out some samples. It will allow us to determine permeability, which will tell us how easily the brine will flow. It also allows us to determine the porosity, which will tell us how much potential brine – and ultimately, lithium – we're sitting on.
The higher porosity, the more brine you have, and therefore the more lithium you have. It will tell us something about the lithology. It will indicate to us what those layers look like and how easy it is going to be to extract. We'll also learn a lot about the chemistry of the brine, including how much magnesium, phosphate, and most importantly, how much lithium is there. So, we're really looking forward to that. It's a big step for us and we can't wait to get on with it.
EQ: You certainly have some very exciting things going on at Liberty One, and we definitely appreciate your time in updating us on all the progress. Do you have any final takeaways or closing comments for investors and perspective investors reading this interview?
Nichol: Honestly, I would encourage readers to do what I have done, and that is look at every other junior lithium-focused company and other companies in this space. Look at them all. I would challenge anybody to not come to the same conclusion that I did, which led me to ultimately invest in and join Liberty One. I keep going back to those three things that have driven me as I have run junior companies in the past—location, people and team, and how capital is managed and raised. Those are the three key things, and I don't think there is another company out there that does it as well as Liberty One does.
For more information on Liberty One Lithium Corp. visit www.libertyonelithium.com
---
In the interest of full disclosure, we call the reader's attention to the fact that Equities.com, Inc. is compensated by the companies profiled in the Spotlight Companies section. The purpose of these profiles is to provide awareness of these companies to investors in the micro, small-cap and growth equity community and should not in any way be considered as a recommendation to buy, sell or hold these securities. Equities.com is not a registered broker dealer, investment advisor, financial analyst, investment banker or other investment professional. We are a publisher of original and third party news and information. All profiles are based on information that is available to the public. The information contained herein should not be considered to be complete and is not guaranteed by Equities.com to be free from misstatement or errors. The views expressed are our own and not intended to be the basis for any investment decision. Readers are reminded to do their own due diligence when researching any companies mentioned on this website. Always bear in mind that investing in early-stage companies is risky and you are encouraged to only invest an amount that you can afford to lose completely without any change in your lifestyle. Equities has been compensated with cash, common shares and/or warrants for market awareness services provided.

DISCLOSURE: The views and opinions expressed in this article are those of the authors, and do not represent the views of equities.com. Readers should not consider statements made by the author as formal recommendations and should consult their financial advisor before making any investment decisions. To read our full disclosure, please go to: http://www.equities.com/disclaimer