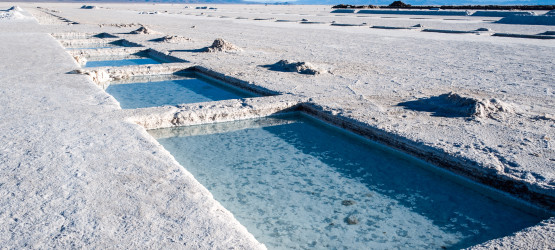 As we speak, lithium suppliers are scouring the globe for high-grade lithium to meet the accelerating demand spurred by the electric vehicle boom. But the cream of the lithium crop is near the western coast of South America, in a strip of arid land that straddles Chile, Argentina and Bolivia. This area is called "The Lithium Triangle" and it produces 37% of the world's total lithium, and contains about 50% of the world's reserves.
There are few North American companies that have been able to enter this important region, but Liberty One Lithium (LBY:CA)(LRTTF) has not only staked a claim there, it's assembled one of the largest lithium land packages in the area to date at the Pocitos West project in Salta, Argentina.
Furthermore, Liberty One released news today that results have exceeded their own expectations showing a brine horizon across the entire 18 miles of the property plus deep salar sediment as much as 150 meters thick. Measurements collected at 11 stations along the property's north-south extent, using comparative results with local and similar rock types bearing brines, designates the possibility of a continuous, buried conductive horizon, contiguous with the salar lake beds.
"The entire team -- in Argentina and in Canada -- is thrilled with this result, which has exceeded everyone's expectations and is the first step in confirming the possibility of extensive, buried salar sediments through much of our property," Brad Nichol, CEO of Liberty One, stated in the announcement. "We had hoped to find 'sweet spots' within our tenement, but were delighted to learn the entire length of our property may contain brine; and correspondingly, lithium. The results, and proximity on-trend to known lithium brine production 25 km to the north of our holdings, suggests the potential for the continuation of lithium brine beneath much of our property."
Nichol adds, "We have immediately undertaken the required actions to obtain all of the necessary permits so that we can commence drilling as soon as possible. It's also worth noting that the drill program is fully funded with cash reserves already in our treasury. Liberty is well positioned to leverage the three most important core values to our board and myself: location, team and capital management."
The promising results from Pocitos West is clearly a positive catalyst for Liberty. But in addition to that, recent insider activity shows that executives and directors of the company are adding to their stakes. In the past 30 days, Nichols purchased 800,000 common shares, while Director Patrick Whibley – a financial professional with 17 years of experience – bought 250,000 in options, 100,000 in warrants and another 100,000 in common stock.
These important highlights come shortly after announcing that they filed their NI 43-101-compliant technical report for the 39,183-acre property, and that report confirmed that the Pocitos West property was indeed ready for lithium production.
"The report also endorses at least one of the three pillars upon which Liberty One was built -- Location," Nichol commented. "Within the roughly 400km x 400km famous Lithium Triangle we have secured what could become a prolific lithium asset that lies within 40km of several successful and significant lithium brine discoveries. A world-class team, Liberty One's second pillar, has bolstered its impressive track record by the strength of this report. Finally, Liberty One's third pillar, capital discipline, should be mentioned, as the Company has demonstrated the foresight to have successfully raised sufficient capital to undertake a staged work plan and fund operations for the next year."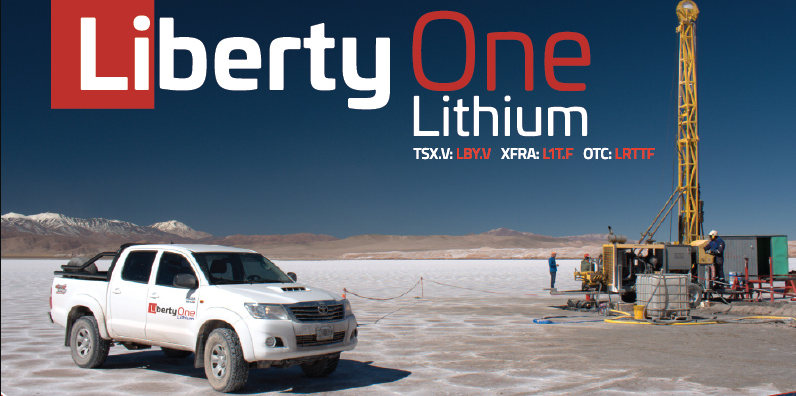 Here are more highlights from the report released earlier this month on Pocitos West:
---
---
The author notes that recent developments in other lithium resource areas have shown that the more highly enriched brine resources and more transmissive aquifers are found at greater depths in the salars of the region.
The author summarizes that the Pocitos West project appears productive for lithium and suggests that it offers a reduced level of risk justifying further exploration efforts and expenditures.
Recommendations conclude the large target (150 square kilometers) can be tested to determine the potential for development of a resource in a rather short time. If initial deep reconnaissance drilling is successful in identifying lithium-bearing brine of commercial interest, further exploration work will be undertaken to determine the resources of lithium in brine, the effective recovery of brine, and the economic viability and subsequent mining and refining operations.
A proposed staged workplan will be presented to the board for approval and is outlined within the report.
Pocitos West is located roughly 100 miles from Salta, and approximately 25 miles due west of Liberty One Lithium's strategic partner Millennial Lithium's (ML:CA)(MLNLF) flagship Pastos Grandes Project. The site is directly accessible by Salta Provincial Highway 17 and close to other regional infrastructure, including local labor, rail and power generation. In addition, Pocitos West is adjacent to ground recently acquired by Pure Energy Minerals Ltd. and is advantageously situated to known lithium resources, including the Rincon Project set 20 miles to the north and the Sal De Vida Project 56 miles to the south.
Liberty One's game-changing acquisition and quickly-moving business plan inside the Lithium Triangle could not come at a better time. Tesla (TSLA) is back in the news again as the Model 3 Sedan rolls out and production starts to ramp up. The first 30 cars were delivered last month and Elon Musk and company plan on increasing production to 5,000 by the end of December. Tesla sold 76,000 Model 3 Sedan cars to date and plans to produce 500,000 cars by the end of 2018. Outside of just Tesla,Global lithium-ion battery production capacity is set to increase 521% by 2020. No one understands this more than Liberty One and its determined team that just continue to build momentum.
Since the start of June, Lithium One has closed the deal to acquire rights to the Pocitos West project, uplisted to the OTCQB, hired Brad Nichol as CEO, completed their technical report on Pocitos West and completely blown away expectation about the potential of the property. Besides the obvious importance of the completed technical report, the hiring of Nichol, who is fully invested in the company and truly believes in the mission, is crucial for the company because of his experience in multiple industries.
"We are delighted to have Brad join with us today," Company Director and CFO, Morgan Tincher, commented at the time of the announcement. "His background in corporate finance as well as his extensive understanding of resource development is a huge plus for our growing operation. Liberty is about to execute on several operational activities and having an experienced hands-on operator will be instrumental in achieving maximum benefits for our shareholders. We look forward to Brad's guidance as we strive to become one of the leading operators in the lithium brine space."
Liberty One under the leadership of Nichol is looking to make Pocitos West an important player in the Lithium Triangle and start working to fill the gap in the lithium supply. Additionally, the company is well-funded and disciplined as can be seen from the progress achieved over a short period of time. We are sure investors can expect more exciting announcements in the near future from Liberty One Lithium Corp. (LBY:CA)(LRTTF:OTCQB). For more information we invite you to visit the company website at www.libertyonelithium.com.
---
In the interest of full disclosure, we call the reader's attention to the fact that Equities.com, Inc. is compensated by the companies profiled in the Spotlight Companies section. The purpose of these profiles is to provide awareness of these companies to investors in the micro, small-cap and growth equity community and should not in any way be considered as a recommendation to buy, sell or hold these securities. Equities.com is not a registered broker dealer, investment advisor, financial analyst, investment banker or other investment professional. We are a publisher of original and third party news and information. All profiles are based on information that is available to the public. The information contained herein should not be considered to be complete and is not guaranteed by Equities.com to be free from misstatement or errors. The views expressed are our own and not intended to be the basis for any investment decision. Readers are reminded to do their own due diligence when researching any companies mentioned on this website. Always bear in mind that investing in early-stage companies is risky and you are encouraged to only invest an amount that you can afford to lose completely without any change in your lifestyle. Equities has been compensated with cash, common shares and/or warrants for market awareness services provided.

DISCLOSURE: The views and opinions expressed in this article are those of the authors, and do not represent the views of equities.com. Readers should not consider statements made by the author as formal recommendations and should consult their financial advisor before making any investment decisions. To read our full disclosure, please go to: http://www.equities.com/disclaimer