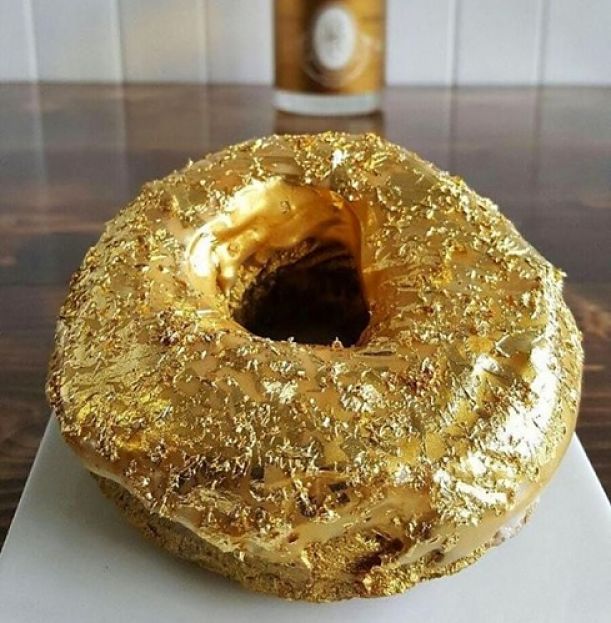 It seems every couple of months or so, everyone gets really worked up over some new decadent food creation that comes with an obscenely high price tag. For this go-round, the $100 Golden Doughnut from Brooklyn's Manila Social Club is the one getting a lot of press attention. The pastry is filled with ube mousse and glazed with champagne frosting and topped with 24-karat gold. Yes, pure gold.
But gold on food is nothing new. In fact, it feels a little like cheating. Sprinkling a non-food item historically associated with wealth to serve as nothing more than glorified garnish seems like a lazy way to justify a high price point. And yet, it works. Time and time again. Vancouver's Dolicious Doughnuts did almost the exact same thing last year. From the aptly named $666 Douche Burger to the brazenly priced $25,000 Frrrozen Haute Chocolate, pure gold as a prop is nothing new in the culinary world. Cue the listicles. Heck, Goldschläger has been around for decades.
But at just under $1100 an ounce as it currently sits, it does make you wonder: is there any gastronomic merit for gold as an ingredient? Or is it just another way for rich people to tell people they're rich?
In 2009, the Wall Street Journal explored the weird trend of wealthy people's literal appetite for gold. "A lot of people still ask why we use gold in food," said Jean Pierre Garat, the head of food and beverage at the Emirates Palace at the time. "We tell them it's a sign of excellence."
Mind you, this was in 2009. The same 2009 when the global financial markets were still crashing at full force and the price of gold at the time was roughly around the same price as it is today.

Food critic Corey Mintz told Macleans in 2012, "Unlike other expensive ingredients or garnishes—like caviar—edible gold adds nothing to a meal other than, quite literally, dollar signs... Take something like a truffle oil. It can be wonderful with, say, an egg. In macaroni and cheese, it's just a way to make something seem fancy or expensive." Mintz adds that "advertising gold in your restaurant's dishes is sometimes more of an advertising ploy to get customers in the room, only to have them buy a $12 meal."
But considering that you can get edible sheets of 24k gold just about anywhere for literally a couple of bucks, it's perplexing to say the least as to why this ploy still works to attract so much attention. I guess there really is no accounting for taste after all.
Henry Truc is the editor of Equities.com. You can follow him here and on Twitter @henrytruc.
DISCLOSURE: The views and opinions expressed in this article are those of the authors, and do not represent the views of equities.com. Readers should not consider statements made by the author as formal recommendations and should consult their financial advisor before making any investment decisions. To read our full disclosure, please go to: http://www.equities.com/disclaimer