In the wake of recent data, it now appears that the 4th quarter GDPNow Forecast dipped to 1.3% from 1.9% on December 16.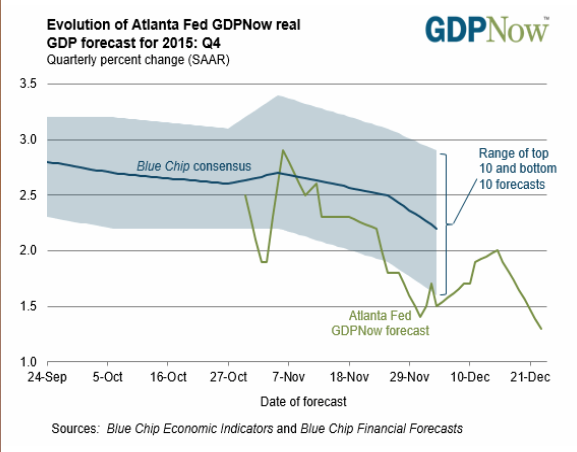 From the Atlanta Fed: "After yesterday's third-quarter GDP revision and this morning's personal income and outlays release, both from the US Bureau of Economic Analysis, the nowcast for fourth-quarter real consumer spending growth fell from 2.6 percent to 2.1 percent. The nowcast for real residential investment growth fell from 8.0 percent to 0.9 percent after yesterday's existing-home sales release from the National Association of Realtors."
I took one look at recent housing data and concluded GDP would take a big hit vs. prior expectations. And that's precisely what transpired given the oversized plunge in residential growth from 8.0% to 0.9%.
But sometimes things do not turn out as appears intuitively obvious.
Such was the case following a strong construction report on December 1 in which the GDPNow model forecast took a dive only to recover on other data later, then plunge as we have seen today.
For an explanation as to how this happens, please see Why Does GDPNow Model Sometimes Move Counter to Economic Releases? If Christmas sales are weak, 4th quarter GDP will be flirting with zero.
DISCLOSURE: The views and opinions expressed in this article are those of the authors, and do not represent the views of equities.com. Readers should not consider statements made by the author as formal recommendations and should consult their financial advisor before making any investment decisions. To read our full disclosure, please go to: http://www.equities.com/disclaimer