In an amended Form S-1 filed today, Rubius Therapeutics (proposed Nasdaq: RUBY) announced terms for its initial public offering, which was first disclosed in June 2018. The company will be offering 9.53 million shares between $20 and $22 per share. At the midpoint of the filing range, it would be a $196 million deal with a post-IPO market capitalization of over $1.6 billion. The amended filing likely means the institutional roadshow begins this week with an expected pricing sometime next week. The deal is being led by JP Morgan, Morgan Stanley, Jefferies and Leerink.
Rubius is developing a new class of drugs it calls "Red Cell Therapeutics," or RCTs. Rubius is genetically modifying red blood cells—the most ubiquitous cells in the human body—to express biotherapeutic proteins that can be carried throughout the body. This platform technology, called RED (Rubius Erythrocyte Design) Platform, has the potential to create well tolerated and ready-to-use cellular therapies for a range of diseases. The initial targets of the company are to manufacture missing enzymes for patients living with enzymatic rare diseases, to kill tumors in cancer and to regulate the immune system for the treatment of autoimmune diseases.
Source: Rubius Therapeutics
Rubius was launched in 2015 with $25 million from Flagship Pioneering. A $120 million Series B in 2017 was followed by a $100 million Series C round in March 2018. Investors weren't disclosed at the time of the financings, but the S-1 shows Flagship holding 57.3% of the company right now, with Fidelity at 5.3%.
The company says it plans to file its first investigation new drug application in the first quarter of 2019 for pheynlketonuria (PKU), a rare inherited disorder that causes the abnormal buildup of phenylalanine in the body. Left untreated, PKU can lead to severe health problems, including neurological damage, intellectual disability, and behavioral, emotional and developmental issues.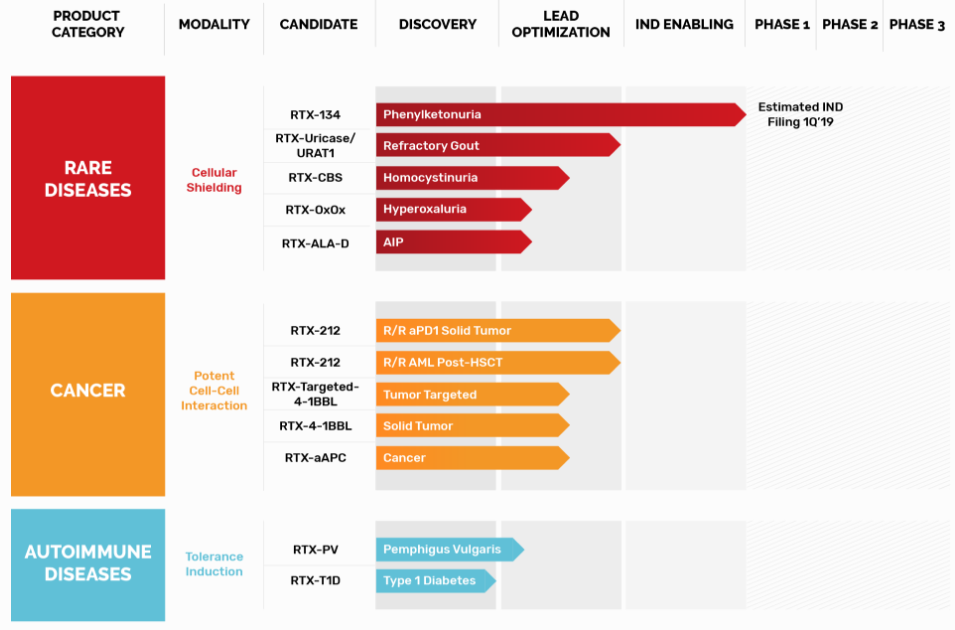 Last week, Rubius announced that it would invest $155 million over the next five years to renovate an existing Rhode Island property into a 135,000 square-foot manufacturing facility.
In June 2018, the company appointed a new CEO, Pablo J. Cagnoni, MD, who most recently served as President and CEO of Tizona Therapeutics, a privately held company focused on developing novel treatments for cancer. Prior to Tizona, Dr. Cagnoni served as President of Onyx Pharmaceuticals, Global Head of Clinical Development at Novartis Oncology, and Chief Medical Officer at both Allos Therapeutics and OSI Pharmaceuticals.
Torbin Straight Nielsen, PhD has been Rubius' President since 2016 and has served concurrently as Venture Partner at Flagship Pioneering. He previously held senior management roles with Pfizer, serving as VP, Worldwide Research and Development, Strategic Portfolio Management and Planning, Head of Strategy, Portfolio and Operations of the Biotherapeutics Research & Development Division and Executive Director and COO of the Centers for Therapeutic Innovation.
Please email us at [email protected] to see our Case Studies and Testimonials.
Please click here for information on our new trading platform.
Please click here to see our weekly newsletter.