RR Media Ltd. ($RRM)is a leading provider of global media distribution services to the broadcast industry.RR Media's services enable clients like 21st Century Fox (FOX) , the NFL, MTV (VIA) , Nickelodeon, Dish Network (DISH) , and Disney (DIS) to reach a wider audience and to generate new revenues. With enhanced media centres in the U.S., Europe, and the Middle East; the company has a large global network and diversified customer base giving them global access beyond the scale of many competitors.
RRM has also recently made moves to establish a virtual infrastructure. The recently announced cloud-based digital media services platform, solaRR, is an innovative solution that enables customers to "ingest, access, prepare, manage, track and deliver content from anywhere in the world." solaRR will allow the company to better manage their services like content preparation, channel play out, asset management, and multi-screen delivery. The addition of this new platform with their already established physical infrastructure and key partnerships will further increase RR Media's market share in a growing industry.
Growth Trends in the Content Management and Distribution (CMD) Market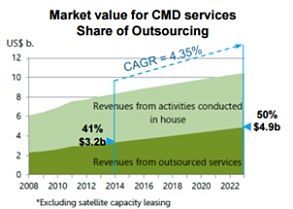 Content Management and Distribution (CMD) is a growing sector of diversified communication services. The market value for CMD services is projected to grow to $25.5 billion from $18.1 billion in 2014 (above left), which equates to a CAGR of 3.5%. Most of this growth is expected to come from Asia where RR Media has a strong presence. RRM is based in Israel and has solid existing partnerships with service providers like the European Broadcasting Union (EBU), which used RRM's uplink facilities to carry the 4K feeds of the 2014 FIFA World Cup over to the Asian footprint of EBU's Eurovision network. Additionally, RRM has made efforts to capture Asian growth through acquisitions. On June 9th, the company announced the purchase of Satlink Communications, a global provider of CMD services with a solid Asian footprint.
The CMD market has also seen growth in revenues from outsourced services which are expected to continue rising. Revenues from outsourced services were $3.2B in 2014, making up 41% of total revenues, and are projected to hit $4.9B, 50% of total revenues, by 2023 (above right). As the complexity of content management increases more and more broadcasters and content creators are outsourcing their media services. In the Q4 2014 earnings call, CEO Avi Cohen, emphasised RR Media's intent to broaden their capabilities in this service area to attract potential partners and take advantage of this trend.
Growth Strategies for RR Media
RR Media's management has expressed their desire to drive growth through targeted acquisitions, a change in their customer mix, and evolution of their product offering.
Targeted acquisitions
RR Media has made strides to increase scale, service capabilities, and geographic presence through the acquisition of various competitors and players in the industry. Their most recent acquisition of Satlink Communications shows commitment to this strategy. Satlink will not only increase RRM's presence in Asia, but it will give them access to smarter distribution of their media business and allow for better use of their own infrastructure in an effort to improve margins. Synergies from the purchase are expected to yield an increase in incremental revenue of $25 million and adjusted EBITDA of $5 million in 2016.
Earlier in the year RR Media purchased another provider of CMD services, Eastern Space Systems (ESS) of Romania. The ESS acquisition was an opportunity for RRM to further their presence in the growing, yet underserved, central European region. The additional satellite access that RRM will receive reaches an additional 17 million households across Europe and is expected toincrease incremental revenue by $7 million.
Other recent acquisitions like the ones of JCA and SM2 expanded geographic presence in the U.K. and the U.S. respectively. The JCA purchase also set up the necessary digital infrastructure for the solaRR platform.
Change in customer mix
RR Media has shifted their focus towards upper-tier customers to fuel growth. New partnerships with organizations like Fox, Disney, the NFL, and EBU saw top-line growth of 5% in 2014. RR Media has an excellent track record of retaining customers, 85% of revenue is recurring, and thus these new partnerships with tier one customers should be seen as long-term ongoing relationships that will allow the company to generate stable future revenue.
Evolution of product offering
---
---
RR Media has been expanding their product offering to capture growth in recent market demand shifts. The major shift towards outsourcing media services has been a key focus point of future growth, however the company has also recognized trends in VOD services and sporting/live event distribution. Sporting/live event distribution, in particular, is a growing industry segment, currently valued at $5 billion and is expected to grow to $7 billion by 2022. RRM is well positioned in this segment having already developed partnerships with EBU, facilitating distribution of FIFA World Cup and the NFL to deliver live HD distribution of the Super Bowl to Europe and Asia.
Recent Acquisitions to Increase Profitability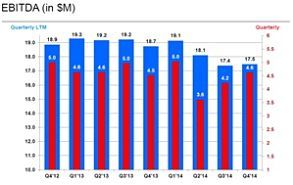 Revenues have been steadily increasing at a CAGR of 7.6% (above left). Over the last few quarters RRM has seen QoQ revenue growth slowdown a bit as a result of the instability in Russia, which accounts for 10% of all revenue. RRM has purchased companies in various regions across the globe to minimize the effects on singular geopolitical events and to accelerate growth, however the company is still integrating these acquisitions and it may take time for the synergies to take full effect. The Satlink acquisition allowed management to raise 2015 revenue guidance to between $140 million-$148 million and 2016 guidance to be in the $160 million range. Management is clearly confident in their ability to effectively utilize resources from recent inorganic growth.
A major contributing factor to the recent slew of acquisitions is the weak margins that RRM is receiving from its revenues. As is seen with the declining EBITDA figures (above right), RRM has not been maximizing its earnings potential. This is largely due the company's continued investment in infrastructure to remain competitive in the industry. To address this issue the company has been purchasing smaller players that could benefit from the already established RR Media infrastructure. The expected increase in incremental revenue from these purchases will not only grow the top-line, but will improve overall operational efficiencies. Expect earnings to grow in the future.
Integrative Risks from Inorganic Strategy
RR Media's recent acquisition efforts do not come without risk. The company did seek out investments that would strengthen margins and increase the company's presence in the industry yet, as with any acquisition, there is the risk of integration. Boding well for RRM is the experience of their management team. Viola Private Equity, holding a 28.51% stake in RR Media, is well versed in working with management teams to build non-organic growth plans.
RRM is also protected by their strong balance sheet. The company has a solid cash balance allowing them to effectively finance their acquisitions. The JCA acquisition was done entirely in cash. The Satlink acquisition is being financed by debt, however at a low 2.5% interest rate. Thus if management is unable to effectively integrate these companies, there is limited downside.
Downside Protection as a Result of Cheap Valuation

RR Media is trading at 0.89x revenue, 3.82x gross profit, and 7.57x EBITDA (above). All three of these figures are far below the average trade multiples of RRM's peers. Only Limelight (LLNW) and Brightcove (BCOV) trade at around relatively similar revenue and gross profit multiples, however both of those companies are currently not posting any earnings.
As RR Media keeps growing and expanding their infrastructure they will be more directly competing with satellite services businesses like Intelsat (I) and Eutelsat (EUTLF) . While currently RRM is not close to the same scale as these two, it is important to note it is still trading at a discount. RR Media does not boast very attractive margins at the moment, but this is an issue that has been addressed and should improve in the near future. As RRM scales their business and services, the improved margins will allow them to better compete with the larger players in the industry.
RR Media is a Solid Growth Opportunity for Investors
Given the cheap valuation and expected growth rate, investors should seriously consider adding RR Media to their portfolios. The company is well-positioned in a growing industry and is effectively taking advantage of recent trends in the market. They have a well-established infrastructure, both physical and digital, that with the addition of Satlink, ESS, and others will facilitate accelerated growth. Their partnerships with top-tier customers and key players in the industry are making it increasingly difficult for smaller companies to be competitive. As a result, they are continuing to scale their business and product offering to put them in a position to be competitive with the larger players just outside of their direct market segment. RR Media is a sound opportunity backed by strong management that should see top-line gains, and increased profitability in the near future.
DISCLOSURE: The views and opinions expressed in this article are those of the authors, and do not represent the views of equities.com. Readers should not consider statements made by the author as formal recommendations and should consult their financial advisor before making any investment decisions. To read our full disclosure, please go to: http://www.equities.com/disclaimer