The British Pound has reached stability against the USD after falling last week, but it's too early to say that it has recovered: the Pound is still very sensitive to any news relating to the Brexit, which appears every hour.
During the special meeting of ambassadors of European Union countries, a new idea appeared that might help to solve possible Brexit complications and get an opportunity to get through the problems, which didn't have any fast and "painless" solutions before.
The idea of Michel Barnie, the European Chief Negotiator for the United Kingdom Exiting the European Union, is to extend the transition period of this complicated procedure. As a result, the parties will have two more years to discuss their trade relations. Apart from other things, it will keep the United Kingdom a member of the European Union. It's not quite clear right now if this way has any profit for the EU, but it will surely postpone a lot of stressful situations for businesses and enterprises.
On the other hand, the United Kingdom will have to pay contributions to the EU budget and follow its legislation and regulations for an additional 24 months.
Today, on November 19th, the British Prime Minister Theresa May will speak during the Confederation of British Industry meeting. Possibly, she may talk about intentions to finalize the Brexit agreement with the EU, because manufacturers seem to be very worried by the near future: on November 25th, there will be European Council Meeting on the Brexit, where the same issue is expected to be discussed.
As we can see in the H1 chart, after testing the support line of the descending channel, GBPUSD has started forming a new correctional uptrend. Possible upside targets are the retracements of 50.0% and 61.8% at 1.2898 and 1.2939 respectively. However, one shouldn't exclude a possibility of the pair's growing the resistance line of the main channel at 1.2988. Still, the main scenario implies that the price may rebound from 1.2939 and start forming a new descending impulse towards the local support at 1.2856. If the instrument breaks this level, it may continue trading downwards to reach the support line of the current channel at 1.2700.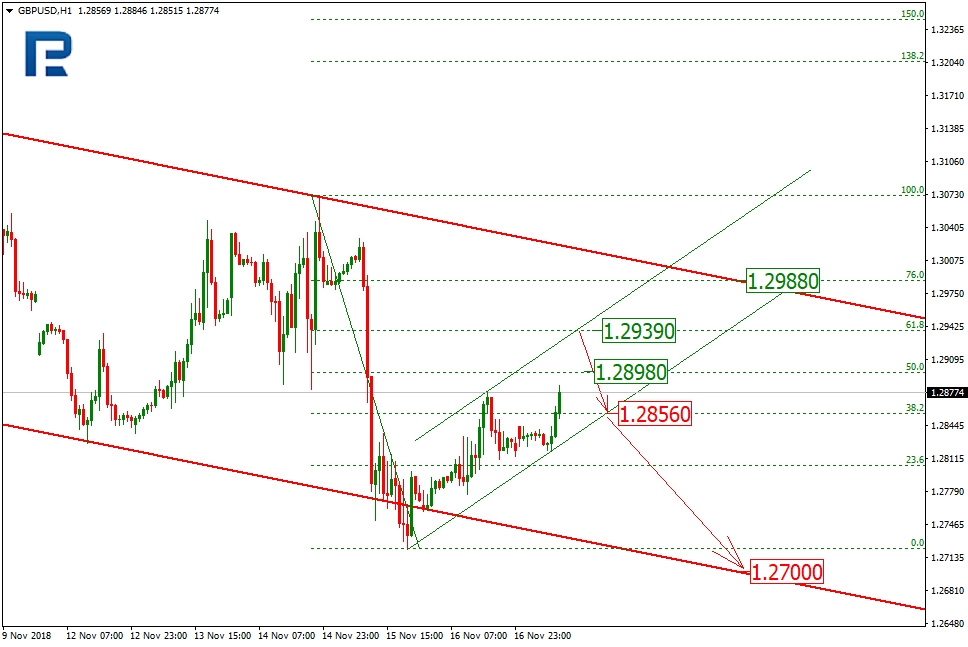 By Dmitriy Gurkovskiy, Chief Analyst at RoboForex
Disclaimer
Any predictions contained herein are based on the authors' particular opinion. This analysis shall not be treated as trading advice. RoboForex shall not be held liable for the results of the trades arising from relying upon trading recommendations and reviews contained herein.