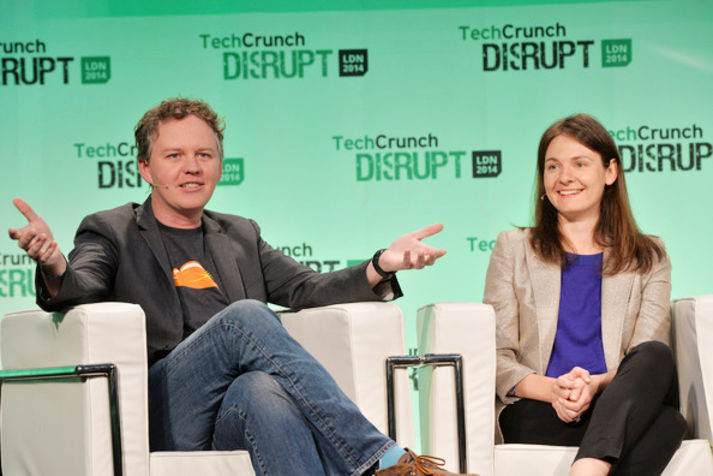 Image: Cloudflare CEO Matthew Prince and COO Michelle Zatlyn
On May 2, Beyond Meat [BYND] went public, raising $270 million, including overallotment, at an initial offering price of $25 per share.
At 9:30 am, all hell broke loose at the opening of the Nasdaq Stock Market.
Investors went nuts to buy the newly trading stock and shares opened the day up 84%.
Over the next six-and-a-half hours, shares of Beyond Meat traded hands 23,118,966 times.
Shares closed the day 43% higher than where they opened, and by day's end were 163% higher than where they were initially priced.
Most stocks don't rise that much in five years. Forget about one day.
But the party was just getting started.
84 Days Later, One Share of Beyond Meat Was Worth $239.71
As you probably know, Beyond Meat is a disruptive company that makes plant-based meat that not only tastes like real meat… it "bleeds" like real meat when you cut into it.
After ten years of hard work, Beyond Meat issued one of the most successful IPOs in history.
Beyond Meat went public at a $1.5 billion valuation. Less than three months later, it was worth more than $13 billion.
That's an 859% explosion from its initial IPO price of $25.
Few people saw it coming. Unless you're a hardcore vegetarian, you'd likely never heard of Beyond Meat before its IPO.
Today, it's practically a household name. A 9x return in under three months will grab investors' attention.
Beyond Meat Founders Made a Killing off the IPO
So did early investors who bought into the company while it was still private.
But this wasn't some roped-off, insider-only investing opportunity.
The chance to make big, quick profits was sitting there, open to anyone with a brokerage account.
Many everyday investors made out like bandits on Beyond Meat. One of my colleagues doubled his money on the stock in just a few weeks.
But you could have blown away those returns by simply buying BYND the minute it started trading, even at the inflated opening price.
A $10,000 investment ballooned into more than $52,110 in just 12 weeks!
Profitable IPOs Like Beyond Meat Are Not Uncommon
Guardant Health [GH], which specializes in cancer diagnostics, soared 490% just eight months after its October 2018 IPO.
Software company MongoDB [MDB] spiked 470% after its November 2017 IPO.
Cybersecurity company Zscaler [ZS] gained 460% after going public in March 2018.
And ShockWave Medical [SWAV], which sells medical systems used to treat cardiovascular disease, returned 300% in three months.
I'd bet 99 out of 100 investors have never heard of these companies.
And yet they quietly made small, quick fortunes for investors who understood how to play them.
Media Won't Necessarily Tell You About the Best IPOs
Unfortunately, most investors aren't tipped off to the best IPOs until its too late. They only hear about the mega IPOs.
Which is a shame because those rarely deliver.
Uber [UBER], Lyft [LYFT], and Slack [WORK] are the latest examples of mega IPOs that flopped.
Each of these IPOs got 10x more airtime than all of the hugely successful IPOs I mentioned above, combined.
And yet, you would have gotten your "face ripped off" investing in them.
UBER has plunged 32% since its May 9 IPO. LYFT plummeted 36% since its March 29 IPO. And WORK has dropped 26% since June 20.
When it comes to IPOs, I think the media is your worst enemy.
Over and over again, they hype up giant, popular IPOs like Uber. Over and over again, these giant, popular IPOs flop.
And over and over again, the media totally ignores the IPOs of smaller, lesser-known companies.
It's no wonder profitable IPOs fly under the radar of most investors.
Further complicating matters is that many of the "hot" IPOs are simply unavailable to the average investor, who doesn't have a realistic chance at getting an allocation from the bookrunners. It can sometimes be advantageous, however, to wait until after the new issue begins trading.
Two Notable IPOs Last Week
A case in point is SmileDirectClub [SDC], which began trading last Thursday. The deal was priced at $23 per share by JP Morgan and Citigroup, above its filing range of $19 to $22. The stock opened down significantly at $20.55, trading as low as $17.01 on the first day before recovering to close at $17.28. SDC seems to have found its footing after a few days of trading, closing at $18.90 on Monday, Sept. 16.
SmileDirectClub sells invisible teeth liners, but you don't need to visit a dentist or orthodontist first. You simply visit one of its locations or make a mold of your teeth at home.
Its treatment costs just $1,895. That less than 1/3 of what typical braces cost.
SmileDirectClub's sales are growing at an incredible 190% year over year. And there's still plenty of opportunity ahead. Hundreds of millions of people worldwide have crooked teeth. Less than 1% receive treatment each year.
Despite the above-the-filing-range pricing of the deal, which would normally indicate very strong institutional demand, the way the stock traded on day one is a sign that investors had concerns about valuation. Even the current valuation, down 18% from its IPO price, is a bit rich for my taste, and I'll be watching this one for a pullback to perhaps the $15 level.
Cloudflare [NET]—another exciting disruptive company—had its debut on Friday. Cloudflare is a web performance and security company that serves nearly 10% of all global internet requests. The company says it blocked an average of 44 billion cyber threats per day in the quarter ended June 30, 2019.
Like SmileDirectClub, Cloudflare is rapidly growing. Its sales have grown 50% per year since 2016.
I anticipated that Cloudflare stock would get off to a strong start, and it has. The deal priced at $15, above its $12 to $14 filing range (which had already been updated from $10 to $12) and has never traded below $17.50. At the current price of $18.63, Cloudflare is valued at about $5.5 billion and the stock continues to be in demand.
Several recent technology IPOs have also performed very well. CrowdStrike [CRWD]—a cloud computing company—spiked 200% after its June IPO, and Fastly [FSLY]—an internet security company—has jumped 120% since it went public in May.
The Great Disruptors: 3 Breakthrough Stocks Set to Double Your Money"
Get my latest report where I reveal my three favorite stocks that will hand you 100% gains as they disrupt whole industries. Get your free copy here.
___
Equities Contributor: Justin Spittler
Source: Equities News