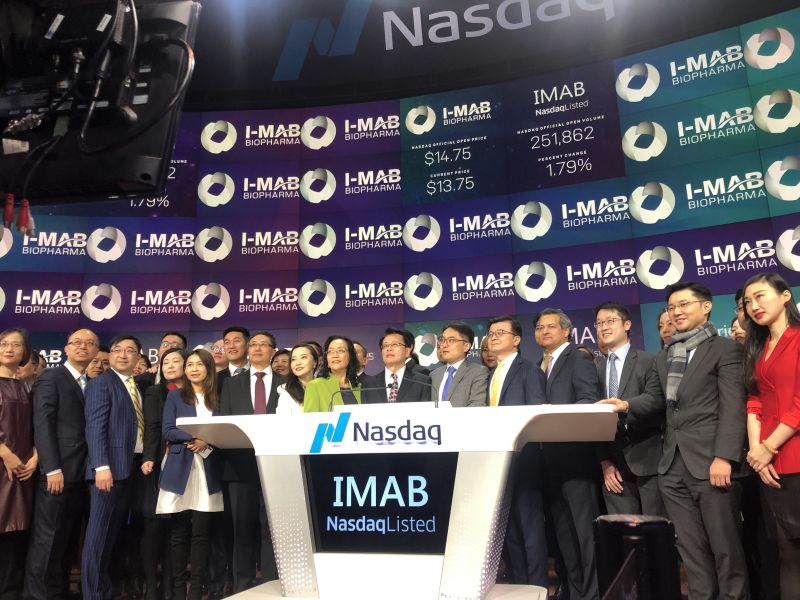 I
Image: Nasdaq
I-Mab Biopharma — Initial Public Offering
Shanghai-based I-Mab Biopharma priced its initial public offering last night of 7,407,400 American Depositary Shares at $14 per share for gross proceeds of $103.7 million via Jefferies and CICC. The pricing established a post-money market valuation of $807 million. The stock has spent most of the day trading below its issue price, with shares at $13.35 in late-afternoon Friday trading on Nasdaq. The deal marks the first Chinese biotech to go public in the US since September 2017.
IPO Was Half the Size That the Company Thought It Would Be Last Summer
The final size of the deal and the way the stock traded on day one are below where expectations were last summer. In August 2019, Bloomberg reported that the company had filed confidentially for an IPO that would raise as much as $200 million. The early stage company had raised over $400 million to that point, including a sizable $220 million Series C round in June 2018, which was led by Hony Capital, with new participation from Hillhouse Capital, HOPU Investments, CDH Investment, Ally Bridge Group, EDBI and existing investors C-Bridge Capital and Tasly Capital.
In March 2017, I-Mab's Series B financing round raised $150 million.
Lead Candidate Targeting Multiple Myeloma
I-Mab's lead drug candidate, TJ202, is a differentiated CD38 antibody that is currently in two registrational trials for multiple myeloma in Taiwan as a third-line monotherapy and a second-line combination therapy with standard regimens of lenalidomide (LEN) and dexamethasone (DEX).
I-Mab has received approval from China's National Medical Products Administration (NMPA, China's equivalent of the FDA) for conducting the same trials in China.
Two-Pronged Pipeline, China + Global
The company is pursuing a two-pronged clinical strategy across a range of autoimmune diseases and cancer:
A risk-controlled and "fast-to-market" China Portfolio
A transformational "fast-to-PoC (proof of concept)" Global Portfolio
The China portfolio is built around in-licensed assets that have demonstrated a favorable clinical safety profile and preliminary efficacy data in phase 1 or 2 trials in the US, Europe or elsewhere. The company is focused on drug candidates with the potential to become novel or highly differentiated therapeutics for urgent unmet medical needs in China.
I-Mab has stated that it expects everything in the China portfolio to undergo Phase 2, 3 or registrational trials in 2020, with new drug applications to the NMPA being filed in sequence between 2021 and 2024. The company will seek to partner with a specialty pharmaceutical company to commercialize these products eventually in China.
The Global Portfolio comprises internally developed biologic drug candidates. I-Mab's strategy is to clinically validate these candidates under the FDA's streamlined regulatory system for innovative drugs, and to use the validated clinical data to pursue further development in China. The Global Portfolio focuses on monoclonal antibodies and bi-specific antibodies.
I-Mab expects to advance the three monoclonal antibodies currently in US Phase 1 trials into Phase 2, and to initiate new US clinical trials for other antibodies by the end of 2020 or early 2021. As part of this effort, the company is expanding its clinical team based in Maryland and is also setting up a translational medicine group with a biomarker laboratory in the US.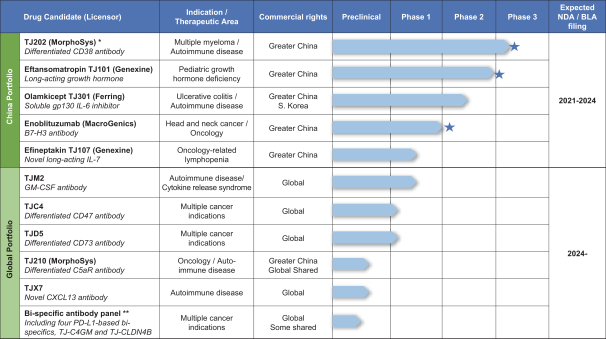 Edward Kim is Managing Editor of Equities.com.
_____
Source: Equities News