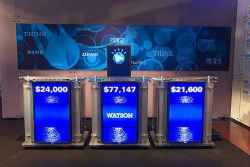 On February 2011, Watson, an IBM artificial intelligence computer system dazzled Jeopardy viewers by defeating Jeopardy Champions, Brad Rutter and Ken Jennings. Watson, named after IBM's (IBM) first president, Thomas J. Watson is capable of answering questions posed in natural language and has access to over 200 million pages of structured and unstructured content, including the full text of Wikipedia (though the machine was not hooked to the internet during the show). Watson's access and ability to process large amounts of information is making it a sought after tool for many industries, including finance. Watson's addition to the financial world will not only aid large banks but also individual businesses as well. And the idea of Watson is one that could greatly improve fields like Forex trading.
Watson "can give an edge in finance," said Stephen Baker, author of books The Numerati and Final Jeopardy, a Watson biography. "It can go through newspaper articles, documents, SEC filings, and try to make some sense out of them, put them into a context banks are interested in, like risk." But it's not just banks that benefit from Watson's knowledge; individual traders as well can also make use of a tool like Watson. In an information rich field such as Forex, it's sometimes difficult to leverage all that information in an accurate manner so one can take timely action. After all, a second is all it takes between a winning trade and a losing one. A computer like Watson could process and provide up-to-the minuet financial, economic and political data that would take an individual trader hours to try to consume, without ever truly being on top of it all.
Another great asset Watson would pose to the Forex field is the fact that it has no emotions—it's simply a computer. Certainly our brains can store vast amounts of knowledge, but they also store emotions and these emotions often get in the way of using the knowledge we have to make sound decisions. Watson's ability to give correct game show answers confidently, could also be applied to making confident trades. Many traders use automated trading systems as a way to work on their emotional management. A computer cannot have a "gut feeling" or feel "lucky" during a trade. It can only trade based on the facts it has to work with. Watson, with its access to great quantities of data and its highly sophisticated way of analyzing it would help traders make better trading decisions, while allowing them to combat the natural emotional highs and lows that are felt with trading.
A computer like Watson would work for the masses by putting the usual very complex content into context that makes sense to the individual. It would help traders make better decisions by taking their questions and breaking it down into a weighted response so a trader would not have to shift through a million possible responses. Suddenly the interaction with the market is occurring in a natural way rather than the heavily complex one traders are so used to.
Watson may not be intuitive, like all machines it can only work with data without the ability to foresee events, but Watson's ability to access, understand, and process the data in natural language would give traders and the financial world as a whole a huge edge in the market. With new technology like Watson coming onto the market, a trader can greatly improve the way they trade. If a trader is still trading manually then they are missing out big time. Computers and technologies are becoming more prevalent in our lives, and for a trader to resist adopting new technology into their trading career is futile. They will be missing out on a huge algorithmic edge.
DISCLOSURE: The views and opinions expressed in this article are those of the authors, and do not represent the views of equities.com. Readers should not consider statements made by the author as formal recommendations and should consult their financial advisor before making any investment decisions. To read our full disclosure, please go to: http://www.equities.com/disclaimer