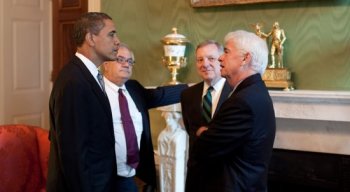 On August 5th, 2015, the SEC approved the final rules regarding CEO compensation. It is part of the Dodd-Frank Act, and it's been heavily discussed, since public anger at corporate leaders has reached a fever pitch. The rule, which is called "CEO pay ratio disclosure," will require the majority of publicly traded companies to disclose a ratio that puts CEO pay into relation to the median income of all employees of the company.
It took regulators years to finish the rule, largely because they faced heavy headwinds from the corporate world. Company representatives argue that the new rule will be costly, and they will convey a misleading picture of CEO pay to the public. However, the SEC approved the rule, and companies now have to disclose their CEO pay ratio for the fiscal year beginning on or after January 1, 2017. Therefore, most companies will publish the ratio in their 10-K filing in 2018 for the first time.
Companies Have to Identify their Median Income Worker
The disclosing company has to identify the median income workerof all their employees, excluding the CEO. That also includes part-time and seasonal workers, which will widen the pay ratio further. CEO pay includes not only the salary, but also bonuses, pensions, stock options, and health care contributions. On the other hand, employees only have to report wages.
In order to identify the median income worker, companies can either establish a compensation list of all employees or use a statistical sample. They have to include workers of affiliated companies as well (50% ownership threshold). Companies can use the same median income worker for three years, as long as there are no significant changes that would require a new determination. For example, if the worker changes his position or leaves the company, the employer can identify another median income worker with a comparable compensation.
Employers can make use of Exceptions and Adjustments when Calculating the Median Income Worker
Companies can exclude non-US employees if they are located in a country where privacy rules don't allow the full disclosure of their wages. Furthermore, they can exclude up to five percent of non-US employees in general. However, if this rule is applied in any foreign jurisdiction, all employees of the respective jurisdiction must be excluded. Additionally, the workers excluded under the privacy-protection exception described above will be counted againstthe employees excluded under the five percent rule.
For example, if an employer chooses to exclude three percent of workers in a foreign jurisdiction based on the privacy protection rule, he can only apply the five percent rule in foreign jurisdictions where the number of employees doesn't exceed two percent of the total number of employees. Moreover, companies can chooseany date within three monthsof the fiscal year's end in order to determine their median income employee. However, once a date is chosen, it has to be used consistently from year-to-year.
Additionally, companies can apply a cost of living adjustment for workers living outside of the CEO's jurisdiction. However, if they make such an adjustment, they will still be required to disclose the ratio without the adjustment as well.
Critics Brand the Rule as Worthless and Too Expensive
Critics say the rule serves no purpose other than to accelerate class warfare and embarrassing corporate boards. They argue that CEO pay, as well as the determination of the median income worker are too subjective to calculate a meaningful ratio. Former Google Inc. ($GOOG) CEO and current CEO of Alphabet, Inc. Larry Page receives a remuneration of one dollar per year, for example, but holds a huge amount of the company's shares. However, the capital gains of his stocks will not be included in the calculation. Hence, Google's CEO pay ratio will be meaningless. Other companies apply similar compensation models for their CEOs. In fact, CEO salaries are more used as an accounting tool instead of being a reflection of their actual earnings.
According to SEC estimates, the new rule will cost US companies more than $73 million in compliance costseach year. However, most companies believe the true costs will be much higher. On the other hand, watchdog organizations have pointed to the fact that CEO remuneration has gone up significantly during the last decades and the average CEO of a larger American firm earned between 150 to 373 times as much as the average worker in 2014. The ratio could help to reestablish a healthy balance, they say.
It will take some time until the first CEO ratios will be publicly disclosed. However, companies are recommended to start finding the best method to identify their median income worker in order to be prepared for the first disclosure in 2018.
DISCLOSURE: The views and opinions expressed in this article are those of the authors, and do not represent the views of equities.com. Readers should not consider statements made by the author as formal recommendations and should consult their financial advisor before making any investment decisions. To read our full disclosure, please go to: http://www.equities.com/disclaimer