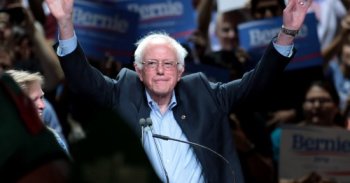 Dodd-Frank is viewed very differently by the political left and the right-wing of the US. While almost all Republican presidential candidates want to dismantle the act, most Democrats are pushing in the opposite direction. Senator Bernie Sanders and former Maryland Governor Martin O'Malley want to return to the Glass-Steagall Act. That would force banks to separate their commercial banking business from investment banking. In this case, big players like Citigroup Inc. ($C) or JPMorgan & Chase Co ($JPM) would basically be split up into two separate entities. However, the more moderate candidate, Democratic front-runner Hillary Clinton doesn't call for the reenactment of the Glass-Steagall Act. Clinton doesn't believe that the solution for the financial industry's problems can be found in a single piece of legislation.
Currently, Wall Street is not popular among left-wing voters. Senator Elizabeth Warren received much attention by addressing major issues in the financial sector, and many Democrats share her political views. Bernie Sanders and Martin O'Malley are certainly benefiting from the enthusiasm that she created in her party. Hillary Clinton got almost as many campaign donations from financial institutions as Jeb Bush, who is Wall Street's favorite candidate. While having ties to Wall Street is certainly beneficial for campaign donations, it's not necessarily helpful to get more voters as a Democratic candidate. However, Clinton is not the only leading Democrat who has established strong ties with the financial industry. Joe Biden, who has publicly expressed interest in running for president, has had close ties to various credit card companies during his time as a Senator.
His defenders argue that the financial industry is strong in his state of Delaware, and as a Senator, it's his job to represent the interests of his state. As Vice President, they say, Biden has contributed positively to several Wall Street reforms, including Dodd-Frank. "As Vice President, I certainly cannot think of a single instance that he was hostile," said Chris Dodd. Barney Frank stated that Biden's record on financial issues during his time as member of the Obama administration will be "a pretty good defense for Joe."
Democrats Must Choose Between Establishment or Reform
Joe Biden would not be a threat to Wall Street, and neither would Hillary Clinton. Her intended policy reforms won't be a major crackdown on the industry. Unlike Bernie Sanders and Martin O'Malley, she doesn't support a tax on financial transactions in order to limit high-speed trading, and she is not in favor of Glass-Steagall-like regulation. Instead, she supports increased taxes on capital gains and is in favor of rules that push companies to share profits with employees and investors.
Nevertheless, Hillary Clinton considers the power and influence of the financial industry as a major issue. She hired Gary Gensler as her campaign treasurer, a former Goldman Sachs Group Inc. ($GS) manager who aligns himself with Elizabeth Warren. He is in favor of Wall Street reforms that put a strong emphasis on prosecuting wrongdoings in the financial industry.
Although Democrats are less connected to Wall Street than Republicans, there are huge differences between the candidates. It remains to be seen if voters will support the political establishment, or seek alternatives.
DISCLOSURE: The views and opinions expressed in this article are those of the authors, and do not represent the views of equities.com. Readers should not consider statements made by the author as formal recommendations and should consult their financial advisor before making any investment decisions. To read our full disclosure, please go to: http://www.equities.com/disclaimer