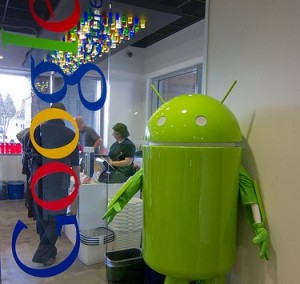 On Friday, Feb. 15, tech blog 9to5google.com quoted an unidentified but "extremely reliable source" that before the year's end, Google (GOOG) would be opening up its own retail stores in major metropolitan cities in the United States.
The move would not be unprecedented for the tech company, as they currently have store-in-store set-ups in scores of Best Buy (BBY) outlets throughout the United States. These retail spaces are in the same spirit as Microsoft (MSFT) and especially Apple (AAPL) stores, where consumers may familiarize themselves with products, with the assistance of knowledgeable company representatives, before they make their final purchase decisions. For the time being, these small stores-in-stores are being used to showcase mostly the Chromebook and related products.
In full-blown retail stores, however, a more fleshed-out range of Google products would be on display, such as Google Nexus smartphones and tablets as well a wider range of Chrome computers.  Much of the speculation, however, is focused on the much-anticipated Google Glass computerized eyeglasses that have been in development for some time.  It is thought that these would be the main showpiece for any upcoming flagship retail outlets.
The speculation is sensible, considering worries that the futuristic-sounding eyewear will be a tough sell for many, at least without a corresponding physical experience and/or demonstration that could drive home the potential value and practically of such a product in terms of consumer needs and demands.
[Image via Flickr]
DISCLOSURE: The views and opinions expressed in this article are those of the authors, and do not represent the views of equities.com. Readers should not consider statements made by the author as formal recommendations and should consult their financial advisor before making any investment decisions. To read our full disclosure, please go to: http://www.equities.com/disclaimer