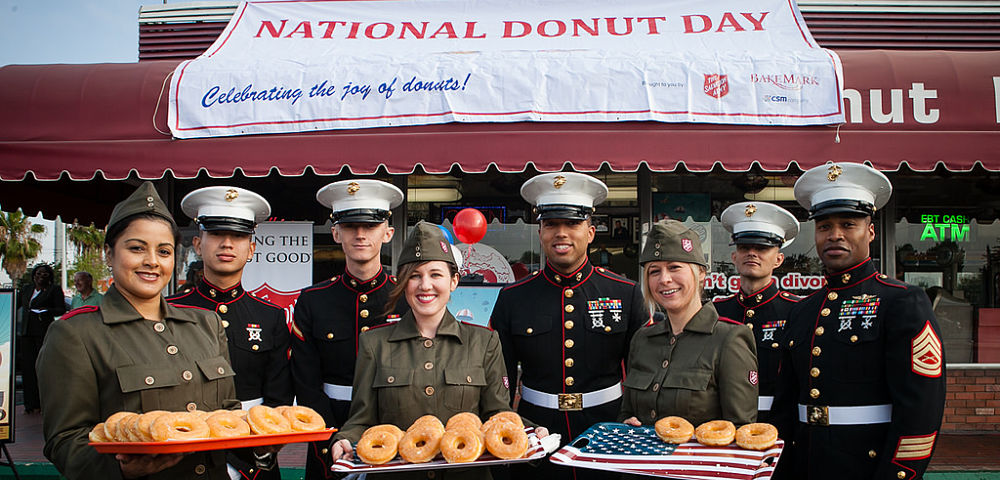 Image via Salvation Army USA West/Flickr CC
It seems like there is a new national food day popping up on our calendars every minute. We're all just hungry to celebrate something – anything – whether it's a national food day, week or month! While some faux holidays are aggressive (We are looking at you May 10th, aka National Liver and Onions Day), consumers definitely love to join in the fun when their favorite food day rolls around. National Coffee Day and National Donut Day are two popular examples, as are their potently potable friends National Tequila Day and National Wine Day.
Some skeptics may think these social media holidays are getting out of hand, but unofficial holidays have become more integrated into consumers' real lives than ever, as the lines blur between our physical and digital lives. Somebody actually wished us a happy National Cookie Day this year. A group of friends made it a point to gather at a restaurant for National Taco Day. Did we take pictures, post them on social media and share relevant hashtags? You better bet your silver dollar pancake.
These national food days are becoming almost as important as "traditionally observed" holidays – after all they were made for people like us – social media-loving consumers. Why not take the opportunity to get involved? Come up with creative social promotions and marketing ideas to give customers a reason to embrace your brand.
As unofficial holidays become more official, how do brands make sure they grab a slice of the conversation online and boost sales offline? Peppercomm shares a few tips for brands below:
Attach yourself to a celebration: Americans consume 400 million cups of coffee EVERY DAY – that alone is a reason to celebrate National Coffee Day. The problem is, Dunkin' Donuts basically OWNS that and National Donut Day. As a business, don't just wish consumers a happy holiday. Offer them something, whether in a store or online. One studyreveals that female consumers rank digital coupons, recipes, hints and tips as their favorite content from food brands. Introduce new offerings, buy one get one free (BOGO) drinks when you come with a friend, share recipe videos of secret off-the-menu items, etc. Decide what makes sense for your brand to ultimately give your customers a reason to celebrate with you!
Bonus Tip! If you still feel bullied by bigger brands, look into owning niche alternatives, where your brand can still weigh in on the conversation: National Gourmet Coffee Day, National Cappuccino Day, National Cafe Au Lait Day, etc.
Hashtag, Hashtag, Hashtag: Even if the conversation around #NationalBaconDay seems crowded by other brands, using hashtags enables your brand to boost visibility among a larger community. Use other relevant hashtags as well to break through the noise. Consider #bacon, #baconstrips or #baconlovers OR get creative and brand your own hashtag and encourage customers to use it. Tap into other trendy hashtags as well. For example, IHOP recently tapped into #MondayMotivation to promote followers to come in for a stack of hotcakes on National Pancake Day. For Facebook, the best rule of thumb is to use two or three hashtags, whereas four or five tags are encouraged to achieve maximum interactions on Instagram posts.
Don't wait until last minute: According to Buffer, 40% of people will post about a special event before it happens. A case study on Starbucks' Unicorn Frappuccino reveals the coffee giant had close to 51,000 social-media mentions the day before the drink was even announced, compared to nearly 72,000 the day it debuted. The lesson: start the conversation early! To boost buzz for your BOGO deal on National Pizza Day, start the online conversation a week or two in advance. We all know pizza is one of America's beloved foods, so why not get ahead and give customers a reason to visit YOU rather than your competitors? Give them a heads up on your promotion, whether that be a creatively written email blast or posts on your social media pages.
Eating is definitely one of our nation's most beloved activities, and in recent years it has started to shape our culture. Honor our country by celebrating with your favorite eats with national food days throughout the year. Will your brand get involved this National Popcorn Day? Maybe National Waffle Day is more your taste. Either way – let us know how you plan to incorporate national food holidays in your marketing plans.
Stay hungry… and trendy!
About the Authors: Courtney Moed is an account executive at Peppercomm. She works with a majority of B2C organizations, serving consumer and lifestyle clients, and is one of Peppercomm's social media experts. Courtney has also been an independent social media and PR consultant since 2015 and has run a lifestyle blog since 2017. She graduated from Ramapo College of New Jersey with a degree in Communication Arts, Global Communication and Media and Women and Gender Studies.
Heather Valle is an account executive at Peppercomm, where she began her career in 2016. She is experienced in B2B communications, serving financial services clients, with a niche in insurance. With a love for eating, she runs a food blog in her spare time, and dabbles in traditional food and beverage PR.