Myelodysplastic syndromes (MDS) are a group of serious blood disorders in which the blood-forming cells in the bone marrow become abnormal or malignant, resulting in decreased production of red blood cells, white blood cells and platelets. MDS is the most common myeloid malignancy, with about 12,000 reported new cases of MDS in the US each year and between 60,000 and 170,000 living with the disease. 80% of patients with MDS have anemia and up to 30% of patients with MDS develop acute myelogenous leukemia (AML). Many patients with anemia become dependent on red blood cell transfusions for the balance of their lives.
Geron Corporation GERN presented updated data at the 23rd Congress of the European Hematology Association in Stockholm yesterday showing positive results from the first part of its Phase 2/3 "IMerge" trial of imetelstat in lower risk MDS patients. The data was presented by Dr. David Steensma from the Dana-Farber Cancer Institute. 34% of the 32 treated patients achieved red blood cell transfusion independence lasting at least eight weeks, and 16% achieved transfusion independence for at least 24 weeks. The median duration of transfusion independence was 23 weeks.
Imetelstat — telomerase inhibitor
Imetelstat is Geron's sole product candidate, currently in Phase 2 trials for myelofibrosis in addition to the Phase 2/3 trial for MDS. The compound inhibits the expression of telomerase, an enzyme that is repressed in most normal cells but that is present in 90% of biopsies taken from a broad range of cancers. Telomerase maintains the activity of telomeres, which are key regulators of cell division. Telomeres are DNA sequences at the ends of each chromosome that shorten each time a cell divides, until the cell either stops dividing or dies. Imetelstat was designed to target and bind with high affinity to the active site of telomerase, thereby impeding malignant cell proliferation.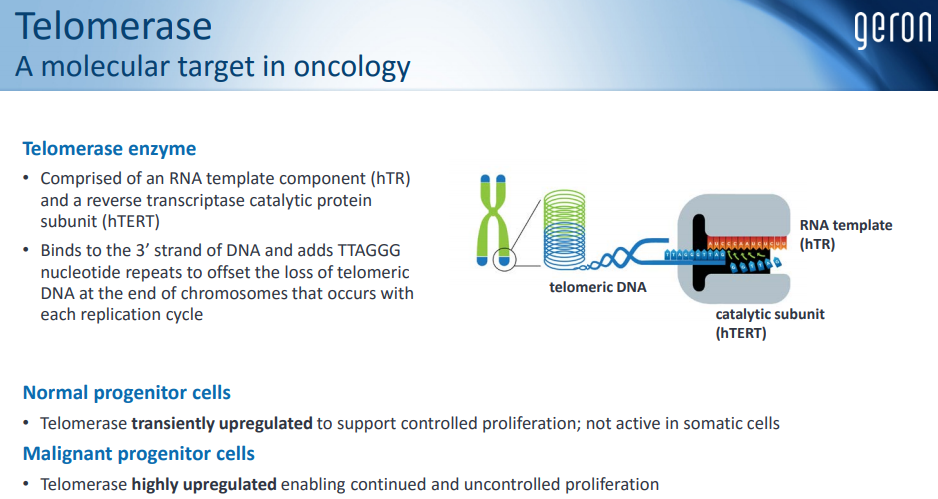 Source: Geron Corporation presentation, March 2018
Janssen collaboration and upcoming continuation decision
Janssen, Johnson & Johnson's JNJ pharmaceutical unit, licensed imetelstat from Geron in 2014, for $35 million upfront and potentially $900 million in development, regulatory and commercial milestones, as well as royalties. Janssen is responsible for all regulatory, development, manufacturing and promotional activities.
The classical binary event risk faced by all biotechnology companies is magnified in Geron's case, as imetelstat is the only candidate in the pipeline and clinical progress and continuation is entirely in the hands of Janssen. According to Geron CEO John Scarlett, MD, Janssen is expected to make its decision on whether or not to continue the development of imetelstat by the end of Q3 2018, based on completion of the analysis of the Phase 2 myelofibrosis clinical data and informed by data from the MDS study.
Outlook
Those of you who follow Geron closely—and there are many of you—will know that the company has been a target of the short side for much of its life. According to Nasdaq's May 31, 2018, numbers, the short interest in the stock is 42.7 million shares, or nearly 25% of shares outstanding. Geron went public in 1996—a lifetime ago by biotechnology standards—and has yet to produce a revenue generating product, racking up an accumulated deficit of $992 million as of the March 31, 2018, financials.
Despite all this, we think the risk-reward of the stock at current levels merits the attention of long investors. We have been following this stock to varying degrees since the days when founder Michael West first took the company public. While Dr. West and his immediate successors managed to repeatedly raise significant equity capital for Geron, the cost, of course, was massive dilution for shareholders across the years and defensible fodder for the short side. Since 2012, when Dr. Scarlett took over the reigns, however, Geron has much more circumspect about dilution.
Further, we believe that Janssen considers imetelstat to be a core part of its pipeline and view the continuation of the Geron agreement to be likely. We base this not only on the positive data we've seen from Geron, but, perhaps more importantly, on remarks made by Johnson & Johnson CFO Dominic Caruso. During JNJ's Q1 2018 earnings call on April 17, 2018, Mr. Caruso said that the company had "eight more products we intend to file between now and 2020, each having a billion-dollar potential." JNJ released a snapshot of Janssen's pipeline with the earnings release, and Geron's imetelstat is the top-listed oncology asset.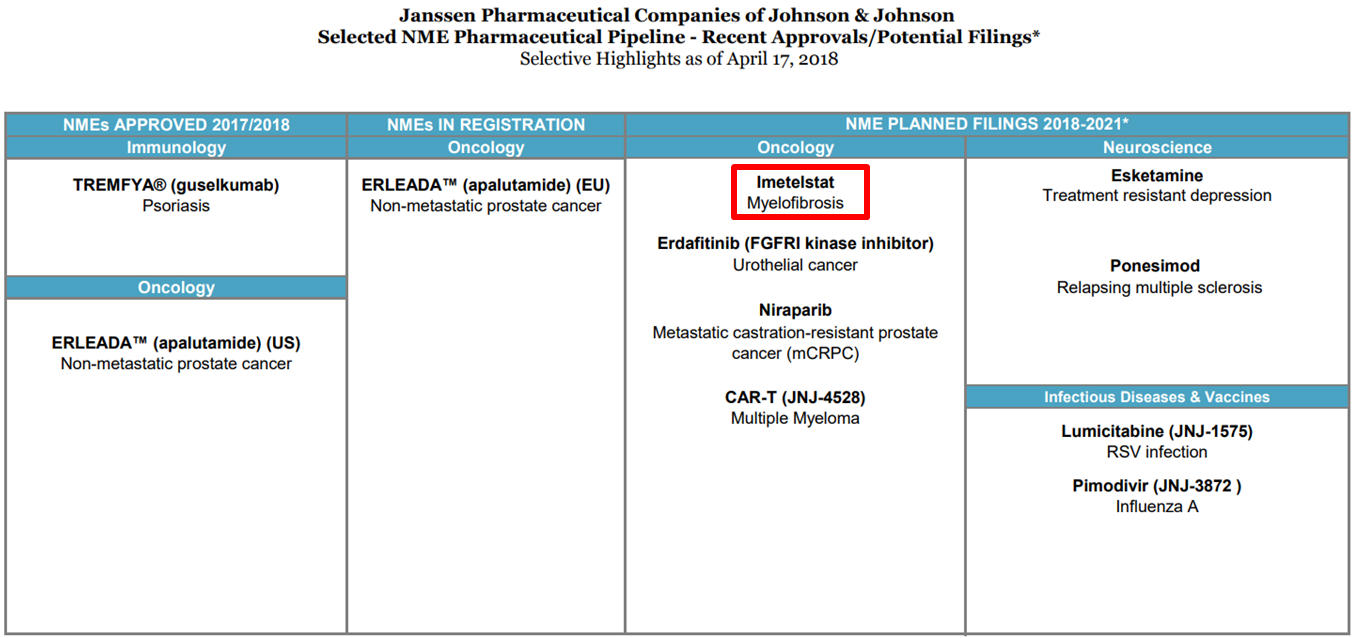 Source: Johnson & Johnson, April 17, 2018.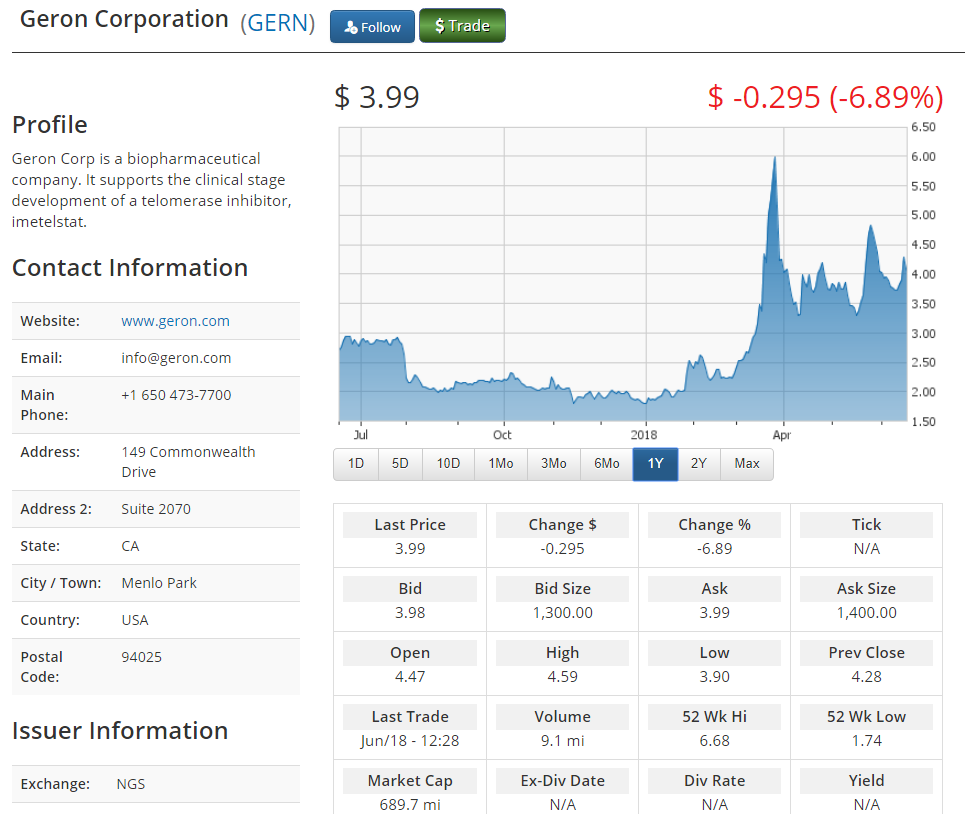 Please email us at [email protected] to see our Case Studies and Testimonials.
Please click here for information on our new trading platform.
Please click here to see our weekly newsletter.