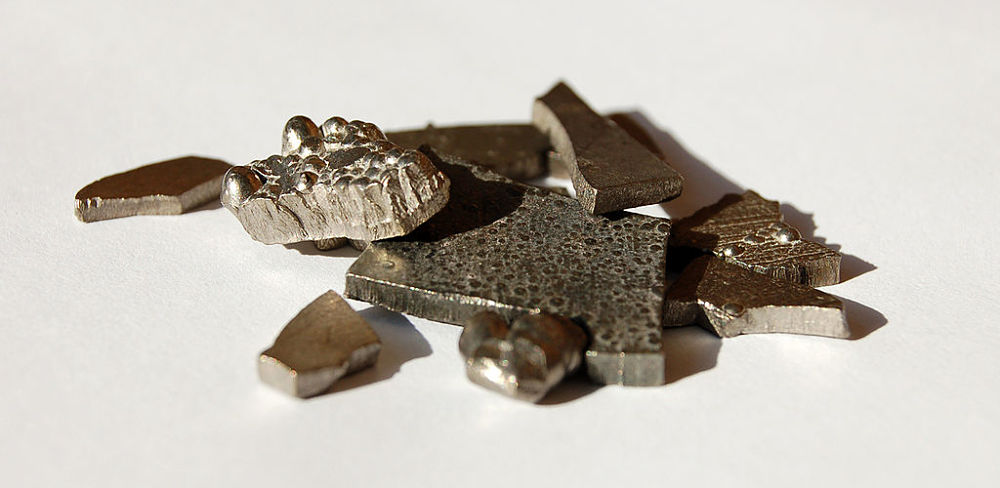 Over the past six months, the price of cobalt has more than doubled, rising to over $25 per pound. The move had been steadily building over the past year until it went hyperbolic in February. The driving force behind this boom is that cobalt is a key element in lithium battery production and is widely used in mobile phones, computers and solar power storage.
The biggest factor, however, is undoubtedly the auto industry's transformation toward more electric vehicles. With costs of EV coming down to appeal to wider masses—Tesla (TSLA) Model 3 preorders have already hit 400,000, for example—the rise of lithium batteries is only beginning. What most people don't realize, however, is that cobalt is an essential component to create lithium batteries because of its high-power capacity and low carbon emission rate.
But while cobalt may be experiencing a boom, the majority of the world's supply comes from the turbulent region of the Democratic Republic of the Congo. The DRC previously endured widespread political upheaval causing the price of cobalt to fluctuate dramatically overnight. Booming car companies looking to fill orders cannot rely on cobalt from a country with such an unstable government and accusations of child labor abuse. Automakers and manufacturers want to ensure that their materials are sourced from clean hands. This has led lithium-ion battery makers to seek cobalt from sources within North America. One company that is looking to answer the call is Cruz Cobalt Corp. (CUZ:CA).
Having the foresight to see the oncoming surge in demand for cobalt, Cruz Cobalt began acquiring high-grade cobalt prospects across North America before the rest of the market realized what was going on.
"When you look at lithium prices and why it moved from $6,000 to over $24,000, it's mostly predicated on the car battery and anything to do with the battery sector," said James Nelson, President of Cruz Cobalt. "We've always prided ourselves on trying to be ahead of the curve, so we wanted to look at what we felt would be the next battery focus metal. Looking at the battery components, it was cobalt that really piqued our interest because, at that point very few were focused on it. There has not been any new production in 45 years in North America and the demand has been in equilibrium for years. The vast majority of the cobalt production is based in the DRC and anytime there is that much concentration in one place it sets up for price shocks. Also, now there is a significant exponential demand assumed from the battery market. Based on these factors we looked at the whole dynamic of what moved lithium, and determined cobalt had to work. At that time cobalt was trading under $10 and not many juniors were searching for cobalt."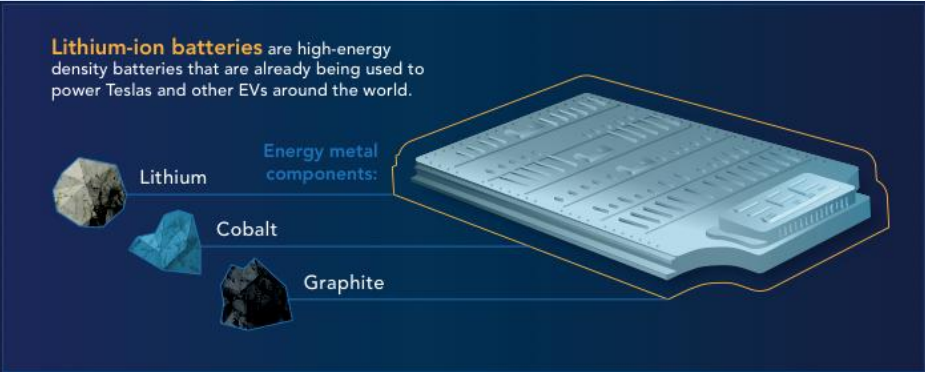 An Overview of Cruz's Cobalt Prospects
Cruz Cobalt was actually an early mover into the renowned Clayton Valley, Nevada area before the lithium boom really kicked off. The company says it is one of four companies to have access to the deepest parts of the only lithium brine basin in production in North America. Cruz actually announced its Clayton Valley Lithium project the day Pure Energy announced its deal with Tesla, many months before Lithium X and others entered the region.
But the company kept looking ahead, and began aggressively acquiring high potential cobalt properties that exhibited the most promising historic drilling data.
"Cruz is focused on acquiring, developing or joint venturing high quality cobalt prospects," Nelson said in a recent statement. "Cruz currently has approximately $2,000,000.00 in cash and securities on hand and we plan to implement multiple work programs across multiple counties and provinces within North America. Cruz has one of the largest land packages in the Cobalt Mining District in Ontario and we expect to be one of the most active companies in the district this next quarter."
Thus far, Cruz owns nine properties throughout North America.
---
---
Four prospects in Ontario, including:

The Coleman Cobalt Prospect: The property consists of approximately 900 contiguous acres in the Larder Lake mining division and appears to be an extension of the Tretheway veins. According to the Province of Ontario mineral file, returned grades of up to 13% COBALT.
The Bucke Cobalt Prospect: The property consists of approximately 1480 contiguous acres, also in the Larder Lake mining division. The property returned assays grading up to 13% COBALT and 240 g/t SILVER on this cobalt-focused prospect.
The Johnson Cobalt Prospect: The property consists of approximately 900 acres in the Kirkland Lake mining district, and returned assays of over 300 metres grading up to 10.5% COBALT, 69 g/t AG, 12% NI and .4% CU.
The Hector Cobalt Prospect: The property consists of approximately 5,500 acres in the Larder Lake mining division of Ontario and covers multiple cobalt occurrences

Three Prospects in British Columbia, including:

The War Eagle Cobalt Prospect: According to a Province of British Columbia Mineral file, the property encountered samples of up to 6.41% COBALT, 3.59% nickel and 7.25% copper.

One Prospect in Idaho:

The Idaho Star Cobalt Prospect: The property is located approximately nine miles southwest of Saltese, Montana, and 19 miles southeast of Wallace, Idaho. This prospect consists of 44 contiguous claims within the prolific Idaho cobalt belt. Geological data gathered shows the area to have been active for mining of cobalt, silver and copper in the past, which was the reason for the acquisition.

One Prospect in Montana:

The Chicken Hawk Cobalt Prospect: Located in Deer Lodge county, the property consists of 64 contiguous lode claims covering approximately 1,300 acres. The 64 claims surround 4 patented claims, no less than 15 unclaimed prospects, and 3 unclaimed adits.
Cruz's cobalt prospects present an ethical and stable solution for an industry that is expected to see strong demand growth.
Is Cobalt the Second Coming of Lithium?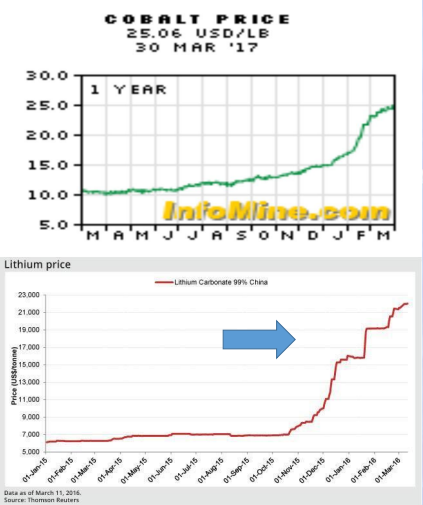 "We feel we have an advantage on many of the recent cobalt companies as we were able to pick and choose the properties we wanted at a time when few were looking for cobalt. Now there is almost no land available as many groups have grabbed most of the remaining available land in the region that we passed on," Nelson said. "Now, we need to have the historical data prove out. If we can confirm anything like the high historic grades on our projects, we'll be in a great position in the market. When you look at all the factors and internal dynamics on cobalt I firmly believe we're going to see $50-$70 cobalt this year."
The primary market catalysts for cobalt are two-fold. First is demand. As more mega production factories like Tesla's gigafactory come online, demand is only going to continue to soar. While research projections vary, the lithium-ion battery market is expected to triple over the next several years. According to Roskill, the Li-ion battery market is forecast to reach 223GWh by 2025, with a CAGR of 14%. That's a remarkable leap from the 5.7GWh the industry was at a decade ago.
The second catalyst is supply, or the lack of it. With the majority of cobalt production currently originating from the politically volatile Congo, whose controversial mining industry itself has attracted criticism for the poor practices and harsh working conditions suffered by its workers, the demand for more viable sources is clear. As of late, hedge funds and commodity firms have been stockpiling physical cobalt as well adding to the tight supply demand dynamics which could contribute to a price spike.
The Time is Now for Cobalt
"For the first time in a generation, you have the supply /demand curve going the other way with cobalt," Nelson said. "We see a huge runway here. We were in this space when cobalt was at $10. It's at $25 today. We've been pretty accurate so far, and when you consider all the factors combined, I really think it's going to go a lot higher than that."
Cruz understands the market and the cobalt boom now underway, but very few companies were ahead of the market like Nelson and his team. In fact, many still have not recognized the dynamic opportunity Cruz saw years ago. As the company continues to stay ahead of the curve, and cobalt on pace to hit record levels, Cruz could be in a strong position to benefit from a market with an exciting future.
---
Disclosure: In the interest of full disclosure, we call the reader's attention to the fact that Equities.com, Inc. is compensated by the companies profiled in the Spotlight Companies section. The purpose of these profiles is to provide awareness of these companies to investors in the micro, small-cap and growth equity community and should not in any way be considered as a recommendation to buy, sell or hold these securities. Equities.com is not a registered broker dealer, investment advisor, financial analyst, investment banker or other investment professional. We are a publisher of original and third party news and information. All profiles are based on information that is available to the public. The information contained herein should not be considered to be complete and is not guaranteed by Equities.com to be free from misstatement or errors. The views expressed are our own and not intended to be the basis for any investment decision. Readers are reminded to do their own due diligence when researching any companies mentioned on this website. Always bear in mind that investing in early-stage companies is risky and you are encouraged to only invest an amount that you can afford to lose completely without any change in your lifestyle. Equities has been compensated with cash, common shares and/or warrants for market awareness services provided.

DISCLOSURE: The views and opinions expressed in this article are those of the authors, and do not represent the views of equities.com. Readers should not consider statements made by the author as formal recommendations and should consult their financial advisor before making any investment decisions. To read our full disclosure, please go to: http://www.equities.com/disclaimer