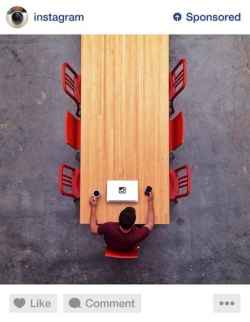 Facebook (FB) delivered yet another stellar quarter on Wednesday, propelling the stock to an all-time high above $75. Facebook's earnings, sales, and user growth impressed investors, as all these numbers topped expectations.
However, the most significant trend in Facebook remains the success of mobile advertising strategies. The past few quarters have established that mobile, which was once Facebook's Achilles heel, is now its bread and butter.
All of this bodes extremely well for Facebook's $1 billion purchase of Instagram, an investment that is yet to yield a single penny in profitability. Last month, Facebook gave users a sneak peak into "sponsored" Instragram posts (pictured below) and has begun to carefully roll out advertisements in limited capacity. If the sample is any indication, the ads will be picture and video-based, a logical fit given Instagram's purpose as a visual social network.
"We want ads to be creative and engaging, so we're starting with just a handful of brands that are already great members of the Instagram community," read Facebook's post regarding Instagram ads. "If you see an ad that doesn't interest you, you can tap the "…" below it to hide it and provide feedback about what you didn't like. This will help us show you more interesting ads in the future."
The creative, visual side of Instagram makes for enormous monetization potential. Businesses with products that appeal to the senses – food, drink, music, artwork, entertainment and thrills, for instance – will jump at the opportunity to convey some of these senses to Instagrammers.
For instance, a burger restaurant could post a picture of a juicy burger to all Instagram users within a given location with a description that reads, "Happy free fries Friday! Show this ad at any of our locations today get a free order of fries. #Yum #FoodPorn #FreeFries". Users would not only work up an appetite at the sight of a juicy burger, but could also engage with the ad by treating it as a coupon.
Video autoplay ads will also be a major component of Instagram's advertising future, a strategy that Facebook spoke positively about during its conference call. Facebook also said that demand for advertising on Instagram is already high, which bodes well for its prospects once the advertisements are fully rolled out.
Facebook's quarterly results were strong across the board. EPS came in at $0.42 on $2.91 billion in revenue. Analysts were expecting $0.32 on $2.81 billion in sales. The company also posted stellar operating margins at 59%.
Facebook's mobile user statistics also impressed. Mobile daily active users surged 39% year-over-year to 654 million. Monthly active users jumped as well, reaching 1.07 billion, a 31% from the same quarter last year. Facebook now estimates that it will attract 18.4% of total mobile advertising dollars this year, yet another staggering number.
The stars are aligned for Facebook to turn Instagram into a huge winner. Given Facebook's success in monetizing ads on mobile platforms and Instagram's obvious advertising compatibility, it won't be long until Instagram begins to make an impact on Facebook's bottom line.
DISCLOSURE: The views and opinions expressed in this article are those of the authors, and do not represent the views of equities.com. Readers should not consider statements made by the author as formal recommendations and should consult their financial advisor before making any investment decisions. To read our full disclosure, please go to: http://www.equities.com/disclaimer