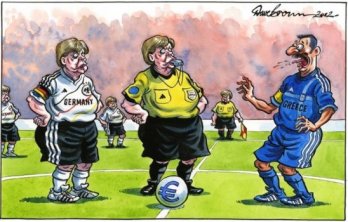 Today, the IMF and other Eurozone leaders announced they had reached a deal with Greece that allowed the country to stay in the Eurozone. Ironically, Prime Minister Alexis Tsipras agreed to conditions put forth by European leaders that his voters firmly rejected in a referendum last week.
So while Tsipras promised that a "no" vote on last week's referendum would not lead to a "Grexit," he also promised that Greece would not bow down to the demands of Germany and other European leaders. He managed to avoid a Grexit, but only by submitting to essentially the same conditions the Eurozone laid out two weeks ago.
The terms of this current agreement demand that Greece raise its value added tax and broaden its tax base, reform its broken pension system, make the Greek statistics office independent, and implement automatic spending cuts in the case of Greece missing its surplus targets…all by July 15th. By the 22nd of July, Greece must implement European Union rules on handling bank failures and overhaul its entire justice system.
Over a non-specified period of time, Greece must also privatize the electricity transmission grid, take action on non-performing loans, "de-politicize the Greek administration," deregulate the service sector, review collective bargaining regulations, strengthen the independence of the Greek privatization agency, and reverse many of the laws enacted by Syriza since they came into power in February.
If Greece follows all of these terms, they will receive 86 billion euros over the course of the next three years in bailout money. But with the outright defiance and disrespect Greece showed to the rest of Europe two weeks ago, why are European leaders so anxious to bail out Greece right now? Perhaps it would have been better for the Eurozone to let Greece go, to show other countries receiving bailout money that they are consequences for such actions. And from a pragmatic standpoint, there's evidence that the entire Eurozone would be much better off without Greece dragging it down.
The Case for a Grexit
One of the biggest concerns about Greece leaving the Eurozone and defaulting on its debts is the potential contagion effect. Five years ago, this was a real threat, and a Grexit would have sent the rest of Europe into turmoil. However, banks in Europe have done a good job in the last few years of shielding themselves from exposure to Greece. JPMorgan estimates that the Eurozone lenders it covers have only 5 billion euros in exposure to Greece.
Moreover, the money that Greece owes other Eurozone countries equals about 195 billion euros. This may sound like a lot of money, but it only accounts for four percent of the money spent by Eurozone governments in the year 2013.
Another concern is that a Grexit would spark a tremendous amount of uncertainty from member countries and investors about the future of the Eurozone. If investors are not reassured that the Eurozone is going to remain strong, there could easily be an increase in interest rates and thus, borrowing costs. A rise in the cost of credit could hamper the already sluggish growth in the economy.
However, because the contagion effect on other countries is limited, investors should not have too much to worry about. Additionally, it wouldn't be too difficult for the big players in the Eurozone (Germany, France, Netherlands) to spin a Grexit as a move toward stability for the Eurozone, and a clearing of a toxic asset. And make no mistake, that's exactly what Greece is: a toxic asset.
How Would Greece Fare Outside the EU?
While the rest of Europe will do fine if Greece leaves the Eurozone, Greece itself would suffer. There's a moralistic argument to be made that they brought this upon themselves and they should suffer for idiotic mistakes their government (a government put in place by the people) has made not just in the past month, but also over the last decade.
That being said, it may be economically beneficial for Greece to leave the Eurozone right now and endure the short-term pain to gain long-term stability and autonomy over their own finances.
The short-term pain will be intense. Standard & Poor's predicts that Greece leaving the Eurozone will cause real GDP to plummet by 20% over the next four years. Unemployment will also shoot up from its already ridiculously high level of 25%.
However, in the long-term, if Greece returns to its own currency, it will be able to have a free-floating, easy, and cheap currency that will make its exports competitive in international markets. This should drive up growth and drive down unemployment in the country after the initial shocks fade away. The biggest problem Greece had after the recession was the combination of a hard currency and strict austerity measures.
Nobel prize-winning economist Paul Krugman compares the Greek situation to a Canadian crisis in the 1990's to show that strict austerity measures can work, but only with the combination of an easy currency allowed to depreciate. Of course, Canada also had its own central bank that could lower interest rates, which in combination with a depreciating currency, encouraged private lending and private investment that helped the economy recover.
Different Values
Greece is a sovereign nation with different values and principles than other European countries like Germany, for example. While Germans have a strong work ethic, Greeks are lazy bums. Ok, maybe that's a gross oversimplification, but the point is that all of these countries in the Eurozone feel differently about how much people should have to work, how much the government should take care of its people, the role of government in regulating private business, and the amount people should pay in taxes. These are very important differences, and for a country like Greece that differs so much from other Eurozone countries, it's important that they have their own currency that fluctuates in value based on the policies the government undertakes. It's difficult to have a monetary union without an economic union in general, but that's a whole other topic for another time. For now, all we can do is wait and hope that the European Union comes to it senses, backs out of the deal, and kicks Greece out of the Eurozone.
DISCLOSURE: The views and opinions expressed in this article are those of the authors, and do not represent the views of equities.com. Readers should not consider statements made by the author as formal recommendations and should consult their financial advisor before making any investment decisions. To read our full disclosure, please go to: http://www.equities.com/disclaimer