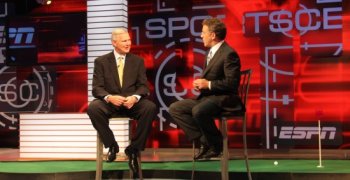 ESPN has always been thought to be a cash cow for parent company Walt Disney Co. (DIS).The sports network has grown into a tyrant in the sports world. Their ratings have been skyrocketing, which means ad revenues have been ballooning as well. They charge each cable subscriber $6 a month to even broadcast the network, which generates more than $6 billion in annual revenue for the network.
As of 2013, ESPN generated $11 billion in yearly revenue – which is why it's hard to believe that the network may not be quite so profitable for Disney anymore. It's not that their revenues are down – in fact, revenue is actually up. But so are expenses, and therein lies the problem.
Disney allegedly sent an internal memo to top-level executives at ESPN telling the network they needed to cut costs. Programming costs have skyrocketed. ESPN pays billions of dollars every year to air live sporting events, and those costs are going to increase. For example, ESPN is going to start paying over $1 billion per year to broadcast NBA games.
In the face of such high rising costs, ESPN is under pressure to cut production costs internally. One of the easiest ways to do so is to not renew the contracts of some of its popular network personalities that demand a lot of money. So…
---
---
Who's Getting the Boot?
Earlier this year, and very soon after an internal memo was supposedly circulated through ESPN, the network decided to cut ties with Bill Simmons: a popular, but controversial personality. He reportedly demanded $6 million per year and ESPN showed him the door.
This past April, Lou Holtz left ESPN after they decided to "mutually part ways." Bob Knight also departed the network under similar circumstances. The question then remains: who's next to leave ESPN?
Big Names Means Big Money
According to the BLS, the median salary for a radio or television sports announcer was a pitiful $28 thousand per year. The average salary for the profession was over $90 thousand, and that's likely due to some outliers at the top skewing the average.
In general, there's not a ton of information available about the salaries of ESPN anchors, because ESPN does not make that information available to the public. Celebritynetworth.com has information about some of the most prominent personalities at ESPN though, which could provide some very useful information. After all, if ESPN is looking to cut costs, then the anchors with the highest salaries are probably going to be released first.
There are already rumors swirling that Colin Cowherd, a popular radio personality, is going to be fired. His annual salary is reportedly around $2 million per year. Scott Van Pelt also pulls in around $2 million per year, so he might be fired as well. Other high paid ESPN employees that could be in danger of losing their job include Chris Berman ($3 million), Mike Tirico ($3 million), John Anderson, Rece Davis ($750 thousand), Neil Everett ($700 thousand), Michael Wilbon ($1.5 million), and Skip Bayless ($500 thousand).
ESPN should be careful though, because any regular viewer of the network will recognize many if not all of these names, and might be disappointed to see their favorite correspondent let go. Personalities like these are interchangeable to a certain extent, but they need to be careful not to disrupt their model of success too much just to save money. People grow attached to those that they see on television, and firing a popular Sports Center anchor who then gets picked up by FOX Sports 1 could cause people to switch the channel they choose for sports news.
DISCLOSURE: The views and opinions expressed in this article are those of the authors, and do not represent the views of equities.com. Readers should not consider statements made by the author as formal recommendations and should consult their financial advisor before making any investment decisions. To read our full disclosure, please go to: http://www.equities.com/disclaimer