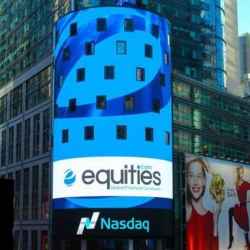 LOS ANGELES, Calif., April 29, 2015 — Equities.com, Inc., the leading online financial news organization and social community for investors, companies, and advisors, today announced the appointment of Ari Zoldan as Strategic Advisor to the CEO and Board of Directors.
As the 2016 US Presidential Election takes hold, Equities.com is extending its news coverage into the political arena with a focus on delivering news and content from the nation's capital in Washington, D.C., and from the Capital of the Financial Markets, New York City. Zoldan will be responsible for developing Equities.com's news organization to increase contributors and bring access to political and business leaders in the US and abroad.
"There are over 50 million self-directed investors and 6,000 publicly traded companies under $1 billion in market capitalization in the US alone," Zoldan said. "As a group representing over $6 trillion in total value, these companies are the drivers of growth and need to be heard."
"We are excited to have Ari Zoldan involved in the development of our news organization," said Enzo Villani, CEO of Equities.com. "The Equities brand has always stood for innovation in news and content. It's in our DNA, and Ari is a perfect fit for our culture."
Equities.com serves as a destination platform that connects self-directed investors with corporate executives, financial market experts, and industry professionals through market-leading content and analysis. The company's platform is used by some of the most insightful financial experts and business thought leaders in the world.
Zoldan can be seen regularly on FOX NEWS, CNBC, CNN, CCTV and other major news outlets, covering breaking technology and media stories. He is the Chief Executive Officer of Quantum Media Group, LLC based in New York City. Ari is a graduate of Yeshiva University & Sy Sym's School of Business. Ari is Chair of the Development Committee of the Zahn Innovation Center at City College and Chairman & Founder of Quantum Networks, LLC. He also serves on the board of Reportory.com, Open Garden, Yabberly and several other media and technology companies.
"As Equities.com continues to hit new milestones and execute on our strategic growth initiatives, I can think of no better person than Ari to help us accelerate our coverage and extend into the political arena," said David Bernard, Chairman of Equities.com. "Ari is one of the most sought-after media specialists in the industry and we are excited to welcome him to the Equities.com family."
To learn more about equities.com or to become a member of our online financial community, please visit: http://www.equities.com
About Equities.com, Inc.
Equities.com is an online financial publication and social community for self-directed investors, public and private companies, market experts, and professional service providers across the global capital markets. The Equities.com Issuer Dashboard is an ideal platform to effectively manage corporate communication and investor awareness campaigns, engage with market intermediaries and financial advisors, and research industry peers. Registered members can leverage our market-leading commentary and content curation, as well as our proprietary research tools, such as our institutional-quality algorithms, and our robust do-it-yourself Equities Valuation Analysis (E.V.A.) research reports.
Go to http://www.equities.com/community/register to become a member.
DISCLOSURE: The views and opinions expressed in this article are those of the authors, and do not represent the views of equities.com. Readers should not consider statements made by the author as formal recommendations and should consult their financial advisor before making any investment decisions. To read our full disclosure, please go to: http://www.equities.com/disclaimer