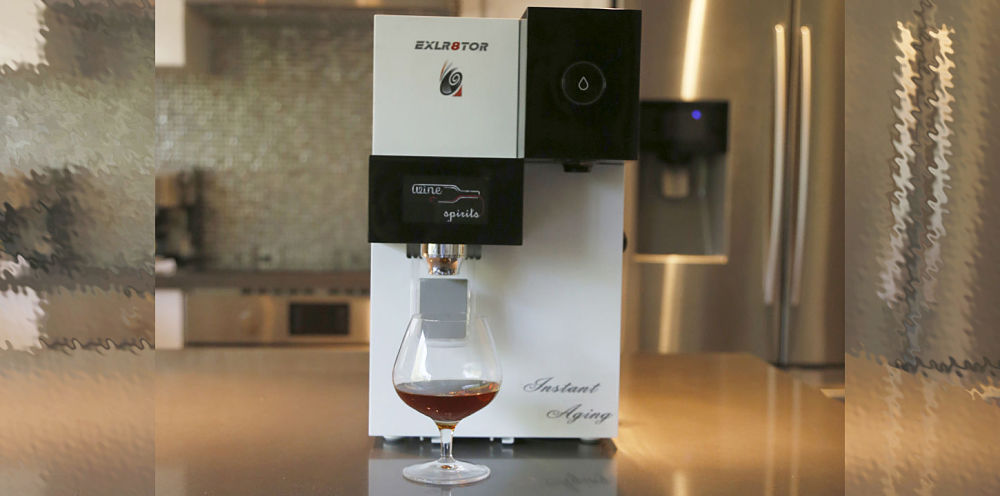 There perhaps couldn't be a better time to build a brand in the home beverage space, as millennials want to attach to smaller brands rather than multinational conglomerates. It's this trend change that billionaire hedge fund manager Nelson Peltz is trying to impress upon household giant Procter & Gamble (PG) in his quest to earn a board seat and make the iconic brand more profitable.
Cavitation Technologies, Inc. (CVAT) is approaching this brand building from two fronts. First it is building on the success of using its proprietary patented technology to produce a premium brand of award winning wine and spirits. In its first effort, Cameo Vodka was awarded the highest rating of any American vodka. But the more remarkable claim is that its process not only creates a premium product, but by removing most of the impurities that are in all alcohol brands, it is both a healthier choice and can reduce the hangover effect from having 'one too many' the night before. This appears to be the perfect marriage between technology and market opportunity with the production of the world's first molecularly-aged, nanostructured alcohol and wine.
But now CVAT is taking the technology one step further and bringing it right into your home, as they are standing on the cusp of commercializing their first consumer product. The company is readying its alcohol-enhancing tabletop device for the retail market. CVAT's tabletop device, which contains a miniaturized version of its commercial processing unit, is capable of purifying alcohol at home for smoother flavors, improved health characteristics and that same reduction in hangover effects. What's more, the company intends to implement the tried-and-true razor-and-blade business strategy to create sustainable recurring revenue on each tabletop unit it sells.
Recurring Revenue Never Tasted This Good
The razor-and-blade business model involves selling consumers a durable product (things designed to last at least three years) with the goal of driving sales of non-durable, or consumable, products. The eponymous business model's name is self-descriptive, involving selling a razor (the durable product) for generating sales of blades (the non-durable).
Many companies are utilizing a razor/blade model in one way or another because it can be extremely lucrative once the razor gains a foothold. Keurig and SodaStream (SODA) exploded into the home markets with their tabletop machines requiring consumable products to make beverages in kitchens. The popularity of these individualized products led to Keurig being acquired in December 2015 for $13.9 billion and SODA, with its $1.4 billion market cap, currently trading at a more than four-year high.
In the case of CVAT, the razor is also a tabletop unit and the blade initially is its Cavitron Spirits line. Cavitron Spirits is a low-cost line of alcohol brands that, when used in conjunction with the tabletop unit, produces a premium product right in consumers' own homes. Neil Voloshin, CFO/COO, told Equities.com in a recent phone interview that he sees the company building on its award-winning vodka as just the start, with a full line of spirits and other possible "blade" product categories in the future. The competitive advantage of the Cavitron Spirits line and the tabletop combination is that consumers can enjoy top-shelf quality spirits at a much lower price point, all at home with the touch of a couple of buttons.
---
---
The Los Angeles-based company currently generates revenue through its industrial business offerings, namely Nano Reactor™ system for use in edible oil and biodiesel refining. In the year ended June 30, 2017, Cavitation reported record revenue of $1.9 million dollars.
The home alcohol beverage market is a much bigger – and immediate – opportunity for CVAT, as there is minimal competition, which is a key to a successful razor/blade model. The company's patented proprietary technology is, for lack of a simpler definition, an aging and purifying process that changes alcohol at the molecular level. How that happens is the inconsequential trivial part to the average person. What it does, though, is create a final product that is much smoother to drink. In even simpler terms, it can make even an inexpensive wine or spirit taste like it came straight from the top-shelf. Voloshin said that he has yet to have anyone try a product from their prototype countertop unit that isn't impressed with a noticeable difference in taste before and after the process.
Saying Goodbye to Hangovers
If taste alone wasn't enough to win over customers, Cavitation, a company with only a $7 million market valuation, claims that the process filters out harmful impurities that are in every wine and spirit today. It's these impurities that contribute to the negative impact on people's health and result in that hangover effect. To wit, Voloshin claims that drinking alcoholic beverages after they've been run through their proprietary system can reduce hangovers, a benefit that just may lure in customers all on its own.
The company certainly has not overlooked the fact that Costco (COST) is the world's largest wine retailer. One of the reasons for Costco's success is because alongside its high-end vino, it sells inexpensive, $5-per-bottle wines, giving it a strong market presence in the U.S., where about 97% of all wine sold cost for less than $10 per bottle. In 2015, Costco sold a whopping $1.69 billion in wine. This speaks volumes to consumer preferences about being frugal with their spending, while maintaining an unquenchable thirst for wine and spirits
Looking at global trends and demographics, Voloshin believes his company's countertop unit will appeal to people of all ages worldwide. In Asia, he notes that more and more women are drinking wine. In North America, beer sales have been stagnating for years, while trends for other alcoholic beverages, like vodka, whiskey and tequila are gaining momentum.
Adapting to the Modern Consumer
"Millennials are a whole different demographic than generations before them. They tend to watch their spending, like to be in control of what goes into their body and generally are much more supportive of smaller companies that they 'discover' and share with their friends. We should fall right into their wheelhouse," commented Voloshin during the call.
"Some people aren't going to deviate from their Johnny Walker Black and that's okay; they're not our target audience. There are tens of millions of other potential customers that we are confident will enjoy our pricing model and products," he continued.
At the same time, he sees a totally new customer level coming from "stay at homers" that realize they don't have to run to a store to get a great tasting drink. "I'll just push the button and be done," said Voloshin. "That is what we offer in our table top unit."
With the underlying product development completed, the final tweaks are being made as to the aesthetics and functionality for the product launch, which is anticipated in about three months, according to Voloshin. As a wholesaler with all requisite licenses, CVAT and Cameo have nothing standing in the way to ship product worldwide.
"We've very quietly put ourselves in a position to capitalize on a serious market opportunity," Voloshin said. "As we get closer to launch, we'll start ratcheting up marketing and looking for partnering opportunities to expedite penetration into a variety of markets."
The reality is that if CVAT can get traction with the nearly 40 million people in its home state of California, the rest should be easy sledding.
---
In the interest of full disclosure, we call the reader's attention to the fact that Equities.com, Inc. is compensated by the companies profiled in the Spotlight Companies section. The purpose of these profiles is to provide awareness of these companies to investors in the micro, small-cap and growth equity community and should not in any way be considered as a recommendation to buy, sell or hold these securities. Equities.com is not a registered broker dealer, investment advisor, financial analyst, investment banker or other investment professional. We are a publisher of original and third party news and information. All profiles are based on information that is available to the public. The information contained herein should not be considered to be complete and is not guaranteed by Equities.com to be free from misstatement or errors. The views expressed are our own and not intended to be the basis for any investment decision. Readers are reminded to do their own due diligence when researching any companies mentioned on this website. Always bear in mind that investing in early-stage companies is risky and you are encouraged to only invest an amount that you can afford to lose completely without any change in your lifestyle. Equities has been compensated with cash, common shares and/or warrants for market awareness services provided.

DISCLOSURE: The views and opinions expressed in this article are those of the authors, and do not represent the views of equities.com. Readers should not consider statements made by the author as formal recommendations and should consult their financial advisor before making any investment decisions. To read our full disclosure, please go to: http://www.equities.com/disclaimer