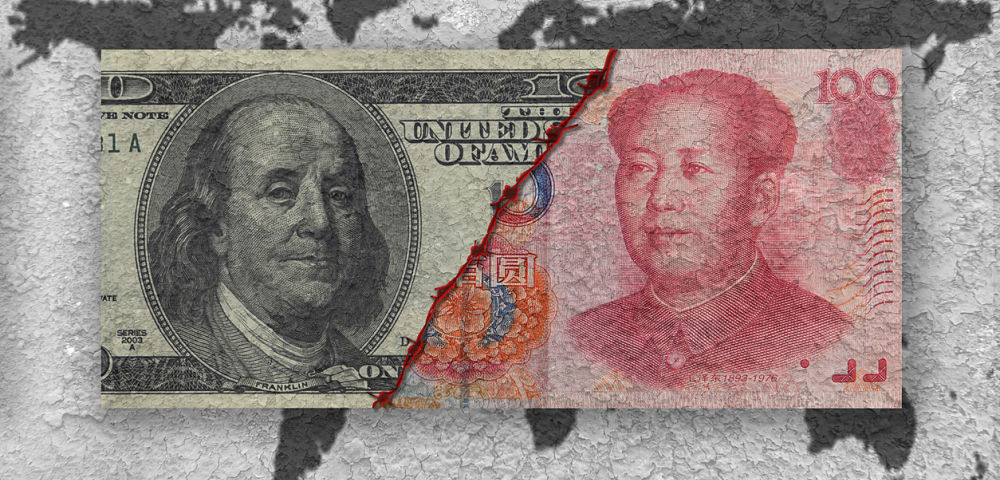 China's trade surplus with the US widened to a record in June, risking further escalation of a a bitter trade dispute with Washington.
The difference between China's exports to the US and its imports from the world's largest economy expanded to a monthly high of $29bn (£22bn), up from $24.6bn in May. China's exports to the US jumped by 13.6% in the first half of 2018 from a year earlier, while its imports from the US rose 11.8% in the same period.
Jonas Short, head of the Beijing office at investment firm Everbright Sun Hung Kai, said it "won't help already sour relations and escalating tensions".
Earlier this week Donald Trump proposed a 10% tariff on $200bn of Chinese goods entering the US, saying that tariffs already in place on steel and aluminium imports and $34bn of goods had failed to force significant reforms by Beijing.
Trump's advisers are attempting to open Chinese markets to foreign companies and reduce what they see as unfair subsidies that have given rise to a $340bn annual trade deficit with China.
The record deficit last month threatens to irritate the White House, which wants to see the extra tariffs on imports reversing the recent trend.
However, analysts said the June figures were a sign that exporters rushed to beat the initial tranche of tariffs, which came into effect in the first week of July. They said as a consequence figures for July and August were likely to show a decline in exports to the US.
China's commerce ministry confirmed last month that Chinese exporters were front-loading exports to the US to get ahead of expected tariffs – a situation that could exacerbate any slowdown in shipments toward the year end.
"Looking ahead, export growth will cool in the coming months as US tariffs start to bite alongside a broader softening in global demand," Julian Evans-Pritchard, the senior China economist at Capital Economics in Singapore, said.
Analysts also pointed out that Chinese export growth slowed to 11.3% year on year in June, from 12.2% in May, illustrating that exporters, faced with the threat of further trade barriers, were becoming more circumspect in sending goods abroad.
Washington has warned it may ultimately impose tariffs on more than $500bn worth of Chinese goods – nearly the total amount of US imports from China last year. So far China has responded in kind, adding tariffs to $34bn of goods from the US and threatening "firm and forceful measures" to match the threat of tariffs on $200bn worth of US exports.
The dispute has jolted global financial markets, raising worries that a full-scale trade war could derail the world economy. The International Monetary Fund's managing director, Christine Lagarde, has warned of "darker clouds looming" for the global economy amid simmering trade tensions between the US and China, urging governments around the world to steer clear of protectionism or face negative consequences.
Global markets largely shrugged off the figures, with the FTSE 100 finishing the day up 10.54 points at 7661. However, Chinese stocks fell into bear market territory at the end of last month and the yuan currency has skidded, although there have been signs this week its central bank is moving to slow the currency's declines.