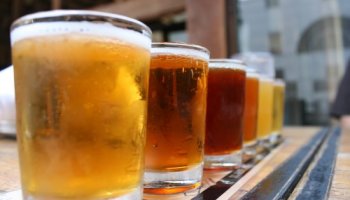 Boston Beer Company ($SAM), maker of the Sam Adams brand and many others is a craft beer success story because shareholders reaped the benefits when shares exploded in January 2013 from $137 to $325 in the past two years. SAM seems to have capitalized on the craze of the consumer for premium craft beer and beverages of all kinds, and a shift to specialty fast food and the way they watched TV.
This 100+ rise outpaced all other beverage makers across any category, and in this run, only a few stocks - all in other sectors - like Netflix, Inc. ($NFLX) and Chipotle Mexican Grill Inc. ($CMG) gave investors full-fisted returns. The difficulty for investors has been that they did not participate. Go ask someone the next time you talk about stocks or their portfolio, what you will hear back is that no one was long any of these at all during the rally, because the price was too high for them, and they could not muster the courage to buy Netflix at $350, Chipotle at $250 or Boston Beer at $150 – it was simply too risky at those levels. Of course, they all went up more than 100% above those prices over the next two years, and Netflix today is the best performing stock in 2015.
---
---
The Tap is Dry
The point is three fold. First, it is hard to buy stocks when they are going up – momentum investing is a skilled art enjoyed by few. Second, it is no fun being long 23 shares of Netflix for $10,00 – it seems like you should have more for your money when you see it on your statement and feel sick thinking about all the things that can go wrong with a $400 stock. Third, you would never think of shorting any of these – that would be way too out of the box – plus, you are not sure how to do it.
So, in conclusion, the largest moves by the hot stocks were only captured by professional traders who understood momentum and how to buy stocks into strength. They knew how to set trailing stocks for protection, which were not breached over the last few years, enabling them to take a big bite out of the move up. When shares of all three of these names started to trade sideways near the end of 2014 and into this year, many pro traders got out - they may have kept Netflix, but they are shedding the consumer stocks pretty quickly, and are looking for the next play…because the ride is over.
This often is the case – the train leaves with fewest passengers on board. That's the way stocks have moved for 100 years, and it isn't changing anytime soon. But I think the axiom phrase here to remember is cut your losers early and let your winners run – just make sure you do this while eating a fresh Chipotle Burrito washed down with a cold Sam Adams beer while watching Orange is the New Black on Netflix.
DISCLOSURE: The views and opinions expressed in this article are those of the authors, and do not represent the views of equities.com. Readers should not consider statements made by the author as formal recommendations and should consult their financial advisor before making any investment decisions. To read our full disclosure, please go to: http://www.equities.com/disclaimer