Bitcoin: Fair Price at Last?
Nicholas Kitonyi Follow |

The price of Bitcoin (BTC) has been on a sideways movement for the longest period in years. It has oscillated between (roughly) $6200 and $6500 since mid-October and judging by the current trading volumes, we could be stuck within that range for quite a while.

One argument that could describe this kind of price movement would be that traders are possibly losing interest. However, on the flip side, it is also possible that we are witnessing one of the most stable trading periods of bitcoin price in over two years. What does this mean?

From a technical perspective, this implies that both the buyers and sellers are arriving at a point where their valuation of bitcoin is beginning to converge. This could be partly due to the now widespread awareness about crypto, the risks involved and the potential benefits. Where there is a disparity in information flow, there is likely to be a huge variation in the pricing of a given commodity. And bitcoin, alongside other cryptocurrencies have been a subject of a divided opinion regarding its true value, long-term future and ability to replace fiat currencies.

Legendary value-oriented investors like Berkshire Hathaway's (BRK.A) (BRK.B) Warren Buffett and Charlie Munger have been among the most direct of bitcoin critics. They still hold their stance. However, some traditional investors have in recent years embraced crypto with some companies like Overstock.com (OSTK) already investing significantly in the industry.

A growing interest from other huge tech companies has helped to fuel demand in the crypto market and this is perhaps part of the reason why last year Bitcoin rallied to within $20,000 before this year's massive plunge.

Last year's rally which also extended slightly to the start of this year may be viewed by some traders and analysts as one of the most volatile the cryptocurrency market has experienced since its emergence in the early 2010s, however, more crucially, that rally dominated headlines across the world and this created the bitcoin and crypto awareness that we now enjoy its fruits.
Image Source: TradingView
Bitcoin price volatility: Technical analysis
In return, we are beginning to witness a more stable bitcoin price with volatility levels continuing to decline. At the start of the year, the price of Bitcoin changed by as much as 60% between January and February (a period of 32 days). Between March and April over a similar period, the price changed by as much as 44% while the overall change was about 41% over a 2-month period between May and July 2018.
This shows a declining volatility rate in the price of BTC. And since early September when we last experienced a major bitcoin price decline, the change has been about 18% to date. In fact, since the beginning of October, the price of bitcoin has barely moved by a double-digit figure dropping/gaining by just about 6%-8%. This shows that we might be nearing parity, which would suggest that perhaps bitcoin's fair price has finally been determined.
No one wants to buy it anywhere above $6500 while no one also is keen to sell at a price below $6200. In an efficient market where the forces of demand and supply dictate the prices of commodities buyers and sellers have their work cut short. You cannot move around expecting to buy the same commodity at a cheaper price from a different seller.
Bitcoin hash rate continues to increase
With bitcoin, however, traders must also look at other parameters that can determine the future of bitcoin. One major factor in this case is the mining hash rate/hash power. The higher the hash rate the better it is for miners.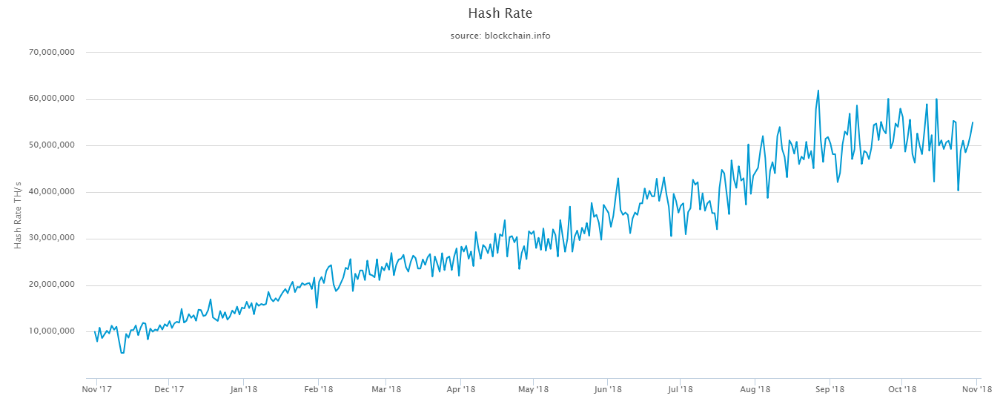 Image Source: Blockchain.com charts
As demonstrated on the chart above, the bitcoin hash rate has increased from an average of about 35,000,000 TH/s in June-July 2018 to about 55,000,000 in the last two months.
While there is no direct relationship that implies a higher hash power results in an increase in bitcoin price, it is a clear indication of an increase in optimism among miners. Bitcoin is one of the best cryptocurrencies to mine and given its overall market dominance, a promising outlook could imply a brighter future for the entire cryptocurrency market.
Therefore, with the bitcoin mining activity suggesting a certain degree of optimism towards the future of bitcoin coupled by a substantial decline in price volatility, the current price of about $6,250 could be indicative of what the market forces agree to be fair rather than a price crash due to uncertainty.
Obviously, there are several doors that cryptocurrency needs to open to unlock the next catalyst for a price rally. Last year's menace was more about the hype than what bitcoin and its counterparts offered to the market at the time. But now, with governments showing interest in crypto and blockchain, the future of bitcoin and its counterparts looks far more assured than it was a couple of years ago.
Conclusion
In summary, bitcoin is the pioneer cryptocurrency. And while blockchain technology has been in existence for decades, bitcoin is the product that gave it a real identity. Therefore, as the price of bitcoin stabilizes just above the $6,200 level having dropped from about $20,000 in December last year, perhaps this is suggestive of a more assured future for bitcoin and other cryptocurrencies than it is a market wide panic to dump crypto, take the money and run.

DISCLOSURE: I have no positions in the stocks or currencies mentioned in the article. This is NOT a recommendation to invest in any assets mentioned.

---
The views and opinions expressed in this article are those of the authors, and do not represent the views of equities.com. Readers should not consider statements made by the author as formal recommendations and should consult their financial advisor before making any investment decisions. To read our full disclosure, please go to: http://www.equities.com/disclaimer