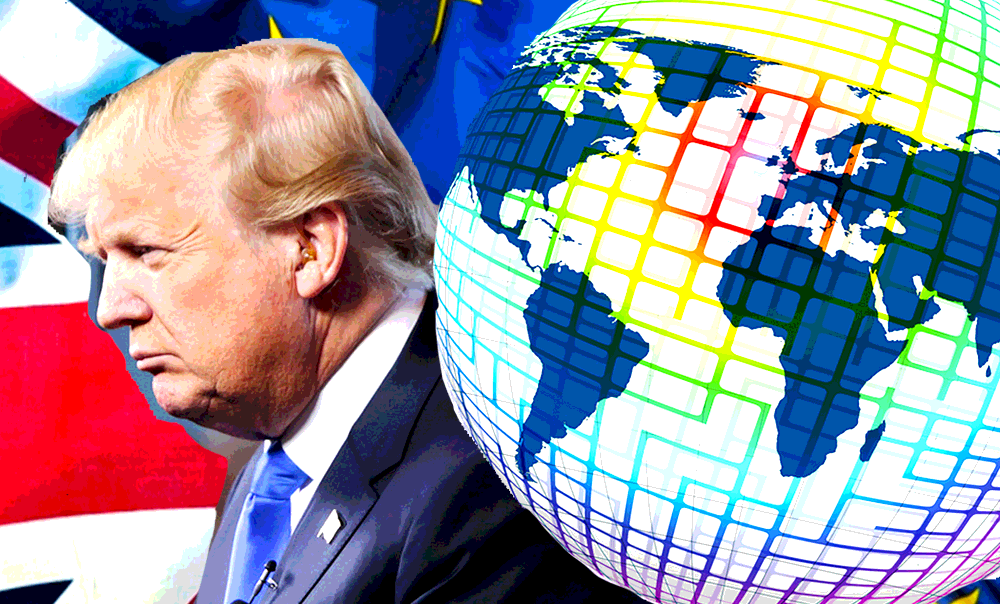 WASHINGTON (AP) — President Donald Trump's trip to Europe brought him into conflict not only with other leaders, but at times with himself, as he alternately denounced policies of his counterparts and praised them fulsomely.
On Friday, Trump offered glowing words for British Prime Minister Theresa May and denied criticizing her after doing just that in an interview.
A look at some of his statements and how they compare with the facts and the record:
U.S.-U.K. TRADE
TRUMP, to Britain's Sun newspaper, on the consequences for a proposed U.S.-British trade deal if Britain maintains close commercial ties with the European Union: "If they do a deal like that, we would be dealing with the European Union instead of dealing with the U.K., so it will probably kill the deal…. No, if they do that I would say that that would probably end a major trade relationship with the United States."
TRUMP, at the subsequent news conference with May: "I don't know what they're going to do, but whatever you do is OK with me. That's your decision. Whatever you're going to do is OK with us. Just make sure we can trade together. That's all that matters. The United States looks forward to finalizing a great bilateral trade agreement with the United Kingdom. This is an incredible opportunity for our two countries and we will seize it fully."
MAY'S LEADERSHIP
TRUMP, in Sun interview, on May's handling of Britain's exit from the EU: "I would have done it much differently. I actually told Theresa May how to do it but she didn't agree, she didn't listen to me. She wanted to go a different route. I would actually say that she probably went the opposite way. And that is fine. She should negotiate the best way she knows how. But it is too bad what is going on…. The deal she is striking is a much different deal than the one the people voted on."
TRUMP at news conference with May: "I didn't criticize the prime minister. I have a lot of respect for the prime minister…. I think she's doing a terrific job, by the way."
NATO (DIS)UNITY
TRUMP, speaking Friday after a NATO summit marked by his scorching rhetoric and capped by a contentious emergency meeting: "There was a lot of love in that room."
THE FACTS: Despite attempts to tone down differences, Trump continues to leave doubts about the depth of his commitment to the alliance. "I was prepared to do things that would have been somewhat harsh yesterday," Trump said Friday, touching on concerns by NATO partners that the U.S. commitment might be shaky. He also asserted Friday that NATO "helps Europe more than it helps us." This, after saying at the conclusion of the summit: "I believe in NATO."
In Trump's telling, unity was ultimately restored by a new commitment he wrung out of NATO partners to increase their military spending to relieve pressure on the U.S. budget. "A lot of people were surprised that NATO all came together at the end," he said. But European leaders said they merely agreed to keep doing what they've been doing — raising military spending under a goal set in 2014 to devote 2 percent of their gross national product to defense by 2024.
TRUMP, in Sun interview: "I was cutting a ribbon for the opening of Turnberry — you know they totally did a whole renovation, it is beautiful — the day before the Brexit vote. I said, Brexit will happen. The vote is going to go positive, because people don't want to be faced with the horrible immigration problems that they are being faced with in other countries."
THE FACTS: He's mixing up his predictions and his days. A month before, he did predict accurately that Britain would vote to leave the European Union. The day after the 2016 vote — not the day before — he predicted the EU would collapse because of Britain's withdrawal. That remains to be seen. He predicted EU's collapse while at a ribbon-cutting for his Scottish golf resort in Turnberry.
Find AP Fact Checks at http://apne.ws/2kbx8bd
Follow @APFactCheck on Twitter: https://twitter.com/APFactCheck
EDITOR'S NOTE _ A look at the veracity of claims by political figures