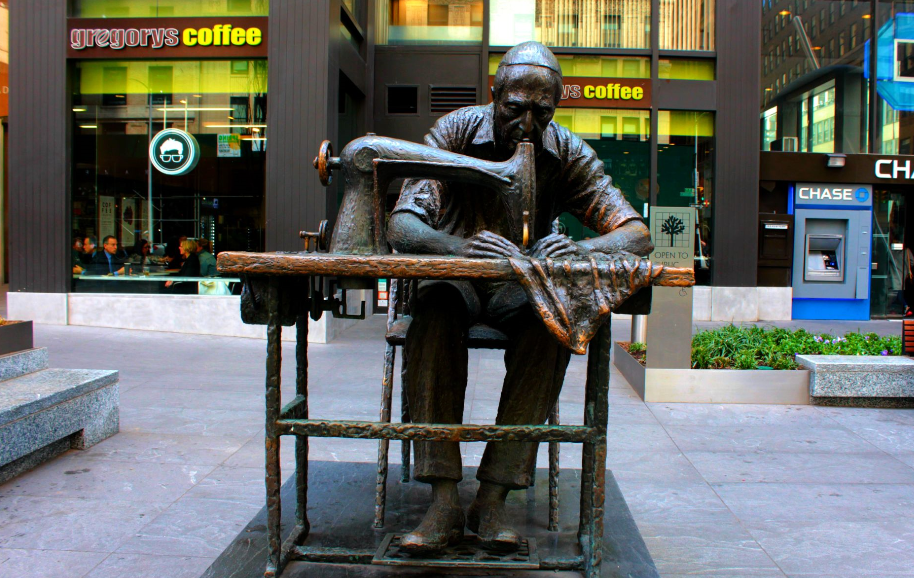 October 2019 — Myth Buster
Investors who spend their time scouring the financial outcomes of Apple [AAPL], Microsoft [MSFT], Amazon [AMZN] and other giants are unlikely to think about the other end of the financial spectrum — the sweatshops. This series looks at these low-paying, law-skirting businesses. Operating almost everywhere frequently in plain sight, they may appear independent but are often connected with major corporations — the ones fund managers investigate with the aggressiveness of an angry FBI agent. This series will also expose troubling social insights related to these unappreciated business enterprises.
This first entry in this series considers the old-fashioned sweatshop. Low margins generate poor working conditions and minimal wages. Employees who may not be working legally may also be paid off the books. A few specialize in hiring ex-convicts. No benefits and Social Security is an afterthought. If you visit, you will find exit lights unlit, dirty floors, no air conditioning, products piled sloppily in one room and other miserable, dangerous conditions.
According to greenamerica.org, most known US sweatshops operate in New York and California. If one were to travel around New York City and follow a few hunched over people who get off the subway and shuffle into a nearby building around 8:00 am where the door does not close properly, you might find yourself in a twenty-first century sweatshop. Recently, the Department of Labor investigated 1,500 employers in the Los Angeles – San Diego garment industry and found labor law violations at 93 percent of the locations.
Garment making — as those in the industry call it — survives on low labor costs. While much of the work has moved outside the US, sweatshops continue to operate. The Los Angeles Times estimated that a $13 shirt manufactured in the US was made by someone earning $6 an hour. New York City's famous garment district has shifted away from manufacturing toward other businesses or to storage of retail goods. Don't be fooled. Garment makers and miserable work environments live on in full view of the famous Seventh Avenue industry statue created by Judith Weller. According to Journal Media, Adidas [ADDYY], Converse, owned by Nike [NKE], Abercrombie and Fitch [ANF], Victoria's Secret [LB] and Billabong [BLLAF] all rely extensively on sweatshops.
Sweatshops extend far beyond shirt making. According to The Balance Careers, home health aides also fall into the lowest paid worker category. They care for elderly, disabled or convalescent people at their homes or in care facilities. Aides do such unpleasant chores as changing bandages, giving medications, bathing and dressing patients and earn an average annual salary of about $25,000. They may spend their workdays at premier hospitals, nursing homes or in the residences of their clients, but they labor intensely half a step above the shirt makers. This huge industry employs over 18 million in the US. The rapidly aging population expands the need for these services. Home health aides are also immune to automation; few are unionized. Employers frequently receive tax benefits, which inches up the profit margin in a tough business.
The Dehumanization of Labor
Several troubling social patterns stand out. Human labor emerges as a cheap commodity, even in countries that roll in wealth. Curiously, low wages connect in a peculiar way to the health and well being of nearly everyone. Retired millionaires or the parents of high earners depend on low paid workers who perform life-saving and intensely personal medically related labor. Stay in a hospital or reside in a nursing home and you will be visited by specialists and interns but your daily care comes from a round-the-clock team of healthcare workers.
Don't be lured into the cliché that the government can or should stop all of this. If government agencies pounce, fire alarms will begin to work and payroll taxes will be coughed up temporarily, until the sweatshops move to another location. The cost of healthcare would rise even faster than its current rate (Medicare is projected to rise 7.4% annually for the next ten years according to the Centers for Medicare and Medicaid). Imagine the effect of a significant wage increase on this massive industry, for example, Community Health Systems [CYH], which operates 188 hospitals, or Genesis [GEN], the largest skilled nursing provider, or Manorcare, now part of Welltower [WELL] or Brookdale Senior Living [BKD].
As reported by CareerAddict, Nestle [NSRGY], H&M [HNNMY], Philip Morris [PM], Microsoft and Hershey [HSY] use child labor, an embarrassing revelation. Barring a few unpleasant public disclosures, the problem plays out far from headquarters and out of sight of customers at the ultimate end of the cliché-ridden "supply chain" who only see the Fed Ex delivery person or the smiling counter clerk or the distinctive Amazon Prime box.
The Cheapest Link in the Long Supply Chain
Shrinking cost in the supply chain proves elusive. Raw materials are expensive and may have many buyers. Goods are shipped often at the expensive but highly valued overnight alternative. Most of the price derives from the last link in the chain – retailing, which grabs 30 – 50% of the final price but only generates true profit of 2 – 5%. Human labor becomes the most vulnerable element, the weakest link in the chain.
These reasons highlight the surprising cheapness of human labor. Healthcare, retail and manufacturing suffer from this malaise. Stiff competition in low margin or commoditized businesses means companies are reluctant to raise salaries. Where can cost reduction be found? Shirt making can be done anywhere around the world but there is no online service for healthcare. Physicians are expensive as are pharmaceuticals and general hospital services. The simplest and most common services fall to the bottom and wind up being provided by an army of low paid workers.
This myth uncovers unpleasant facts about what really happens inside old factory buildings and the highly praised health care centers in major cities in wealthy nations. The next two entries in this series delve further into the unquenched thirst for cheap labor. Wait until we expose the new sweatshop masters!
**********************
Michael McTague, Ph.D. is Executive Vice President at Able Global Partners in New York, a private equity firm.
___
Equities Contributor: Michael McTague, PhD
Source: Equities News