An Intelligent Way to Profit from Bitcoin Prices
Ranjeet Sethi Follow |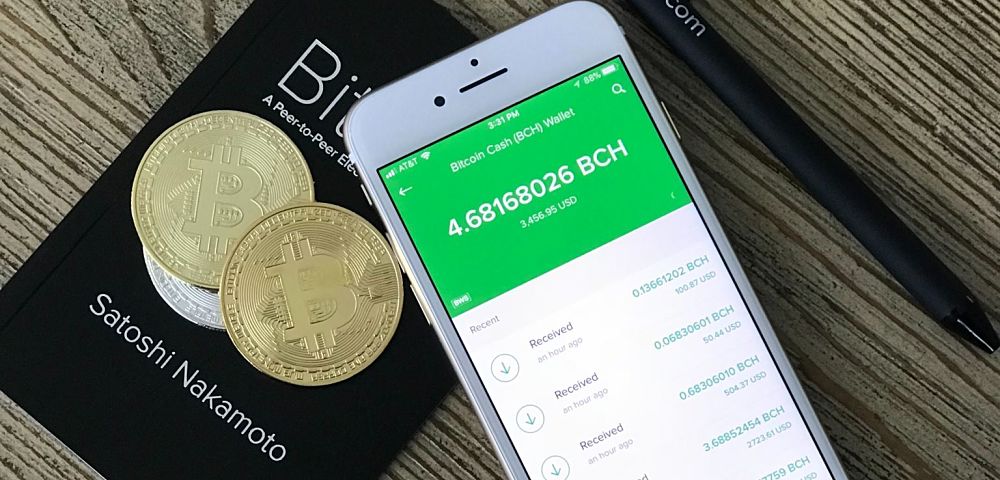 The essence of this research article is to illustrate a simple way of profiting from Bitcoin. Many traders are scared of trading Bitcoin. The reasons are not far-fetched. Many bought into the hype that Bitcoin would hit $100,000 when it was in a full bull run, and many inexperienced traders bought the asset when it was close to its all-time highs at $19,800. Prices have been nowhere near those levels in 2018. However, there is still money to be made from Bitcoin. This is through the use of price action analysis, which uses simple information on the price charts to make trading decisions. This method of analysis uses the trend, as well as support and resistance levels to determine when to buy and when to sell Bitcoin.

The Trend
There can be only three trends at any time in the market:
Uptrend, when prices are forming higher highs and higher lows
Downtrend, when prices are forming lower highs and lower lows.
Sideways trend, when prices are more or less in consolidation and prices are neither forming higher highs nor lows.
You have to know the trend of Bitcoin to be able to use this strategy. The trend is best determined on the weekly charts, and trades made on the 1 hour chart. You cannot use short term charts to determine trend as they contain too much market noise.
The advantage that Bitcoin has over other assets such as Forex assets is that it is capable of making very steep movements, so price movements in the context of the weekly chart tend to resolve quicker than they would in the Forex market. So you should absolutely use the weekly chart for your Bitcoin analysis, also considering that this asset has been around for 10 years and there is enough price data to populate the weekly chart.
So what is the current trend on Bitcoin? Bitcoin was at $19,800 sometime in December 2017, and it is presently trading at not even up to half that price for the most of 2018. So obviously the price is down, and the trend is down.

This chart is a weekly chart, which shows the peak of Bitcoin prices, and the very obvious downtrend which has formed since the beginning of the year.
The principle of trading is to follow the trend, though there are some traders who like to trade against the trend when prices are in retracement mode. So with a downtrend, you should be looking at selling Bitcoin whenever there is an opportunity.
Support and Resistance Identification and Trading

A resistance is an area where prices find it hard to get above. Generally, a resistance will serve as a ceiling; a cap which limits upward movements. However, of momentum is strong enough from buyers, a resistance can be broken.
Similarly, a support is an area where prices find it difficult to go below. Generally, a support serves as a floor; it is a foundation which limits downward price movements. However, if selling pressure is high enough, a support can be broken, resulting in a price breakout to the downside.
A resistance can be identified if a trend line can be drawn across at least two price highs, and a support can be identified by tracing a trend line across a minimum of two price lows. These lines can be extended into the future to provide a basis for future price referencing. Such referencing will involve possible selling at the resistance if prices do not go above it, or buying at a support if prices do not go below the support trend line.
How is this information relevant to the trend of Bitcoin?

If Bitcoin is in a downtrend, and we want to trade with the trend, then we should ideally sell at a resistance. Usually, price can touch a resistance in a downtrend if there is a retracement rally. A retracement rally occurs in a downtrend when initial sellers start to offload their positions to take profit. A seller has to offload to a buyer to unwind a trade position. When there are many buyers for Bitcoin and this exceeds the selling capacity, it causes transient price increases. If there is no fundamental basis for such increases beyond profit taking, prices will generally hit the resistance and test it several times before more selling resumes. This concept is known as "selling on rallies".

Using this Information
Your business as a Bitcoin trader in the context of the existing downtrend is as follows:
Identify the trend.
Identify support and resistance.
Set your trade entry.
Set your trade exit point and your protective stops.
We have shown how to identify the trend as well as identify support and resistance. The next thing to do is to set up your trade as well as your profit and exit stop parameters.
Since Bitcoin is in a downtrend, you should sell on rallies to the identified resistance line. Your stop loss should be set above the resistance line, and your profit target should be the support line below. Your profit target should be at least 3 times your stop loss.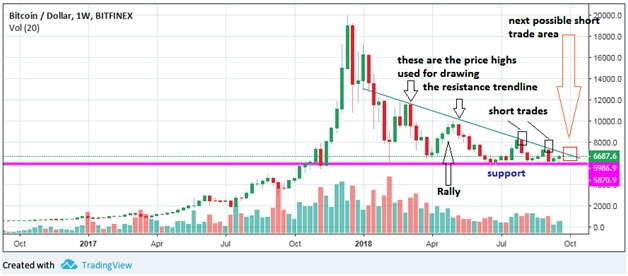 There have already been two of such moves in the last two months. A similar setup could play out shortly. However, you should only go short if there is no positive news for Bitcoin that would give it enough bullish momentum to break the resistance.
Please note: if you are a contrarian trader, you can also buy off support using the same strategy, using the resistance as the price area to exit any long trades from the support levels. In essence, you are not selling the rallies, but trading the rallies. This is obviously a more risky strategy, but could pull off some pips if used with some commonsense and vigilance.
DISCLOSURE: The information in this article is for general information purposes only. It is not intended as legal, financial or investment advice and should not be construed or relied on as such. It is very important to do your own analysis based on your own personal circumstances.​

---
The views and opinions expressed in this article are those of the authors, and do not represent the views of equities.com. Readers should not consider statements made by the author as formal recommendations and should consult their financial advisor before making any investment decisions. To read our full disclosure, please go to: http://www.equities.com/disclaimer