Beta thalassemia is a serious hereditary blood disorder that, though relatively rare in the US, occurs in about 1 in 100,000 people globally—or about 76,000 people—according to the National Organization for Rare Disorders. The disorder is particularly prevalent in the Mediterranean, Middle East, Africa, central Asia, the Indian subcontinent and eastern Asia. Beta thalassemia is characterized by reduced levels of hemoglobin, decreased red blood cell production and anemia. Patients with the rare "major" form of the disease—also known as Cooley's anemia—often require regular blood transfusions and lifelong, ongoing medical care for the resulting iron overload.
Acceleron Pharma XLRN today announced updated positive results from its ongoing Phase 2 trials of its lead compound, luspatercept, in patients with beta thalassemia, both transfusion-dependent and non-transfusion-dependent, during an oral presentation at the 23rd Congress of the European Hematology Association in Stockholm. Luspatercept is being developed as part of a global collaboration between Acceleron and Celgene.
Source: Rare Disease Report, 2015
A total of 31 non-transfusion-dependent patients have been treated with luspatercept in the trials with dose levels of at least 0.6 mg/kg.
53% (16 of 30) achieved at least a 1 gram per deciliter increase in hemoglobin in the fixed 12-week intervals including weeks 13 to 24 and weeks 37 to 48 when compared to baseline.
At week 48, the mean improvement in 6-minute walk distance was 18.6% compared to baseline (9 patients).
Multiple patients remain on treatment through 36 months and continue to sustain clinically meaningful increases in hemoglobin.
A total of 32 transfusion-dependent patients have been treated with the same dose levels of luspatercept.
41% (12 of 29) achieved a reduction in red blood cell transfusion burden of at least 33% in the fixed 12-week intervals including weeks 13 to 24 and weeks 37 to 48 when compared to baseline.
These results reinforce our enthusiasm for luspatercept's potential as a safe, efficacious therapy for beta-thalassemia patients over the long term. We now have patients with both non-transfusion- and transfusion-dependent beta-thalassemia continuing on treatment for three years. We look forward to sharing top-line results from the BELIEVE Phase 3 trial over the next few months.
– Habib Dable, President and Chief Executive Officer, Acceleron Pharma.
Luspatercept is a first-in-class erythroid (red blood cell) maturation agent being developed to treat patients who have serious blood disorders marked by a late-stage defect in the maturation of red blood cells. It is the first novel approach designed to repair this red blood cell maturation defect to restore—and increase—RBC production. As a ligand trap, luspatercept works by targeting specific transforming growth factor beta (TGF-beta) proteins involved in late-stage red blood cell maturation.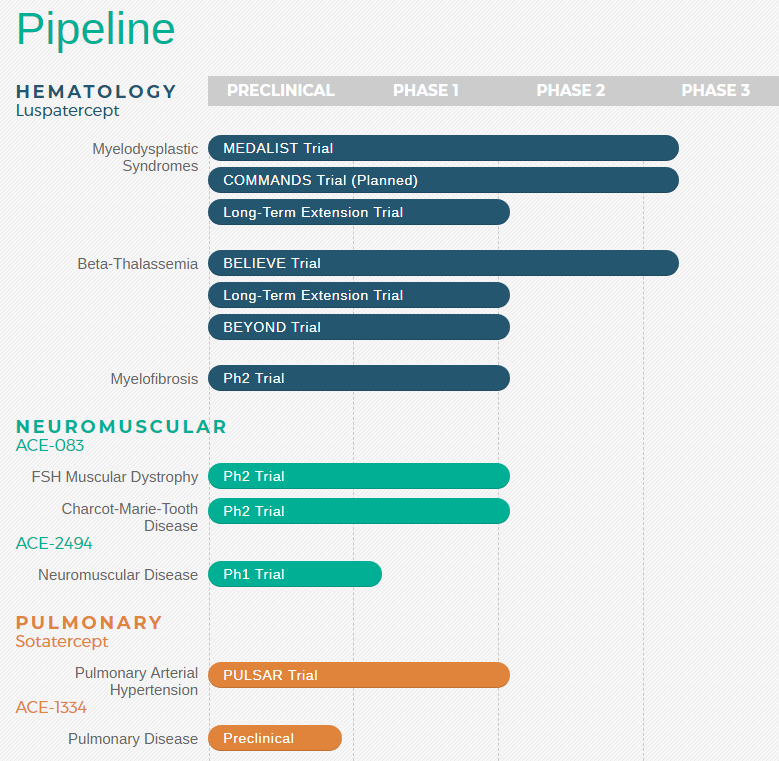 Source: Acceleron Pharma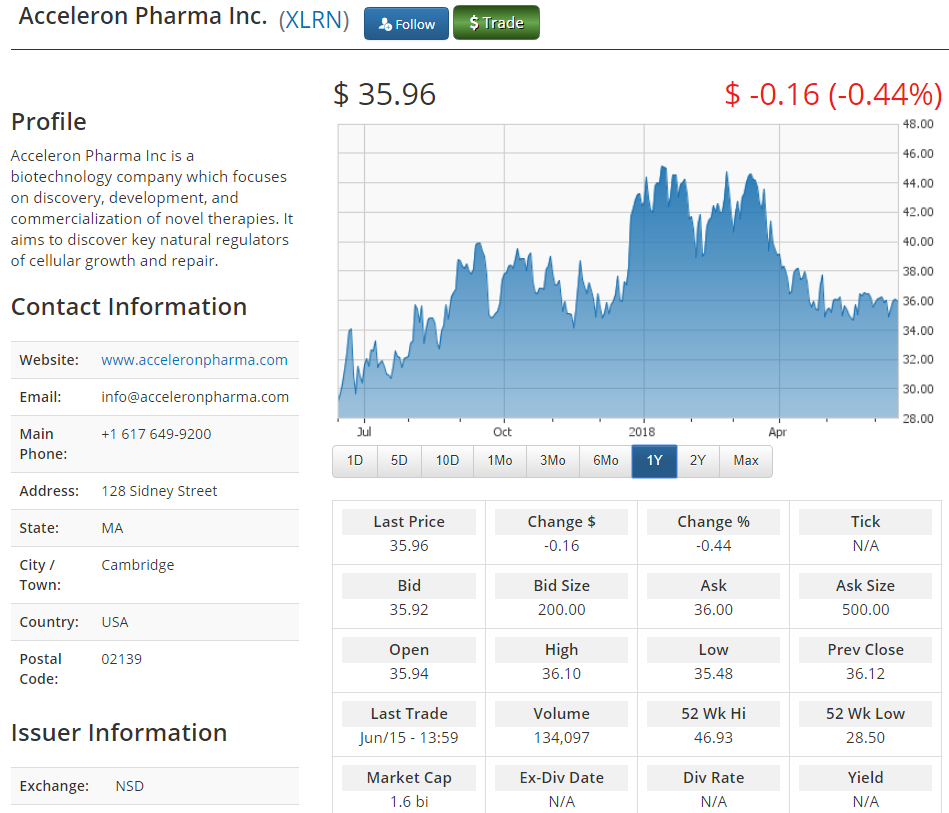 Please email us at [email protected] to see our Case Studies and Testimonials.
Please click here for information on our new trading platform.
Please click here to see our weekly newsletter.