Dravet syndrome is a rare, catastrophic, lifelong form of epilepsy that begins in a baby's first year of life with frequent and/or prolonged seizures. About 1 in 16,000 people are affected by Dravet syndrome, according to the Dravet Syndrome Foundation, 80% of whom have a mutation in their sodium channel 1 alpha gene (SCN1A). While seizures persist, other problems such as developmental delay and abnormal EEGs are often not evident until the second or third year of life.
Source: Dravet Syndrome Foundation
ZX008 – low-dose fenfluramine hydrochloride
Zogenix ZGNX announced this morning positive top-line results from its second confirmatory Phase 3 study for its product candidate, ZX008 (low-dose fenfluramine hydrochloride, 0.5 mg/kg/day, maximum of 20 mg/day), for the treatment of children and young adults with Dravet syndrome. The results confirmed the results of the first Phase 3 study, reported in September 2017 and December 2017, and showed that patients with ZX008 added to their stiripentol (standard of care in Europe) regimen achieved statistically significant reduction in convulsive seizures—the primary trial endpoint—and statistical significance in both key secondary endpoints.
Patients taking ZX008 achieved a 54.7% greater reduction in mean monthly convulsive seizures compared to placebo, and the he median reduction in monthly convulsive seizure frequency was 62.7% in the ZX008 group compared to 1.2% in the placebo group.
Re the key secondary endpoints, 53.5% of ZX008 patients achieved at least 50% reduction in monthly convulsive seizures vs. 6.8% of placebo patients, and the median of the longest seizure-free interval for ZX008 patients was 22 days vs. 13 days for placebo patients.
These impressive study results show the significant impact the addition of ZX008 made in reducing the burden of convulsive seizures for patients who are not adequately controlled using stiripentol, the standard of care for the treatment of Dravet syndrome in Europe. If approved, ZX008 has the potential to be a transformative treatment for Dravet syndrome, a rare and serious form of epilepsy with few available treatment options.
– Professor Rima Nabbout, MD, PhD, Department of Pediatric Neurology, Reference Center for Rare Epilepsies, Necker Enfants Malades Hospital, and Principal Investigator of the second Phase 3 study.
No cardiovascular side effects
Critically, cardiac safety monitoring throughout this Phase 3 study did not identify clinical or echocardiographic evidence of cardiac valvulopathy or pulmonary hypertension in any patient, again confirming the observations from the first study. Additionally, about 300 patients are currently enrolled in the ongoing open-label safety extension study, some of whom have been treated with ZX008 on a daily basis for over 2 years. In all studies, no safety signal of any cardiovascular abnormality has been identified to date.
Readers may recall the popular fenfluramine-phentermine combination—known as "Fen-Phen"—that was widely prescribed by doctors in the 1990s for weight loss, even though the FDA never approved the combination usage. Further research revealed, however, that Fen-Phen was linked to heart disease, cardiac valvular disease, pulmonary hypertension and cardiac fibrosis. Fenfluramine dosages were typically 40 to 60 mg/day and higher.
Zogenix's ZX008 is a low-dose form of fenfluramine (max 20 mg/day) is designated as an orphan drug in both the US and Europe, and has received Breakthrough Therapy designation in the US for the treatment of Dravet syndrome. The company is targeting submission for regulatory approvals in the US and Europe in Q4 2018. Zogenix is also in Phase 3 with ZX008 in patients with Lennox-Gastaut syndrome, a severe form of epilepsy that begins in childhood and is characterized by multiple types of seizures and intellectual disability.
Finally we note that GW Pharmaceuticals GWPH received approval in June 2018 for Epidiolex for the treatment of seizures associated with Lennox-Gastaut syndrome (LGS) or Dravet syndrome in patients two years of age or older. Epidiolex is the first prescription pharmaceutical formulation of highly-purified, plant-derived cannabidiol. Nick Paul Taylor writes in FierceBiotech that, although Zogenix's timeline puts in behind GW Pharmaceuticals, "barring any surprises, ZX008 should offer near-term competition to GW." Investors appear to be confident of ZX008's potential, taking Zogenix shares to an all-time high today in intraday trading.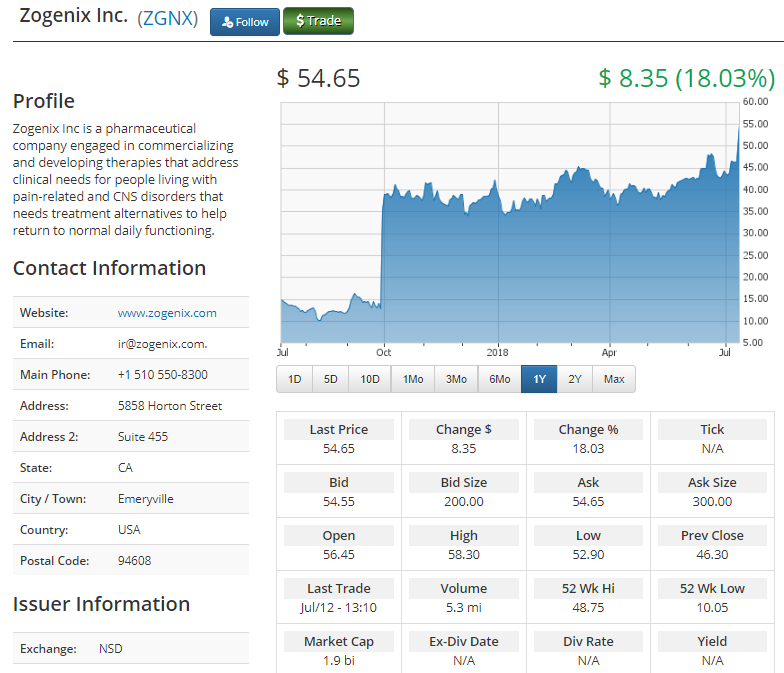 Please email us at [email protected] to see our Case Studies and Testimonials.
Please click here for information on our new trading platform.
Please click here to see our weekly newsletter.