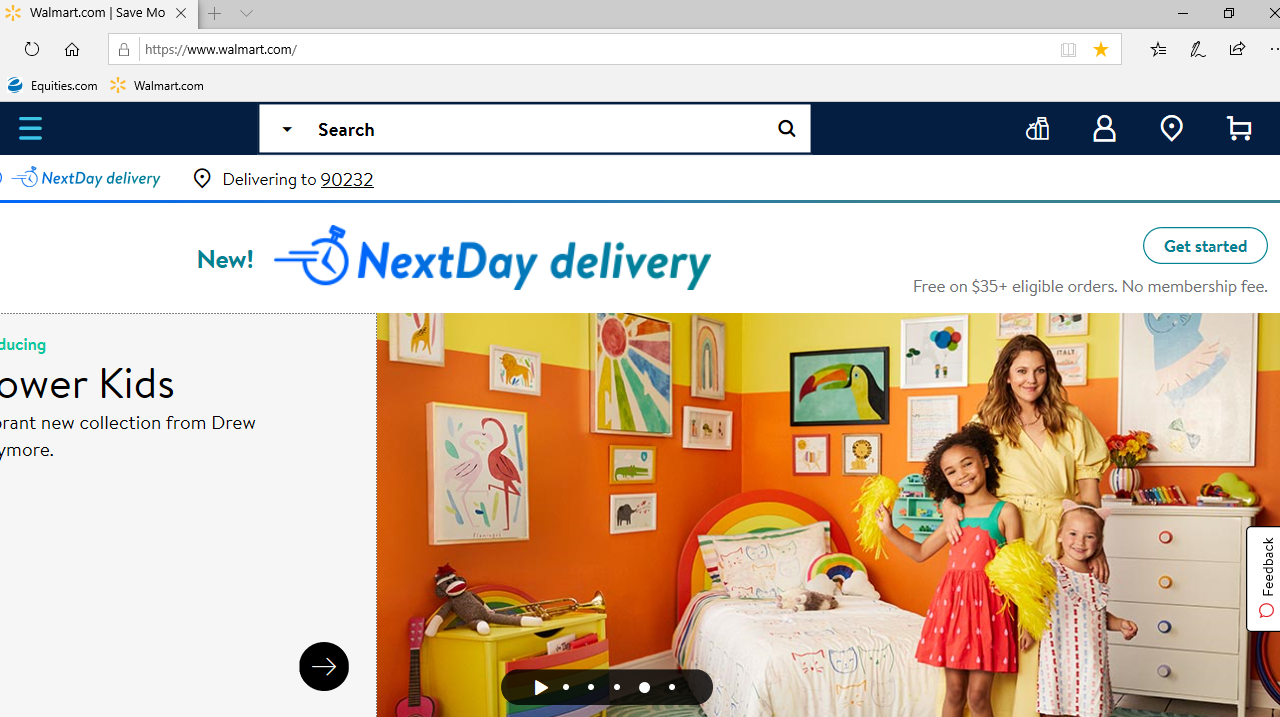 Image: Walmart
Late last year, Walmart [WMT] overtook Apple [AAPL] to became the third-largest online retailer in the US. Only Amazon [AMZN] and eBay [EBAY] are larger.
Walmart is quickly growing its online presence by scooping up smaller online retailers like Jet.com, which sells everything from laptops to sunscreen—often at a healthy discount.
Walmart bought Jet in 2016 for $3.3 billion. Since then, Walmart's online sales have shot up 78%—from $13.4 billion to $23.8 billion.
And it shows no sign of slowing down. Last quarter, Walmart's online sales grew 43%.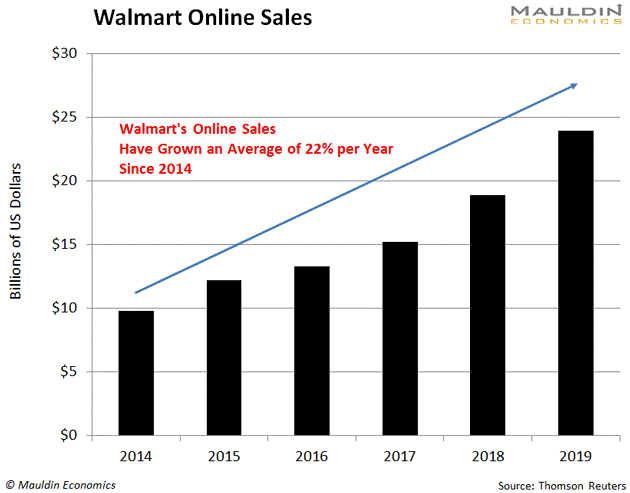 We all know that Amazon is the online retail behemoth. But Walmart's online sale are growing much faster: 40% in 2018 compared to 13% for Amazon.
And, as I'll explain shortly, buying shares of Walmart is a great way for risk-adverse income investors to play the online shopping trend.
The Online Shopping Boom Is Just Starting
We all buy a lot of stuff online these days. But the fact is, online shopping is still in its infancy.
In the last 12 months, US online sales hit $527 billion. Sounds like a lot, but it's still only 10% of total US retail sales. So the runway for growth is still very long here.
In the next five years, US online sales are expected to grow over 50%. By 2024, they're expected to make up 13% of total retail sales.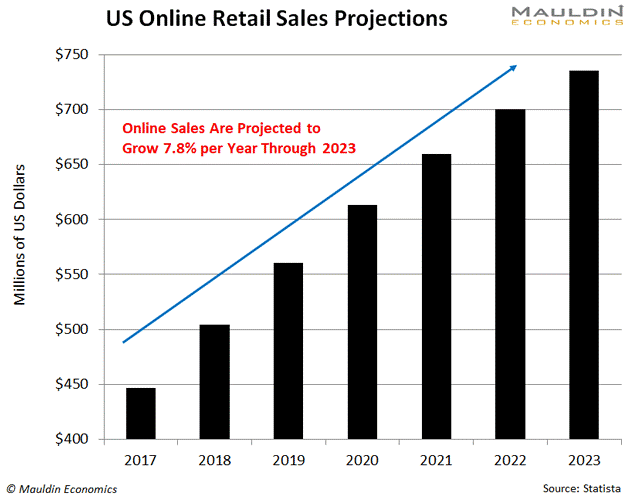 A lot of this growth will come from Millennials who are currently 22–37 years old.
Last year, Millennials bought 60% of their stuff online. That's a 47% leap from 2017. And, as Millennials get older and spend more money, this figure will only shoot higher.
That means more people spending more money online.
Walmart Wants More of Your Online Business
When it comes to online shopping, Amazon gets all the press. That's understandable. In the past 12 months, 47% of US online sales happened on Amazon's site.
Meanwhile, Walmart only grabbed 4.6%.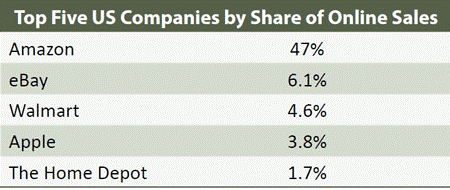 There's a good reason for the disparity, though. Walmart entered the online shopping game well after Amazon did.
But it's rapidly gaining ground…
More Than Just the Top Online Grocer
Groceries are Walmart's bread and butter. They made up 56% of the company's sales last year.
For this reason, Walmart will be the top online grocer soon.
Online groceries are already a $27-billion market… that's expected to quadruple by 2023, according to market research firm Packaged Facts.
Meanwhile, Deutsche Bank analysts expect Walmart to control 17% of the online grocery market by 2025. That's up from 12% today.
But groceries aren't the only thing Walmart has going for it.
There's the Jet.com acquisition I mentioned earlier. And Bonobos, a men's clothing site Walmart bought for $310 million in 2017. It also bought online shoe retailer ShoeBuy (now Shoes.com) for $70 million in 2016.
This all bodes well for Walmart…
Your Best Bet in a High-Growth Market
One thing is clear: Amazon and Walmart are both trying to be more like the other.
Amazon is trying to translate its online selling power into brick-and-mortar sales. That's a big reason it bought Whole Foods in 2016.
At the same time, Walmart is trying to translate its massive, 5,300-plus physical stores into online sales.
There's a crucial difference here, though. Amazon is moving into brick-and-mortar retail, a slow-growth market. Some would even say a dying market.
Meanwhile, Walmart is moving into the high-growth online market. So long term, its efforts look much more promising than Amazon's.
And for income investors, it offers something Amazon definitely doesn't…
Walmart Is an Elite Dividend Payer
I'm always on the hunt for safe and reliable dividend-paying stocks.
Walmart checks the box.
Just think back to the stock market crash late last year. The S&P 500 fell 17% from August through late December. And Amazon's stock crashed 25%.
At the same time, Walmart only slipped 2%, as you can see in the next chart.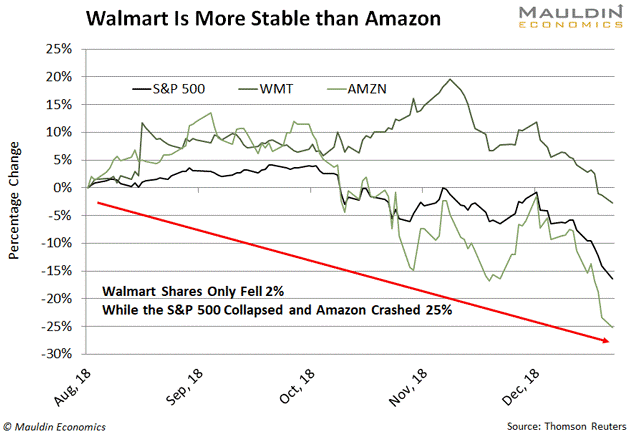 This makes sense. People shop at cheaper stores like Walmart when they have less money. That's why—even during the depths of the 2008–2009 global financial crisis—Walmart sales actually grew 7.3%.
Walmart also has one of the most reliable dividends. It's part of an elite group called the Dividend Aristocrats—companies that have increased their dividends every year for 25 years or more.
Walmart has increased its dividend an impressive 31 years in a row. You can see this in the next chart.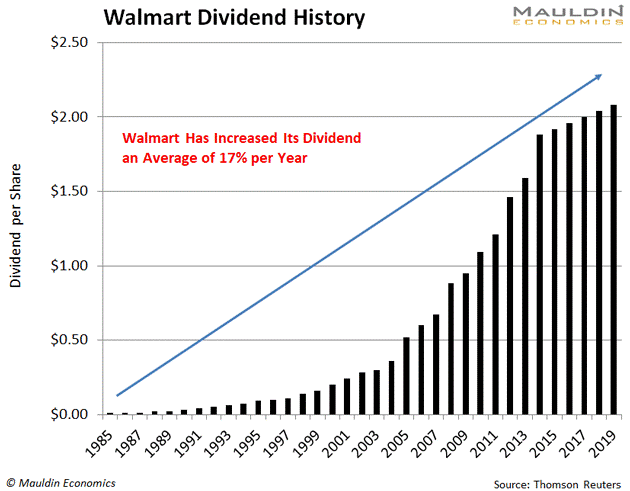 Walmart's 2.2% Dividend Is Remarkably Safe
I built a proprietary tool for assessing dividend safety. It's called the Dividend Sustainability Index (DSI).
In a nutshell, the DSI looks at three key metrics: payout ratio, debt-to-equity ratio, and free cash flow.
Walmart has a payout ratio of 72%, a debt-to-equity ratio of 69%, and growing free cash flow. In other words, its dividend passes our safety test with flying colors.
Remember, Walmart is quickly gaining ground as a top online retailer.
So, if you want to own a piece of the high-growth online shopping market—but are wary of stocks like Amazon that could quickly crash 25% when the markets get rocky—Walmart is your best bet.
The Sin Stock Anomaly: Collect Big, Safe Profits with These 3 Hated Stocks
My brand-new special report tells you everything about profiting from "sin stocks" (gambling, tobacco, and alcohol). These stocks are much safer and do twice as well as other stocks simply because most investors try to avoid them. Claim your free copy.
Equities Contributor: Robert Ross
Source: Equities News