University of Alberta Researchers Identify a New Gene that Causes Glaucoma
Edward Kim Follow |

Over 3 million Americans and over 60 million people worldwide suffer from glaucoma, the leading cause of irreversible blindness. Half of those with glaucoma don't know they have it. Known as the "the sneak thief of sight," according to the Glaucoma Research Foundation, glaucoma can take up to 40% of the field of vision without a person noticing. Once vision is lost, it's gone permanently.

With open-angle glaucoma, the most common form of the disease in which the eye's drainage canals become clogged, thereby increasing internal eye pressure and damaging the the optic nerve, there are virtually no symptoms. Usually, the increased eye pressure doesn't cause any pain, and early vision loss at the periphery is compensated for with a simple turning of the head. While there are several medications to alleviate symptoms, the best way to protect sight from glaucoma is to get tested.

Pigmentary glaucoma is a type of inherited open-angle glaucoma in which the pigment on the back of the iris gets deposited into the front part of the eye, causing vision loss and eventually blindness if left untreated. The Glaucoma Foundation estimates that over 150,000 people in North America are affected by pigmentary glaucoma. Medicines that reduce intraocular pressure are typically prescribed, but the these drugs can cause disabling visual blurring in younger patients.
Identification of a New Gene that Causes Glaucoma
As reported in Folio, the University of Alberta's journalism site, last week, an international team of researchers led by Michael Walter, PhD, Professor and Chair of the Department of Medical Genetics, has identified a new gene responsible for the onset of pigmentary glaucoma, The team, which included scientists at Harvard and at Flinders University in Australia, used data from two families with a predisposition toward pigmentary glaucoma to identify the premelanosome protein (PMEL) gene as the guilty gene. The researchers confirmed the finding through detection of additional mutations of the same gene in more than 400 patient samples and collaborated with Dr. Walter's colleague, Ted Allison, PhD, Associate Professor of Medical Genetics to introduce the mutations into zebrafish using CRISPR/Cas9 gene editing technology.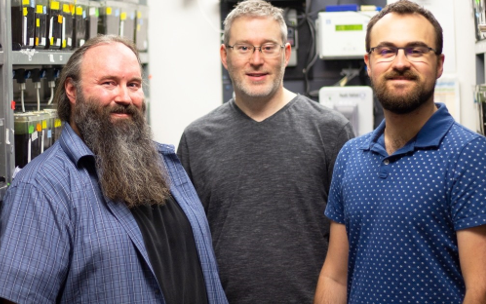 Researchers Ted Allison, Tim Footz and Gavin Neil in Dr. Allison's zebrafish lab at the University of Alberta. Source: Folio. Photo cropped from original by Jordan Carson.

We found that these fish had altered pigmentation and eye defects which were very reminiscent of human glaucoma. Altogether, the findings showed us quite clearly that we have identified a new gene that causes glaucoma.

- Michael Walter, PhD, Professor and Chair of the Department of Medical Genetics, University of Alberta.
3 Companies Pursuing Glaucoma from Different Angles
Of the many companies we follow that are pursuing solutions to attack glaucoma, we highlight three of them today that span the market capitalization spectrum.
Bausch Health (BHC), $9.1 billion market cap
The venerable Bausch + Lomb division of Bausch Health is the world's largest provider of eye care products, with no fewer than 13 ophthalmic formulations available at your local pharmacy. The company's most recent FDA approval came in November 2017 with Vyzulta (latanoprostene bunod solution), which increases drainage of fluid from the eye to lower intraocular pressure in patients with open-angle glaucoma or ocular hypertension. Bausch + Lomb produced the first optical quality glass made in America, developed ground-breaking sunglasses for the military in World War I, created the lenses used on the cameras that took the first satellite pictures of the moon and introduced the first soft contact lenses.
Aerie Pharmaceuticals (AERI), $2.0 billion market cap
Aerie received its first FDA approval in December 2017 with Rhopressa (netarsudil), a Rho kinase inhibitor indicated for the reduction of elevated intraocular pressure in patients with open-angle glaucoma or ocular hypertension. In addition to glaucoma, Rho kinase appears to be critical to the development and progression of numerous conditions including vasospasm, pulmonary hypertension and nerve injury. Aerie's second compound, a combination formulation of Rhopressa with latanoprost (Xalatan by Pfizer, among others), has shown in Phase 3 studies to work better than either Ropressa or latanoprost alone and is awaiting FDA decision.
Eyenovia (EYEN), $53 million market cap
We discussed Eyenovia in this space last week. The company, public for just a year, has developed high precision, piezo-print technology for microdosing, which enables fully effective ophthalmic therapies to be delivered to the patient while avoiding many tolerability and side-effect issues associated with traditional eye drop delivery. Eyenovia announced positive results last week from its Phase 3 study of its MicroStat fixed-combination micro-formulation of phenylephrine and tropicamide for mydriasis, or pupil dilation. Eyenovia is developing MicroStat to address the growing needs of the estimated 80 million office-based comprehensive and diabetic eye exams performed each year in the US, as well as the estimated 4 million pharmacologic mydriasis applications in cataract surgery.
Please email us at content@equities.com to see our Case Studies and Testimonials.
Please click here for information on our equity trading platform.
Please click here to receive our free daily newsletter.
DISCLOSURE: The author has no positions or any beneficial interest in, and has received no compensation from, the companies mentioned in this article.

---
The views and opinions expressed in this article are those of the authors, and do not represent the views of equities.com. Readers should not consider statements made by the author as formal recommendations and should consult their financial advisor before making any investment decisions. To read our full disclosure, please go to: http://www.equities.com/disclaimer
Companies