Sierra Wireless SWIR is currently undergoing a transformation, and its stock price likely isn't capturing what it's future potential could be if the transformation goes well.
While there is a significant degree of uncertainty involved, investors could be handsomely rewarded several times over if Sierra's optimistic scenarios play out.
For investors that are just learning how to invest money, a relatively small and unprofitable company like Sierra is not a reliable investment. However, for enterprising investors that want to allocate a small percentage of their portfolio to emerging technologies and can stomach volatility, the current entry price into Sierra under $20/share is attractive, and the future for the business is likely to be a lot more promising than the past.
Business Overview
Sierra Wireless is a pure-play provider in the Internet of Things (IoT) industry and has the largest market share. They provide hardware modules and gateways to connect devices to a network, and also provide a cloud platform and software for businesses to manage their connected devices.
It's not a new company; Sierra Wireless has been in business for just over 25 years and has successfully weathered two recessions. They're divided into three business segments.
OEM Solutions Segment
The OEM segment accounts for almost three-quarters of Sierra's revenue, and involves producing relatively inexpensive modules that other device makers can put in their products to get them connected. It's the lowest margin segment, with about 30% gross margins. Growth is relatively slow, with about 4% top-line growth between 2017 and 2018 so far.
This segment spans cellular, Wi-Fi, Bluetooth, and GNSS solutions, across 2G, 3G, 4G, LTE, and LPWA technologies,
Historically this has been the bulk of Sierra's business, but is not very attractive on its own from an investor perspective. The segment relies on design wins, which means revenue can be lumpy and unpredictable. And competition is mostly based on price, so Sierra barely makes any bottom line profit from these modules.
Enterprise Solutions Segment
The Enterprise segment sells higher-end gateways and routers for more robust connectivity. These units sell for hundreds of dollars, and are used in more critical applications like police cruisers. Rather than being embedded in other devices like their OEM products, these gateways are branded devices.
This segment has very high 50% gross margins, but accounts for only about 15% of Sierra's revenue. For the first half of 2018 however, the revenue of this segment was 33% higher than it was over the first half of 2017, indicating strong growth.
Iot Services Segment
Sierra's smallest but most promising segment is their IoT Services Segment. It accounts for about 12% of revenue and has 40% gross margins. A recent acquisition at the end of 2017 helped kick this segment into high gear, and revenue in the first half of 2018 is more than 3x what it was in the first half of 2017.
This segment provides cloud services and global cellular connectivity services. Unlike the OEM and Enterprise segments that are focused on one-time hardware sales, this segment is mainly about recurring software revenue, which makes it very attractive for stable growth.
Their recent Q2 results show how important this segment is becoming to the company, and is the core of the transformation taking place: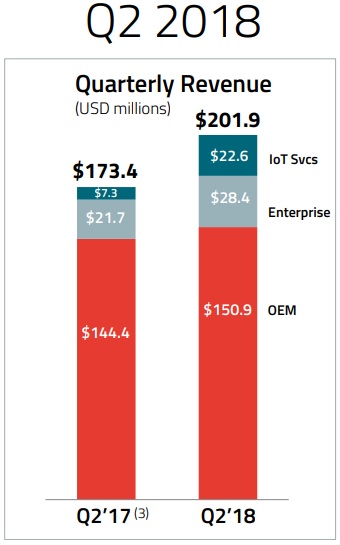 Source: Sierra Wireless 2018Q2 Presentation
IoT Growth Potential
Internet of Things has been a much-promised trend, but in recent years has been deployed more slowly than expected. While the promise of connected devices offers a lot of potential, there are many privacy and cyber security concerns about it, and the technical difficulty of deploying IoT devices has been a headwind against growth.
Going forward, however, the trend appears to be strong. For example, Sierra and Volkswagen reached a deal in 2017 for Sierra to provide connectivity solutions for most of Volkswagen's upcoming models over the next several years.
And industry projections show the potential.
Thanks to LPWA technologies allowing IoT battery lives of up to 10 years, the number of LPWA devices is expected to increase more than 50 times what it is now in five years: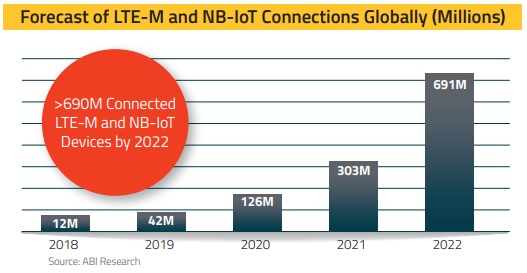 Source: Sierra Wireless, citing ABI Research
This is a critical point. Batteries that last as long as the device's expected lifetime make it so that the battery never needs to be changed. The efficiency and preventative maintenance potential of IoT devices compared to their non-connected counterparts would be partially wasted if they required a hands-on battery change mid-life.
The two major types of LPWA technology have a number of applications, including smart meters, infrastructure management, smart cities, building automation, asset tracking, healthcare patient monitoring, agriculture, and more: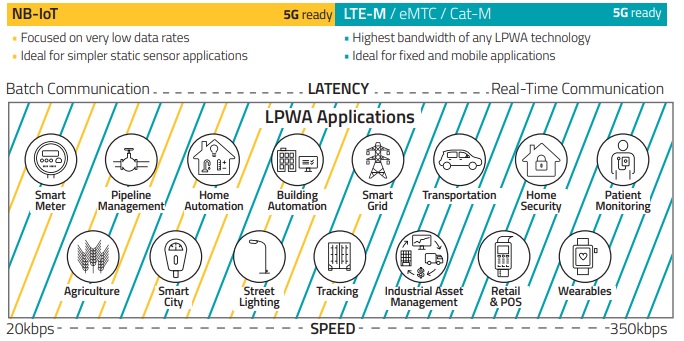 Source: Sierra Wireless LPWA Infographic
American Tower AMT, a major broadcast infrastructure REIT, also expects major increases in the number of IoT devices in the United States, and for that number to eventually outpace cell phones: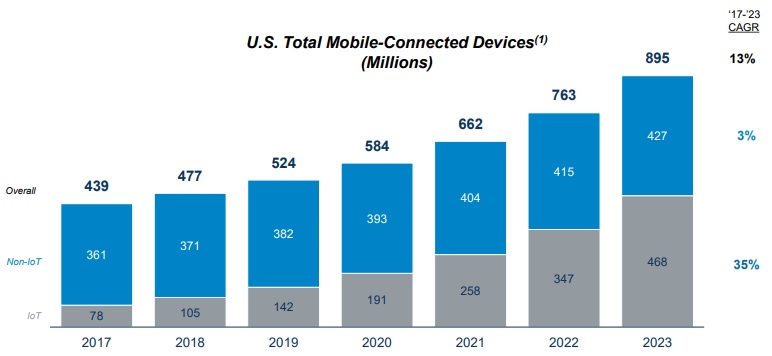 Source: American Tower Overview Presentation
Sierra's Transformation
Sierra Wireless has been dead money for a long time. The company doesn't pay a dividend, and its stock price today is lower than it was two decades ago: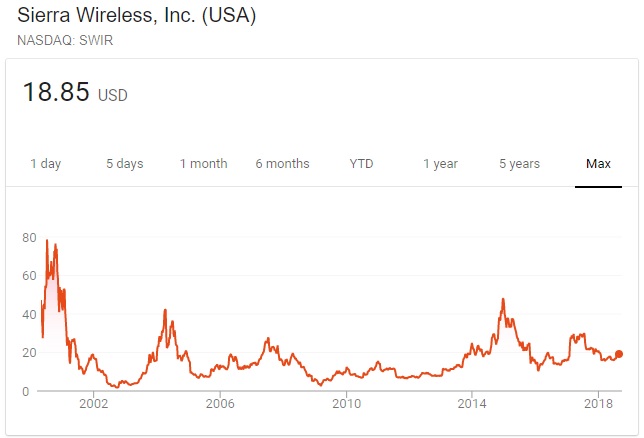 Source: Google Finance
There have been a few IoT hype bubbles in its stock price along the way, including during the Dotcom bubble and more recently in 2015 when certain large publications heavily promoted it.
Sierra's low margin OEM business, while growing, has not been lucrative for shareholders. The company's net profit margin averages around 0%, meaning it just about breaks even in terms of profit as it grows over time.
However, the company is in the middle of a transformation. While OEM and Enterprise solutions will continue to be a core business for Sierra, its future profitability likely lies in its IoT Services segment for recurring revenue and customer simplification.
Sierra is now vertically integrated. They provide the hardware to get devices connected, and now also provide the cloud platform and software to allow businesses to manage their connected devices. This platform of recurring high-margin revenue is much more lucrative than sales of modules.
The acquisition cost of new customers for its IoT Services segment is very low, because the OEM and Enterprise segments already provide a customer base. Sierra is capable of breaking even on an OEM design win in order to be with a customer from the inception of their product, so that they can later capture the recurring cloud revenue from those devices when they are deployed and connected.
In 2018, the company saw the abrupt retirement of its CEO (which often indicates that it wasn't quite voluntary), and is now looking for a CEO that can shape the company into a more services-oriented business rather than a pure hardware business. This one-stop-shop approach will simplify the customer process of deploying IoT devices, and will likely increase Sierra's profitability going forward as long as they can continue to execute well and maintain dominant market share in the industry.
Final Thoughts and Valuation
This type of business defies typical discounted cash flow analysis, and instead is best valued in terms of projections. The company has a strong balance sheet with virtually no debt.
At the current price of under $20/share, and a market capitalization of below $700 million, the company trades for less than 1x annual sales which are projected to hit $800 million for the full year 2018. In comparison, the average S&P 500 company trades at 2.3x sales. Sales growth from 2018 to 2019 is estimated by analysts to be about 8%, which is great.
In terms of earnings, Sierra currently has a P/E ratio of 20x consensus estimated 2018 earnings, and 15x consensus estimated 2019 earnings. Of course, revenue and earnings are very lumpy for this company and profit margins are low, so those numbers could be off by quite a bit in any given year. The trend is clear though; with increasing recurring income from cloud services, Sierra's profit margins and profit predictability are likely to increase over time.
A bullish scenario is not too hard to imagine. In several years if the company hits $1.2 billion in revenue, with a 10% net profit margin, that's $120 million in earnings. In comparison, a company like Cisco CSCO has 15-20% net profit margins. A low 15x earnings multiplier on $120 million in earnings would give a market capitalization of $1.8 billion compared to under $700 million today.
Investors can buy and hold the stock outright, but selling put options is another possibility. For example, as of this writing you can sell the December $17.50 put options for about $.90/share. If the stock price remains above the strike price, you'll earn about 5% on your money in 3.5 months. If the stock takes a dip, you'll be assigned shares at an effective cost basis of about $16.60, which is significantly below the current price. Basically, both buying-and-holding from this point or selling options to initiate a position are attractive ideas.
There's a lot of potential in Sierra Wireless if they can continue to shift their business upstream towards more lucrative cloud revenue, and by offering customers a one-stop-shop for IoT hardware and connectivity. The industry is expecting massive growth in the number of IoT devices over the next five years, so Sierra is positioned not only for growth but also increasing margins on that growth. With a market cap under $1 billion, they're also a potential acquisition target, likely at a nice premium.