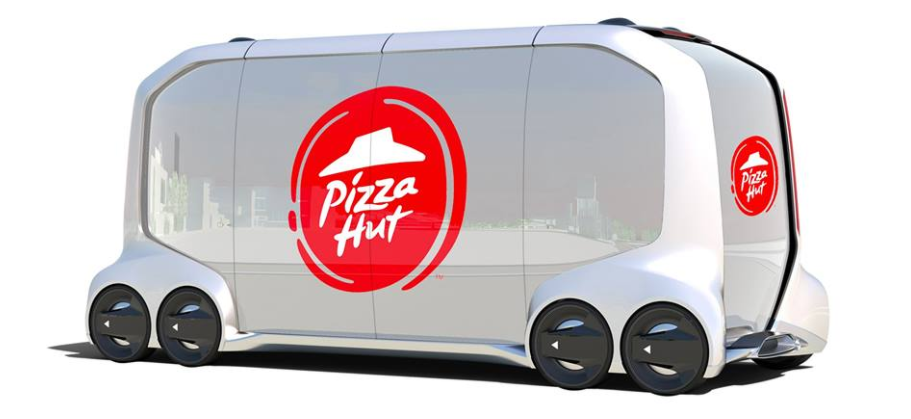 Image via Pizza Hut/Facebook
Register for Guild Investment Management's complimentary conference call "2018: Opportunities In the Late-Cycle Bull" today.
---
With the Consumer Electronics Show (CES) just past, it might be a good time to mention two developments in robotics that we've recently noted. Sage analyst Larry Jeddeloh at The Institutional Strategist noted that this year's CES was the occasion for Pizza Hut (YUM) to unveil a driverless delivery service, partnering with Toyota (TM) in the development of autonomous electric vehicles.
Autonomous food delivery systems will represent a major savings in labor and insurance costs for the companies that adopt them. Automation in fast food businesses will not be restricted to delivery services, however. Fast food, of course, represents a major portion of low-skill employment in the United States — a portion of the workforce that is the focus of the recent push for greater minimum wage requirements in many states. In 2018, 18 states are pushing to raise their minimum wage, with California leading the charge — aiming at $15 before the end of the first quarter.
The impulse behind minimum-wage hikes is often noble — the socioeconomic betterment of the lowest-income strata of the working class. Unfortunately, the law of unintended consequences is very pertinent here. Faced with a sudden hike in labor costs, companies with the ability to do so — including fast-food stalwarts McDonald's (MCD) and Wendy's (WEN) — will ramp up automation. Both of the companies mentioned are planning to replace significant numbers of cashiers in 2018.
As we have noted frequently, we do not hold with the doomsayers who believe that automation will render large swathes of the population permanently unemployed. In every historical epoch of accelerating automation, the economy has adjusted and created new demand to absorb the labor of displaced workers. This time will not be fundamentally different. Therefore, we cannot regard companies using automation to boost their financial performance as evil or underhanded. In fact, the rollout of such technology always ultimately serves to push an economy towards the creation of more fulfilling and rewarding employment, and less menial labor — the whole economic history of the developed world since 1800 serving to illustrate this truth.
With that said, we would not shy away from investment in companies whose bottom lines stand to benefit from the increased automation of menial and routine tasks — and it looks like fast food and all types of delivery businesses are likely to be strong beneficiaries of this trend over the medium term.
Investment implications: Pressures from new minimum-wage laws will accelerate the adoption of automation in food service and delivery, and the companies that capitalize on it will benefit. They will ultimately be doing a service to both the workforce and the economy, which will adapt to the changes and create new demand for human labor as they have in the past. The same trend will accelerate in agriculture, particularly if immigration reform proceeds. On a fundamental basis, we like tech innovators in food, food service, and agriculture. Many of them have moved ahead very strongly in the past year and have gotten ahead of themselves — but we would be buyers on a significant correction.
Please note that principals of Guild Investment Management, Inc. ("Guild") and/or Guild's clients may at any time own any of the stocks mentioned in this article, and may sell them at any time. In addition, for investment advisory clients of Guild, please check with Guild prior to taking positions in any of the companies mentioned in this article, since Guild may not believe that particular stock is right for the client, either because Guild has already taken a position in that stock for the client or for other reasons.
To learn more about Guild Investment Management, please go to www.guildinvestment.com.

---
Do you know how to invest globally? Guild Investment Management has decades of proven experience investing in emerging growth opportunities all over the world. Subscribe to the Guild Investment's Market Commentary today to access exclusive actionable insights with no borders.