Today is the final day of the LD Micro Invitational Conference at the Luxe Sunset Bel Air in Los Angeles. 100 companies presented yesterday, and an additional 65 companies are scheduled to present today beginning at 7:30am PT.
We've been following a company called OncoSec Medical (Nasdaq: ONCS) - presenting at 2:00pm PT today - that's making good progress in the clinic with a targeted cancer immunotherapy that is designed to work with a proprietary delivery technology. The company has a clinical trial collaboration and a supply agreement with Merck (MRK) for Keytruda (pembrolizumab) in its Phase II trial of its lead candidate.
Keytruda was first approved by the FDA in 2014 for the treatment of advanced melanoma and has since been approved for eight additional or expanded indications. Most recently, in May 2016, the FDA approved Keytruda to treatment patients whose cancers have a specific genetic feature or biomarker. This is the first time the FDA has ever approved a cancer treatment based on a common biomarker rather than the location in the body where the tumor originated. While we're not here to talk about Merck today, we're encouraged that OncoSec Medical's collaboration with Merck involves such a landmark medication as Keytruda.
Keytruda is an anti-PD-1 compound. PD-1 is a cell surface receptor and immune system checkpoint that plays an important role in down-regulating the immune system and promoting self tolerance by suppressing T cell inflammatory activity. OncoSec's lead candidate is being tested in a combination study with Keytruda.
OncoSec's investigational platform, ImmunoPulse, is designed to enhance local delivery and uptake of DNA-based therapeutics directly into tumors. Clinical studies of ImmunoPulse with DNA-based Interleukin-12 (IL-12) have demonstrated the potential to initiate a systemic immune response while limiting the systemic toxicities associated with other treatments. The technology employs electroporation, which involves the use of electrical pulses to increase the permeability of the cell membrane, permitting the DNA to enter the cells. The cell membrane reseals and the electroporated cells manufacture the protein according to the specifications engineered into the DNA-based agent.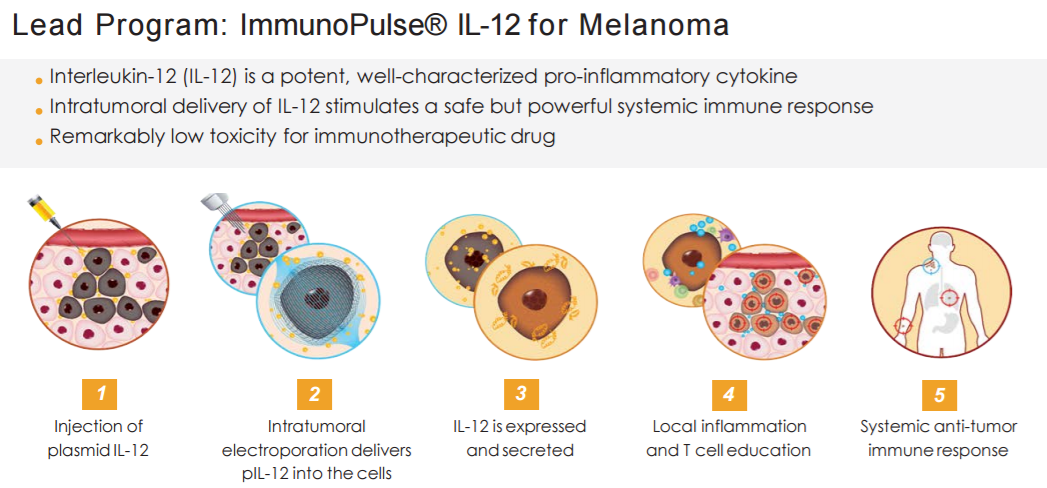 Source: OncoSec Medical Investor Presentation, June 2017

The company showed positive topline results from the primary analysis of the Phase II combination trial of ImmunoPulse IL-12 and Keytruda in melanoma patients that were predicted to be non-responders to anti-PD-1 therapies alone such as Keytruda at the ASCO-SITC Clinical Immuno-Oncology Symposium in February 2017. Data showed an objective response of 43% and a best overall response rate of 48% at 24 weeks.
OncoSec received FDA Fast Track designation for ImmunoPulse IL-12 for the treatment of metastatic melanoma following progression on Keytruda or Bristol Myers Squibb's (BMY) Opdivo (nivolumab), another anti-PD-1 compound.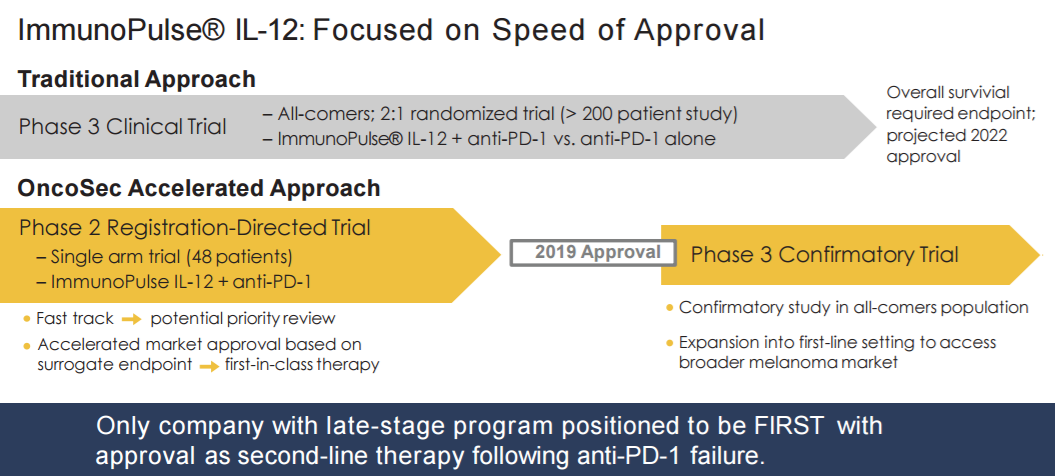 Source: OncoSec Medical Investor Presentation, June 2017

OncoSec Medical was formed in 2011 and traded OTC for several years before listing on Nasdaq in 2015. The stock has traded poorly since then but did bounce off its historic low a month ago. There's always risk in any developmental biotech company, and OncoSec will certainly need additional capital by the first quarter of 2018 in order to continue its R&D efforts. We like the company's collaborative clinical approach and FDA Fast Track designation - which could cut years off the FDA approval gauntlet - and ImmunoPulse IL-12 has the potential to be the first approved therapy for patients who do not respond to Keytruda or Opdivo alone. We believe the company is interesting on our risk-reward spectrum and we'll be waiting for clinical milestones during the remainder of this year.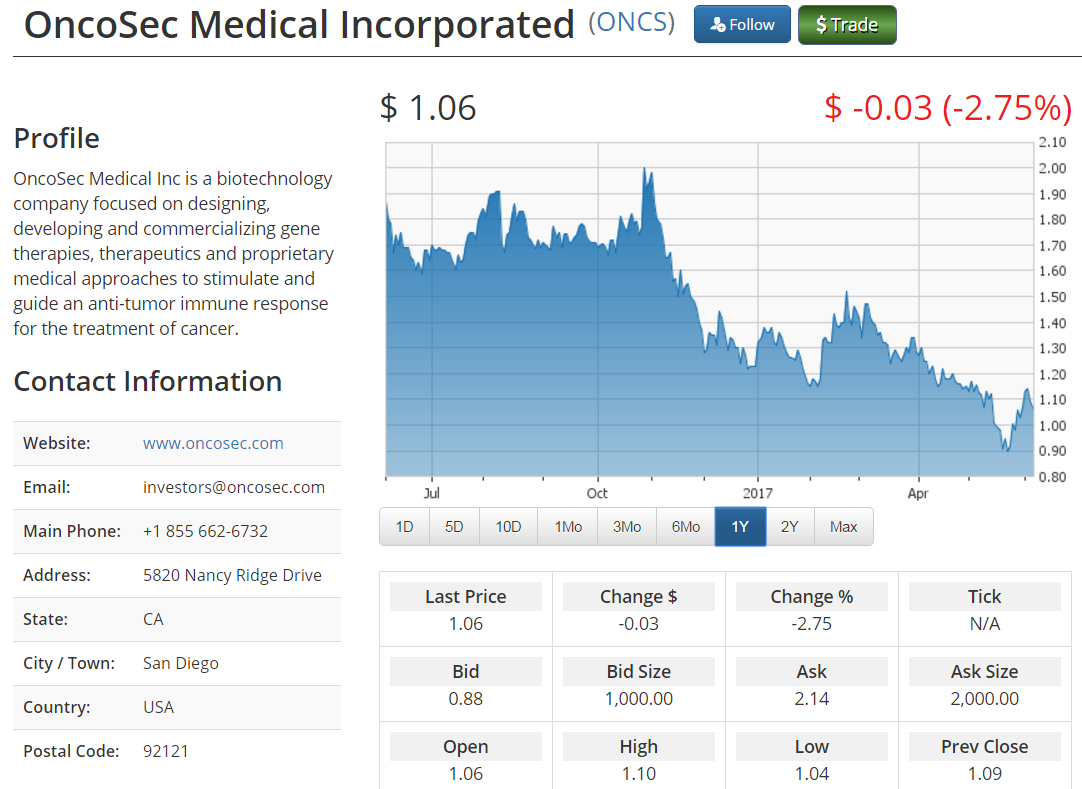 Please email us at content@equities.com if you are a Public Company and would like to see our Case Studies or Testimonials.

Please click here if you would like information on our new trading platform.
Please click here if you're an investor and would like to see our weekly newsletter.
DISCLOSURE: The views and opinions expressed in this article are those of the authors, and do not represent the views of equities.com. Readers should not consider statements made by the author as formal recommendations and should consult their financial advisor before making any investment decisions. To read our full disclosure, please go to: http://www.equities.com/disclaimer