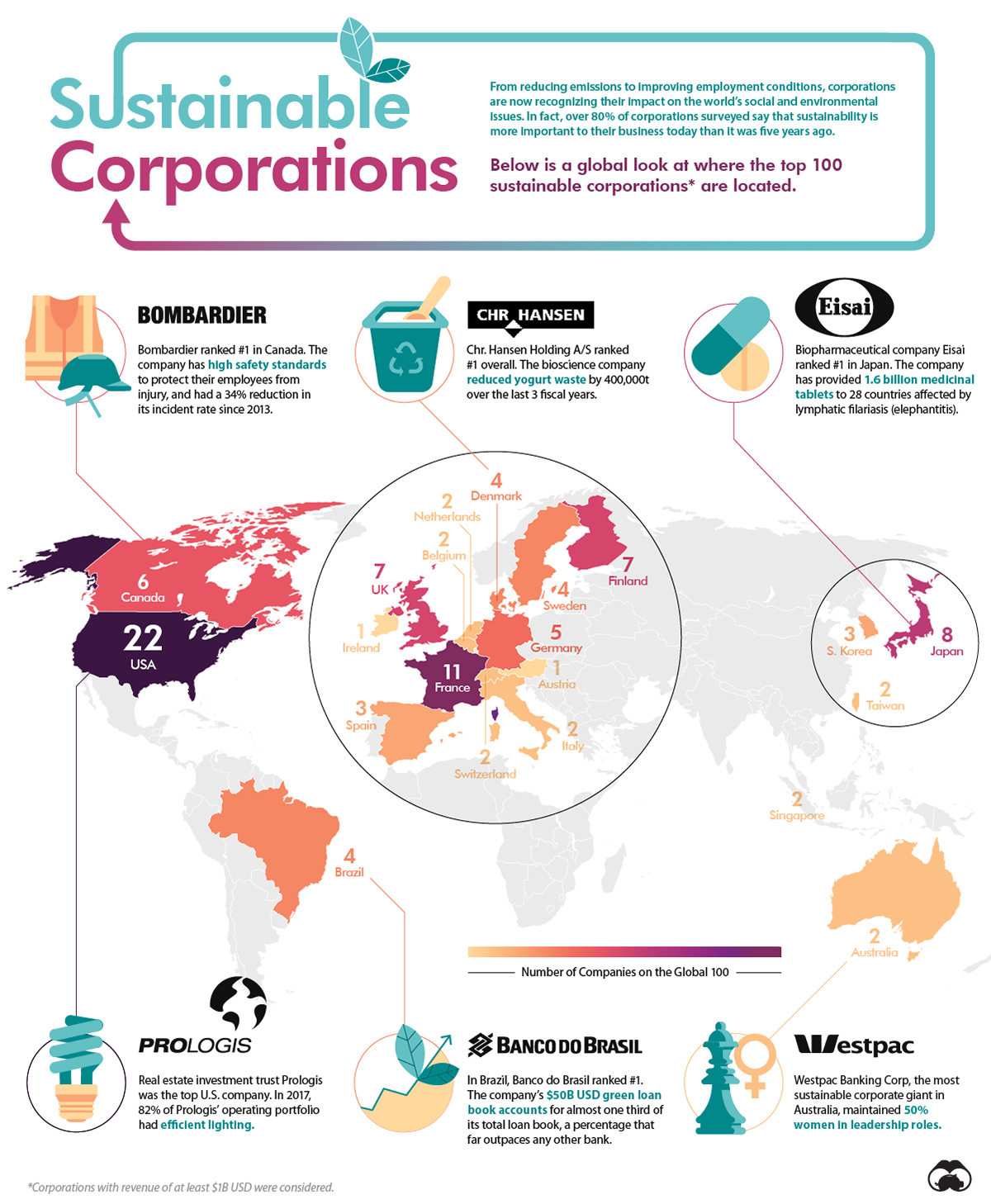 From plastic-filled oceans to unequal pay, sustainability is a hot topic these days. Many people are wondering how we'll move the needle on these important issues, and the business world is being pressured to take action.
Society is demanding that companies, both public and private, serve a social purpose. To prosper over time, every company must not only deliver financial performance, but also show how it makes a positive contribution to society.
— Larry Fink, CEO of BlackRock, the world's largest asset manager
Which of the world's largest companies are stepping up to the plate on these issues?
The Global 100 Index
Today's visualization pulls data from Corporate Knight's 2019 Global 100 report, which ranks the most sustainable corporations in the world.
Any public company with revenue of at least $1B USD is screened for various factors such as sufficient sustainability reporting. The resulting corporations are scored on an industry-specific mix of performance metrics in the following areas:
Resource Management
Employee Management
Financial Management
Clean Revenue
Supplier Performance
The final ranking represents the top companies from each sector, with the number from each sector based on the relative size of its market capitalization.
Sustainable Corporations by Country
Here's all the countries that had companies on the list: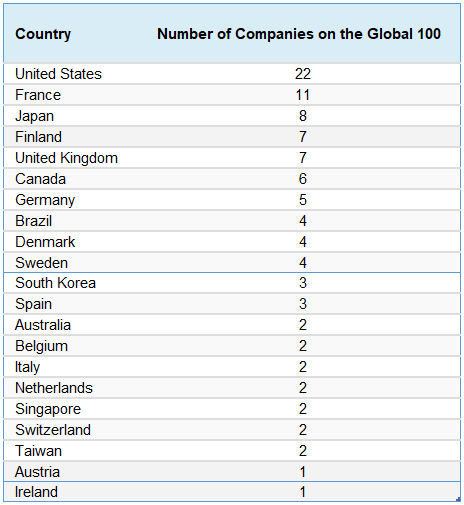 The U.S. tops the list with 22 companies – far more than any other country. European countries also dominate the list and have 51 companies on the G100 overall. Notably, the populous countries of India and China have no representation on the list.
The Top 10 Companies
So, which individual companies made the list? Here's a snapshot of the star players: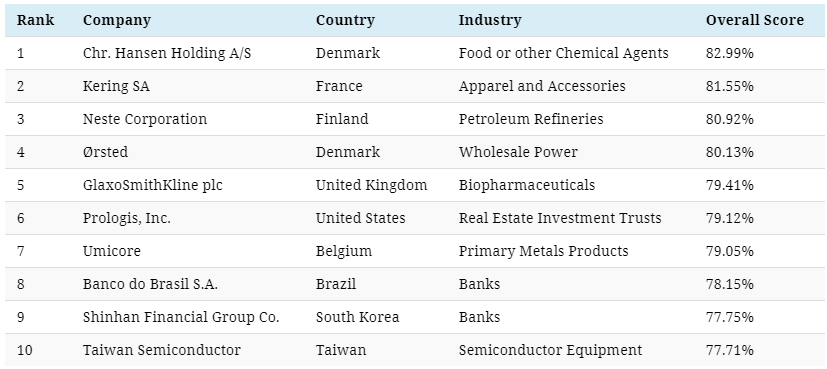 Chr. Hansen Holding A/S leapt from #66 in 2018 to the top spot this year. According to CEO Mauricio Graber, the company develops "cultures, enzymes, probiotics and natural colors for a rich variety of foods, confectionery, beverages, dietary supplements and even animal feed."
A staggering 82% of Chr. Hansen's revenue contributes to the United Nations' Sustainability Goals. The company is using good bacteria to reduce antibiotic use, crop pesticides, and food waste. Over the last three years, the company has reduced yogurt waste by 400,000 tonnes.
What's in it for Companies?
While societal pressure is certainly one motivating factor, Harvard Business Review notes that corporate sustainability has many benefits:
Drives competitive advantage through stakeholder engagement
Improves risk management
Fosters innovation
Improves financial performance
Builds customer loyalty
Attracts and engages employees
It's clear that sustainability is a strong differentiator in the business community. The world's largest – and smartest – companies are leading the charge towards a greener, more equitable future.