Iron Lady of Europe Quits. Will Gold Replace Her?
Sunshine Profits |

On Thursday, Mr. Draghi held a press conference. But the real thunderbolt hit on Monday, when Ms. Merkel announced that she would step down this year as a leader of her conservative party. Will that lighting make gold shine?
Draghi Says That We Shouldn't Worry
Let's start with the latest ECB's monetary policy statement and the following Draghi's press conference. In short, the ECB kept its monetary policy unchanged, which means that the European quantitative easing will end in December 2018. Given a somewhat weaker economic momentum in the euro area and the turmoil in Italy, the lack of any changes might seem to be rather hawkish. However, the expansion of the euro area economy continues, while inflation pressure is gradually rising. According to Draghi, we should not worry about the weaker momentum, as "it's simply that we're having growth returning to potential after 2017, where it was clearly above potential."
The Q&A part was understandably dominated by inquiries about the situation in Italy and its potential impact on the ECB's actions. Draghi noted that there were some spillovers to other countries, but they were limited. Although he expressed confidence that an agreement between the Italian government and the European Commission would be found, Draghi acknowledged the sovereign-bank doom loop:
But certainly these bonds are in the banks' portfolios. If they lose value, they are denting into the capital position of the banks; that's obvious, so that's what it is.As I said, I'm still – I shouldn't say optimistic – but I'm still confident an agreement will be found. But basically, yes, you have a dent in capital position. Then of course you have weakening funding conditions as well and all this is going to translate into different lending terms.
To be sure, the balance sheets of Italian banks have improved since the Great Recession, but they used much of the injected capital to buy more sovereign debt. Italy's financial institutions hold the highest share of state obligations in the euro area, which is now one of the greatest downside risks in the global markets.
Merkel Steps Down. Will Gold Replace Her?
Let's move from Italy to Germany, as a great leadership transition is approaching in the biggest EU's economy. Yesterday, Ms. Merkel, after 13 years as a chancellor, announced that she will not not stand again as a candidate to head the Christian Democratic Union and a candidate for another term as a chancellor. Her decision followed historically weak results in state elections in Bavaria and Hesse. It might be seen as a consequence of the European migrant crisis which lowered the support for Merkel.
Now, the question is who will replace the Iron Lady of Europe. The analysts speculate about the following names as possible successors to lead the CDU: Annegret Kramp-Karrenbauer, Friedrich Merz, Jens Spahn, and Armin Laschet. We like the first candidate, as her name is tricky even for Germans, and she is also called "mini-Merkel", isn't that cute?
But let's be serious. What about gold? Is she a good candidate for a chancellor (of investments)? Remember that Caligula loved his horse, Incitatus, so much that he planned to make him a consul. In the long run, gold should outshine all other candidates. But yesterday it declined, as one can see in the chart below.
Chart 1: Gold prices from October 28 to October 30, 2018.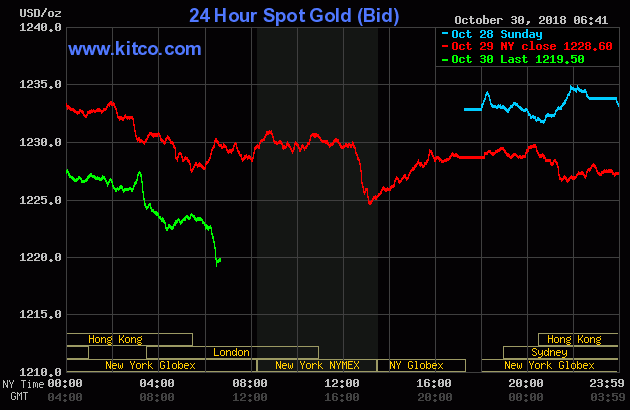 The reason was that the US dollar appreciated versus euro on the news that Merkel would not seek re-election as head of her CDU party and the German government. The market reaction is understandable, as she was considered to be a stabilizing force for Germany and the euro zone throughout the last decade. Sure, she is still a Chancellor and will lead the country until 2021. And she could then move on up to Brussels for some key position. But markets sent a clear signal, the end of Merkel's era will not help the euro, which struggled even with her. Unfortunately for the gold bulls, it implies that the greenback may strengthen even more, exerting downward pressure on the yellow metal. To shine, gold has to replace the US dollar. But investors are not yet ready to abandon the greenback. But who knows: maybe the US mid-term elections will change something? Stay tuned!
If you enjoyed the above analysis, we invite you to check out our other services. We provide detailed fundamental analyses of the gold market in our monthly Market Overview reports and we provide daily Gold & Silver trading Alerts with clear buy and sell signals. If you're not ready to subscribe yet and are not on our gold mailing list yet, we urge you to sign up. It's free and if you don't like it, you can easily unsubscribe. Sign up today!
Disclaimer: Please note that the aim of the above analysis is to discuss the likely long-term impact of the featured phenomenon on the price of gold and this analysis does not indicate (nor does it aim to do so) whether gold is likely to move higher or lower in the short- or medium term. In order to determine the latter, many additional factors need to be considered (i.e. sentiment, chart patterns, cycles, indicators, ratios, self-similar patterns and more) and we are taking them into account (and discussing the short- and medium-term outlook) in our trading alerts.
Thank you.
Arkadiusz Sieron, Ph.D.
Sunshine Profits' Gold News Monitor and Market Overview Editor
Gold News Monitor
Gold trading Alerts
Gold Market Overview
DISCLOSURE: The views and opinions expressed in this article are those of the authors, and do not represent the views of equities.com. Readers should not consider statements made by the author as formal recommendations and should consult their financial advisor before making any investment decisions. To read our full disclosure, please go to: http://www.equities.com/disclaimer