We highlighted Geron Corporation GERN in this space in June 2018, citing the positive clinical trial results achieved so far by imetelstat, the company's therapeutic candidate for myelofibrosis and myelodysplastic syndromes (MDS). Myelofibrosis is a rare form of blood cancer in which extensive scarring in the bone marrow disrupts the normal production of blood cells, while MDS is the most common form of blood cancer in which bone marrow cells become abnormal or malignant, thereby affecting blood cell production.
In our discussion last month, we acknowledged the risks surrounding Geron's significant historical shareholder dilution and that it was vulnerable to an upcoming pivotal decision by Johnson and Johnson's JNJ Janssen Pharmaceuticals unit on whether or not to continue the development program for imetelstat. We concluded that "the risk-reward of the stock at current levels merits the attention of long investors… and further, we believe that Janssen considers imetelstat to be a core part of its pipeline and view the continuation of the Geron agreement to be likely." Based on yesterday's comments from JNJ Chairman and CEO Alex Gorsky, we reiterate our view that Geron remains a priority for Janssen and JNJ.
Janssen reaffirms imetelstat's potential as a billion dollar drug
In his comments during JNJ's quarterly earnings conference call, Mr. Gorsky unambiguously referred to Geron's therapeutic candidate when discussing Janssen's key focus areas for growth for the remainder of 2018. If you don't have time to listen to the entire hour and 20-minute call, we would urge you to devote just two minutes beginning at the 23:50 mark of the earnings call, when Mr. Gorsky discusses the Janssen Pharmaceutical business.
The highlights from our perspective:
Mr. Gorsky said that Janssen plans to file or launch up to 10 new drugs by 2021 (including Erleada for non-metastatic castration-resistant prostate cancer, which was launched earlier this year), each of which "has the potential for more than $1 billion of peak revenue."

Though Mr. Gorsky didn't mention Geron by name, the chart below, produced by Janssen, shows clearly that imetelstat is one of these 10 critical pipeline drugs he described.

Mr. Gorsky said the "key catalysts for growth" for the rest of 2018 include:

Oncology: prostate cancer and hematology
Immunology: multiple immune-mediated inflammatory diseases, moderate to severe plaque psoriasis
Pulmonary hypertension: assets acquired via the 2017 acquisition of Actelion
Neuroscience: Long-acting injectables
Cardiovascular: Xarelto
Infectious diseases: HIV portfolio
The chart below summarizes Janssen's pipeline of new molecular entities (NMEs). We note that Janssen continues to list Geron's imetelstat as the first oncology asset in its pipeline. Reinforcing this priority, Mr. Gorsky cited two areas of oncology—prostate cancer (for which Janssen earned an FDA approval earlier this year) and hematology (which is obviously Geron's area of focus)—as Janssen's principal catalysts for growth for the remainder of this year. We believe that the mentions of imetelstat at the top of the priority list in the pipeline and at the top of Mr. Gorsky's comments on Janssen are not merely coincidental; rather, we take this as a solid indicator of Janssen's commitment to imetelstat as a potential billion dollar therapeutic.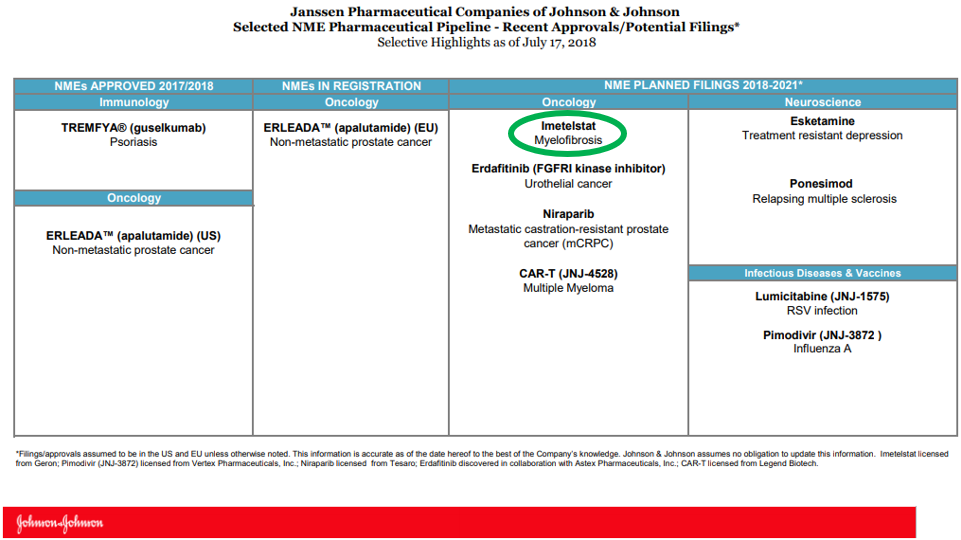 Source: Johnson & Johnson, July 17, 2018
Janssen is expected to make its continuation decision on Geron's imetelstat sometime during this third quarter, and we view yesterday's comments and disclosed pipeline as a positive indicator for Geron and its shareholders. The stock closed up over 4% yesterday on fair volume that surely involved some short covering. The price action may have somewhat muted, however, as investors were likely more attuned to JNJ's comments on the latest product liability concerns associated with its famous talc-based Baby Powder—which we discussed in depth last year in two articles. Investors may not have given Mr. Gorsky's comments their full due as they pertain to Geron and imetelstat.
There are, of course, no sure things in biotechnology research and development, and there is the ever present specter of binary risk events potentially causing catastrophic outcomes for every company that must either navigate the FDA gauntlet or be subject to a large pharmaceutical entity's decision. As a risk-reward proposition, particularly given the short squeeze in Geron that may accompany a positive continuation decision by Janssen (the short interest in Geron shares is 52.7 million shares according to Nasdaq's June 29, 2018, numbers—almost one-third of the common shares outstanding), Geron is certainly worth consideration. If successful, imetelstat can bring Geron up to $900 million in development, regulatory and commercial milestone payments, in addition to royalties on sales that are not accounted for in that dollar figure.
Please email us at [email protected] to see our Case Studies and Testimonials.
Please click here for information on our new trading platform.
Please click here to see our weekly newsletter.