First Juicero, Now This
Chris Lahiji Follow |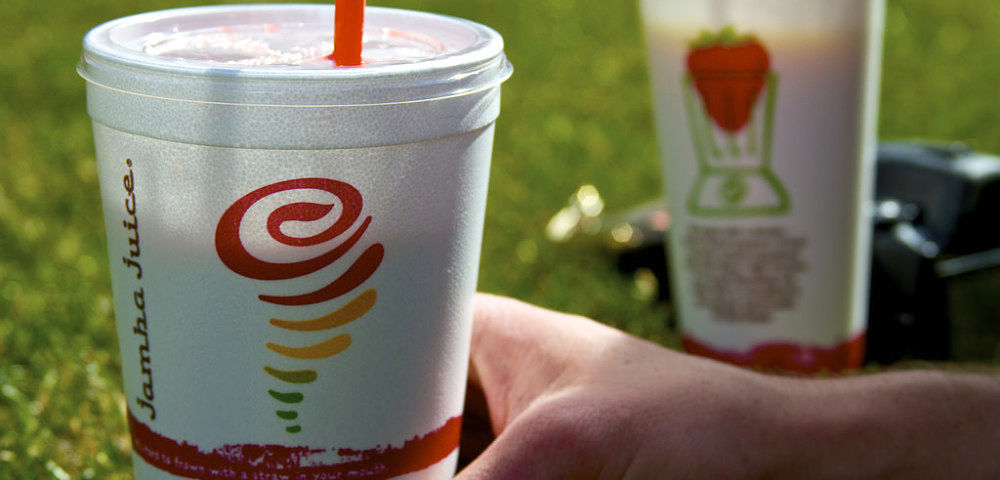 Image via Zach Dischner/Flickr CC
The LD Micro Index was flat for the week, while the Nasdaq Composite picked up 1.8%. Both the Russell 2000 and S&P500 were up ~1%.
Impact. Highlighting Anomalies Amongst the Biggest Gainers & Volume Leaders.
by Christian Galatti (Phase 4 Research)
Jamba Gets Bought Out & Everybody Gets Upset (JMBA.)
There was a time in 2006 that Jamba Juice (JMBA) was a $50 stock. Food costs destroyed the company before the Great Recession. A great idea that didn't make such a great public company. Some investors that timed it right made money. But, not many. Never consistently growing after surviving 2009, it wasn't just the normal corporate risk that investors had to shoulder. JMBA even stopped telling people what was going on.
Jamba, Inc. (Nasdaq:JMBA) (the "Company") announced that it received a letter from the Staff of the Listing Qualifications Department of the Nasdaq Stock Market ("Nasdaq") notifying the Company that since it remains delinquent in filing its Annual Report on Form 10-K for the fiscal year ended January 3, 2017 (link.)
Jamba would later pride itself for striving to report on time. They would then exclaim progress with minor things. Never really growing as new stores equated to store closings or, other problems. The stock would almost draw a straight line for the last five years. So, when Focus Brands bought JMBA for $200M investors weren't happy (link.) They believed they were just the recipient of the rare "take under," immediately calling for legal investigation. Jamba went up 30% on 113x volume for the week only be considered a disappointment. The epitome of a stock market story.
Bragar Eagel & Squire, P.C. is investigating potential claims against Jamba, Inc. (NASDAQ:JMBA) on behalf of stockholders concerning the proposed acquisition of the company by Focus Brands Inc.
Pursuant to the proposed transaction, announced on August 2, 2018 and valued at approximately $200 million, Jamba stockholders will receive $13.00 in cash for their Jamba common stock. Our investigation concerns whether Jamba's board of directors failed to adequately shop the company and obtain the best possible price for its stockholders before entering into a definitive merger agreement with Focus Brands.
Libbey Spikes 53% (LBY) - Q2 Overcomes Debt Burden.
Libbey (LBY) went up 53% for the week and is still .3 x Sales because it has $397M in long term debt. $10.5M in interest expense every quarter, causing massive moves in the stock. Going from $1 to $37, only to fall back to $5 because investors were concerned that Libbey wouldn't be able to pay. A concern that only got worse when they suspended their dividend in May.
Libbey Suspends Quarterly Cash Dividend To Further Prioritize Debt Reduction And Strategic Investments; Reaffirms 2018 Guidance (Link.)
But, this quarter showed that flatware and utensils can achieve growth. A Toledo Ohio company that's global. Growing in almost all regions Making progress through new products. Alleviating some of the severe concern that just built up (investor presentation link.)
"For the second quarter of 2018, we were pleased to deliver results that exceeded our internal expectations and reflected the strong momentum we are building this year," said Chief Executive Officer William Foley. "Net sales improved in all of our geographic regions with the exception of Asia Pacific, and we continued to experience strong contributions from new product introductions as well as our e-commerce platform. The strength of our competitive position, our new product offerings and our ability to service customers are enabling us to continue to improve our performance. We remain confident that the strategies we are implementing are the right decisions to drive profitable growth and long-term improvements in our financial performance." (Q2 Link.)
LBY put in a profitable quarter having to overcome a 60% tax rate on top of the interest expense. $26.7M Adj. EBIDTA equates to guidance at 11%+ of revenue. As of this quarter, the debt burden has been overcome with real numbers that are in the black.
---
The LD Micro Index was reconstituted as of August 1st. 284 additions, 297 removals, and 986 total companies
The NYSE's Owner Wants to Bring Bitcoin to Your 401(k). Are Crypto Credit Cards Next? via Fortune
Arlo stock soars in post-IPO debut as investors bet subscription revenue will come soon enough via Marketwatch
Ecoark Holdings ($ZEST) and Zest Labs File $2 Billion Complaint Against Walmart
WiLAN (QRTH) Provides Litigation Update - Jury Awards $145.1 Million in damages to WiLAN in Patent Suit against Apple
ACQUISITION: AMC Networks Inc. to Acquire RLJ Entertainment, Inc. ($RLJE) - $6.25 Per Share of RLJ Entertainment Common Stock Represents 61% Premium to the Closing Price Immediately Prior to AMC Networks' February 26, 2018 Merger Proposal
SRAX ($SRAX) Agrees to Sell SRAXmd for Up to $52.5 Million
Semler ($SMLR) kept moving higher - reported Q2 Results - Revenues of $5,484,000, an increase of $2,906,000, or 113%, compared to $2,578,000
BioTime ($BTX) to Receive $43 Million From Juvenescence
Paretum ($TEUM) contract announcements are nearly a daily occurrence - Pareteum Awarded $4 Million 3-Year Agreement by Internet of Things Provider
YGYI's ($YGYI) CLR Roasters Lands 5 Year Contract Worth Estimated $250 Million
Finjan Reports $82 Million in Revenue for the First Half of Fiscal 2018, an Increase of 200% Year-Over-Year - exploring strategic options
Command Security ($MOC) was up nicely on fiscal Q1 number - net income of $.07/share vs. $.01
The Habit Restaurants ($HABT) up 20% on Q2 growth - Total revenue increased 23.4% to $102.9 million compared to $83.3 million in the second quarter of 2017
Luna ($LUNA) Announces Sale of Optoelectronic Solutions - up to $18.5 million
Kraken ($PNG.V) Announces $9 Million Deep-Sea Battery Contract from Ocean Infinity
FTE Networks ($FTNW) Awarded New Contracts Totaling Approximately $61.4 Million
CV Sciences, Inc. ($CVSI) Reports Second Quarter 2018 Financial Results - Growth and Profitability Driven by Key Financial Performance Metrics, including Record GAAP Net Income of $3.2 Million
SQI Diagnostics Inc. ($SQD.V) Announces Private Placement - insiders taking down 3/4 of the deal
Naked Brand Group Limited ($NAKD) Announces Agreement with CVS Health and Launches Heidi Klum Intimates Solutions Line to Over 4,000 CVS Locations Across the United States
Reed's Inc. Announces Strategic Changes to Fuel Future Growth - Enhances Corporate Structure and Plans to Open New Corporate Office in Norwalk, CT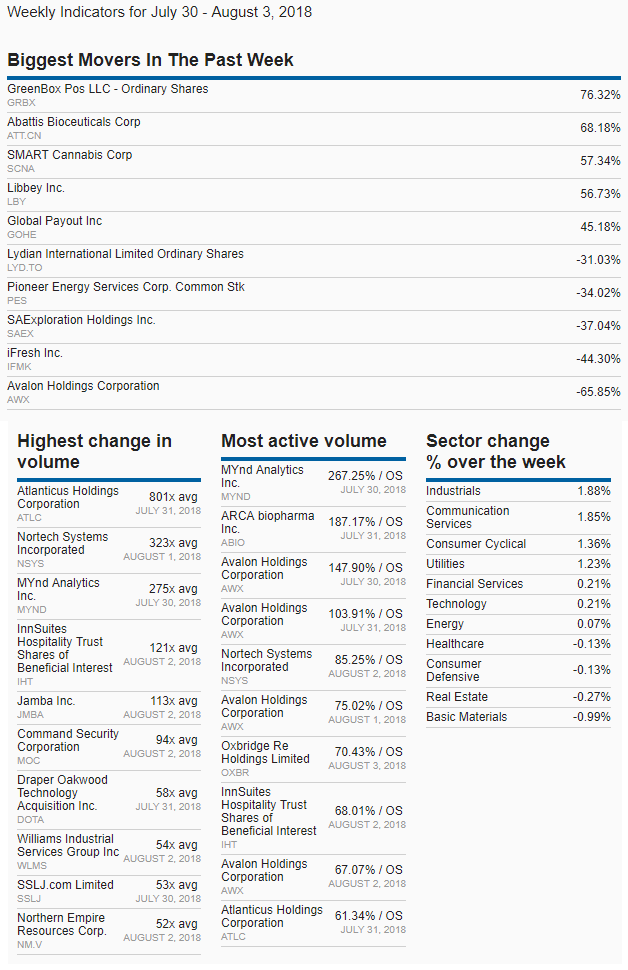 DISCLOSURE: The views and opinions expressed in this article are those of the authors, and do not represent the views of equities.com. Readers should not consider statements made by the author as formal recommendations and should consult their financial advisor before making any investment decisions. To read our full disclosure, please go to: http://www.equities.com/disclaimer