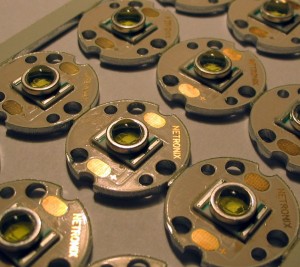 Cree, Inc. (CREE) was up as much as 16 percent at one point during Tuesday's trading with shares trading at $51.70.  The gains come as the company announced it will be offering a new 40-watt light-emitting diode bulb for $9.97, to be sold exclusively at Home Depot (HD) outlets throughout the country.
This marks the first time that energy saving LED bulbs have dug below the $10 barrier that has been seen as a deterrent to a broader, more effective, market-driven contribution to energy conservation.  The company says that it is confident that the new lower price will be the next big step in convincing a greater number of consumers to eschew traditional incandescent bulbs for the LED model.
The company also announced the release of a 60-watt version of the bulb for $12.97, as well as a 60-watt "daylight" variation, for a dollar more.  All of these bulbs use 84 percent less energy and last much longer than their incandescent counterparts, and Home Depot will be offering a 10-year warranty on the whole line of products.
The news comes as Cree raised its earnings target for the quarter from $0.30-$0.35 per share to $0.31-$0.36 per share, against a $0.33 estimate.  Revenue for the quarter ending March 31 was forecast in January at $325 million to $345 million, against estimates of $336 million, but that expectation has also been increased to $335 million to $350 million.
Meanwhile, Home Depot's shares are up one-tenth of a percentage point, trading at $70.36.
DISCLOSURE: The views and opinions expressed in this article are those of the authors, and do not represent the views of equities.com. Readers should not consider statements made by the author as formal recommendations and should consult their financial advisor before making any investment decisions. To read our full disclosure, please go to: http://www.equities.com/disclaimer