​Aurora Cannabis Stake Puts the Green Organic Dutchman in Prime Position for Its March IPO
Spotlight Companies Follow |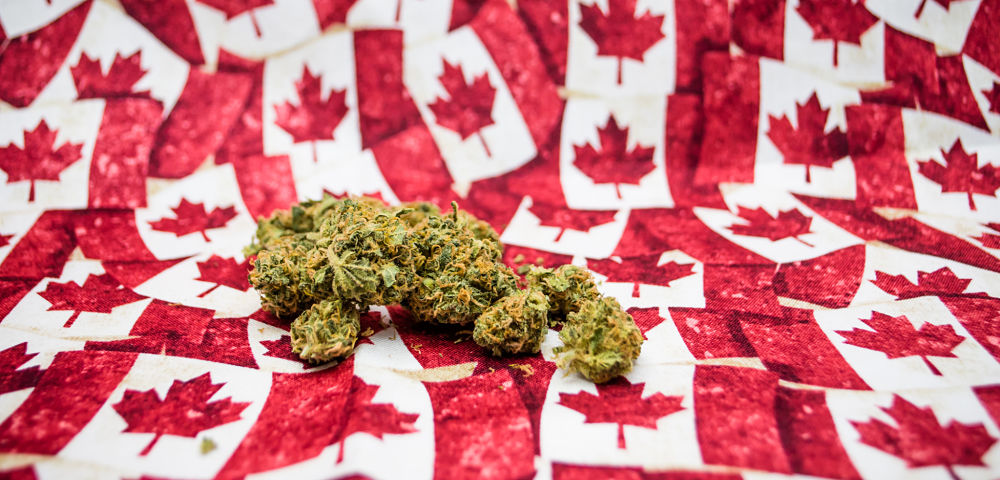 The cannabis market's growth seems to be unstoppable at this point. In Canada, policymakers are forging ahead under the liberal guidance of Prime Minister Justin Trudeau, while, simultaneously, public perception is rapidly transforming across North America. After almost 50 years of incessant polling, Gallup discovered that approval for the notion of legalizing recreational cannabis in the United States, which is much more rigid on the matter, has reached record highs of 64% as of October 2017.
So, as the times change, Canada continues to lead the charge. The country is a fertile cannabis retail market, estimated to reach $8.7 billion annually, according to Deloitte. Factoring in ancillary services, such as testing labs, lighting and security systems, and total market size, it could even peak at $22.6 billion. Furthermore, meeting the unprecedented demand for recreational marijuana will mean producing over 600,000 kilograms more per year, far more than existing licensed producers grow for current medicinal purposes. These numbers are no secret, and to combat this shortage in supply, cannabis producers across the country are strategically positioning themselves to capitalize on the growth opportunity. One recent strategic partnership that resonated across the market was that of The Green Organic Dutchman Holdings (TGOD) and Aurora Cannabis, Inc. (ACB:CA)(ACBFF), which is already one of Canada's largest and most-established cannabis companies.
Aurora Cannabis, which sports a market cap of about CA$6 billion, has made a strategic investment of $55 million into TGOD through a private placement of 33,333,334 units, priced at $1.65 per unit. With a sizeable boost to its war chest, TGOD is better positioned than ever to execute its growth strategy as well as complete the previously announced initial public offering in March 2018.
Rapidly Capturing Market Share at a Great Time
More specifically, this deal accelerates TGOD's expansion plans, connects the company to Aurora's growing portfolio of partner companies, reduces risk and completely validates the company's business plan in full. From the company's perspective, this move could chart the course to potentially follow a similar path as Aurora, which was trading at a little more than $2 per share as of Spring 2017 and now trades above $10.
"Partnering with the industry leader, in terms of innovation and execution, validates how TGOD's differentiated business model creates substantial value for our partners and shareholders, said TGOD's CEO Rob Anderson. "This is a synergistic partnership that will help TGOD reach an international audience with its premium products and rapidly capture market share in this incredibly dynamic market, and will provide further differentiation and diversification to Aurora's product offering."
In addition, besides the hefty investment, TGOD and Aurora arranged a synergistic supply contract where the latter has the right to purchase 20% of TGOD's annual organic cannabis output, equaling an excess of 20,000 kilograms annually. The contract allows Aurora to increase this purchase level to 33% if the company increases their ownership interest to 31%. As part of the cornerstone investment, Aurora has the option to increase its investment in TGOD to more than 50% as the company surpasses certain business milestones.
"This strategic partnership between Aurora and TGOD is mutually beneficial in that it accelerates TGOD's market access and penetration through technology and services, as well as through access to capital and distribution channels, while providing Aurora with a significant, sustainable supply of premium organic cannabis and the opportunity to benefit from TGOD's commercial success," said Terry Booth, CEO of Aurora.
This development comes ahead of TGOD's much-anticipated upcoming IPO. The company has been ahead of the curve for some time now and has long understood the supply-demand gap approaching the market. It's no wonder they believe their valuation will at least be in line with their peers.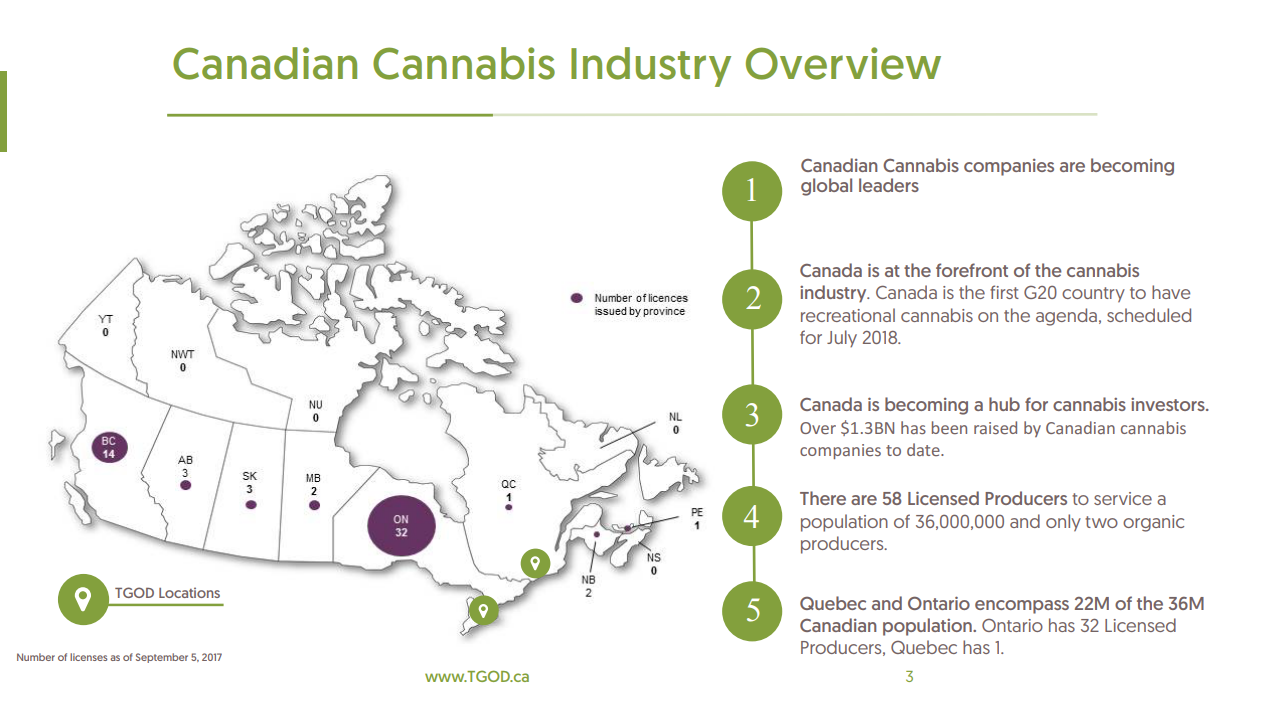 An Ultra-Low Cost, High-Quality Producer
To date, TGOD has raised $160 million, furthering the build-out of its 970,000-square-foot hybrid greenhouse facilities in Ontario and Quebec. To go into further details, the company is finalizing the expansion at its fully funded Ontario facility that will produce 14,000 kilograms per annum, and alongside Aurora Larssen Projects Ltd. (ALPS), TGOD is starting the construction of an 820,000-square-foot-high technology hybrid greenhouse in Quebec about 30 miles outside of Montreal that will produce 102,000 kilograms per annum. The latter is a truly cutting-edge facility equipped with a climate-controlled environment paired with some of the most advanced automatization technology available, including separate zones with independent air handling and environmental systems. This state-of-the-art environment will be an ideal location for TGOD to cultivate the high-quality organic cannabis it is known for.
"Together with Aurora and its subsidiary ALPS, the industry-leading design consultancy for high-technology hybrid greenhouses, we will be able to accelerate our business plan and establish TGOD as the world's premier provider of premium organic cannabis," said Csaba Reider, President of TGOD. "Utilizing Aurora`s distribution channels will further strengthen our own deep consumer packaged goods and brand-building experience, and increase our market reach."
The investment from Aurora will only strengthen the project development in Ontario and Quebec while increasing savings and enhanced yields. And the end product will be pesticide-free, grown in soil, without the use of synthetic fertilizers. This may seem like a small detail, but organic cannabis is an important issue for Canadian consumers who resoundingly purchase organic cannabis. One important reason for cannabis to remain free from pesticides and toxins is that, as the product is heated, any harmful agents will pass into a patient's digestive tract. This issue is also mirrored in cannabinoids as well. That said, TGOD is one of only two ACMPR licensed producers in Canada specializing in organic cannabis.
"We grow a completely organic product, which is one of our differentiators," Danny Brody, Vice President of Investor Relations for TGOD, said to Equities in November. "We believe that cannabis is medicine, and anything that you're ingesting that is medicine—whether it's smoked or eaten—should be organic. There are so many pesticides out there nowadays that, especially when heated up, you just never know what the side effects are of what might be used to grow some of these things. So, from day one, we believed that an organic product is key."
TGOD is also ahead of the game when it comes to logistics and reducing operation costs, making it a leader as an ultra-low cost, high-quality producer in the cannabis sector. The company has strategically located its facilities in Ontario and Quebec because of their large populations, easy shipping routes and the latter's cheap power rates (an estimated 5.1 cents per kilowatt per hour). However, even though Ontario has higher kilowatt-per-hour averages, TGOD arranged a unique deal with the Hamilton Utility Corporation and Eaton, a global power management company, to maintain their goal of low electricity costs.
"We knew that, being in Ontario, we would face a high cost of power and needed to find a way to reduce that further," Brody explained to Equities. "Working with our strategic partner, Eaton, which is a $30 billion company, they helped us partner with the Hamilton Utility Corporation, which is the city of Hamilton's actual utility company. We got them to develop a 6-megawatt cogeneration natural gas power plant on our property right beside our facility to drop our cost per kilowatt hour down to approximately 5 cents. That's a huge saving."
Brody continued. "If you're not focused on that now, today, building the facilities to withstand margin compression when it comes, you'll be left behind. We're firm believers that we need to build the most efficient, the most sustainable, the most advanced, the most automated facilities out there to maintain that standard, and we need to be thinking about it now, which is exactly what we're doing."
In addition to Aurora Cannabis, TGOD is being guided by an impressive leadership team that has already brought two licensed producers public in the past and is now charging hard for something even bigger.
"This is a global industry that has the potential to be the biggest economic opportunity in our lifetime," Brody told Equities. "The disruptive potential for everything associated with the plant — edibles, drinks, pharma, pet care and potential cures for diseases — is staggering, and the Green Organic Dutchman will be an international reputable brand that people can trust."
To learn more about The Green Organic Dutchman, visit https://tgod.ca/ and signup for their newsletter to stay up to date on all the company's developments.
---
In the interest of full disclosure, we call the reader's attention to the fact that Equities.com, Inc. is compensated by the companies profiled in the Spotlight Companies section. The purpose of these profiles is to provide awareness of these companies to investors in the micro, small-cap and growth equity community and should not in any way be considered as a recommendation to buy, sell or hold these securities. Equities.com is not a registered broker dealer, investment advisor, financial analyst, investment banker or other investment professional. We are a publisher of original and third party news and information. All profiles are based on information that is available to the public. The information contained herein should not be considered to be complete and is not guaranteed by Equities.com to be free from misstatement or errors. The views expressed are our own and not intended to be the basis for any investment decision. Readers are reminded to do their own due diligence when researching any companies mentioned on this website. Always bear in mind that investing in early-stage companies is risky and you are encouraged to only invest an amount that you can afford to lose completely without any change in your lifestyle. Equities has been compensated with cash, common shares and/or warrants for market awareness services provided.
DISCLOSURE: The views and opinions expressed in this article are those of the authors, and do not represent the views of equities.com. Readers should not consider statements made by the author as formal recommendations and should consult their financial advisor before making any investment decisions. To read our full disclosure, please go to: http://www.equities.com/disclaimer
Companies