AbbVie Gets Approval for Endometriosis Pain Treatment Developed by Neurocrine Biosciences
Edward Kim Follow |

The Endometriosis Foundation of America estimates that one out of every 10 women in the US suffers from endometriosis, an inflammatory disease occurring when tissue similar to the lining of the uterus, or endometrium, migrates outside of the womb. Endometriosis affects an estimated 200 million women worldwide, many of whom experience a decade-long delay in diagnosis. Symptoms include pain and cramping, long periods, heavy menstrual flow, bowel and urinary disorders and even infertility.

Endometriosis pain is often managed with oral contraceptives, over-the-counter painkillers, opioids and hormonal therapies, which can work for some women but are generally not specifically indicated for the treatment of endometriosis. Surgery is often pursued in more extensive cases, though it may not be curative for all individuals.

AbbVie ABBV announced this morning that it received approval for ORILISSA (elagolix), the first FDA-approved oral treatment for the management of moderate to severe pain associated with endometriosis in over a decade. Elagolix is a gonadotropin-releasing hormone (GnRH) antagonist that works by blocking GnRH receptors on the pituitary gland, thereby suppressing the secretion of estrogen and progesterone to provide patients relief from the painful symptoms of endometriosis.




Source: Endometriosis Foundation of America


Orilissa was developed by Neurocrine Biosciences NBIX, which entered into a collaboration with AbbVie in 2010 to develop and commercialize elagolix and all next-generation GnRH antagonists for women's and men's health. AbbVie made an upfront payment of $75 million at the time and is committed to additional development and regulatory event-based payments of up to $480 million and commercial event-based payments of up to an additional $50 million. According to Neurocrine's Form 10-Q for the quarter ended March 31, 2018, $75 million has been earned to date from AbbVie.

John Carroll writes in Endpoint News that "analysts tap [elagolix] as a likely $1.2 billion-plus drug" for AbbVie, a step in the right direction for the company that will lose patent protection in about five years for Humira, its flagship anti-inflammatory drug that generated $18.4 billion in revenue in 2017. AbbVie's next regulatory milestone may be the supplementary approval of elagolix for uterine fibroids, which we discussed in this space in March 2018.


ORILISSA represents a significant advancement for women with endometriosis and physicians who need more options for the medical management of this disease. The approval of ORILISSA demonstrates AbbVie's continued commitment to address serious diseases and unmet needs.


- Michael Severino, MD, EVP, Research and Development and Chief Scientific Officer, AbbVie.

The approval of ORILISSA is supported by data from two studies in the largest endometriosis Phase 3 study program ever conducted, which evaluated nearly 1,700 women with moderate to severe endometriosis pain. Clinical trial data demonstrated that the drug significantly reduced the three most common types of endometriosis pain: daily menstrual pelvic pain, non-menstrual pelvic pain and pain with sex.


Endometriosis is often characterized by chronic pelvic pain that can impact women's daily activities. Women with endometriosis may undergo multiple medical treatments and surgical procedures seeking pain relief and this approval gives physicians another option for treatment based on a woman's specific type and severity of endometriosis pain.


- Hugh S. Taylor, MD, study investigator and Chair of the Department of Obstetrics, Gynecology and Reproductive Sciences, Yale School of Medicine.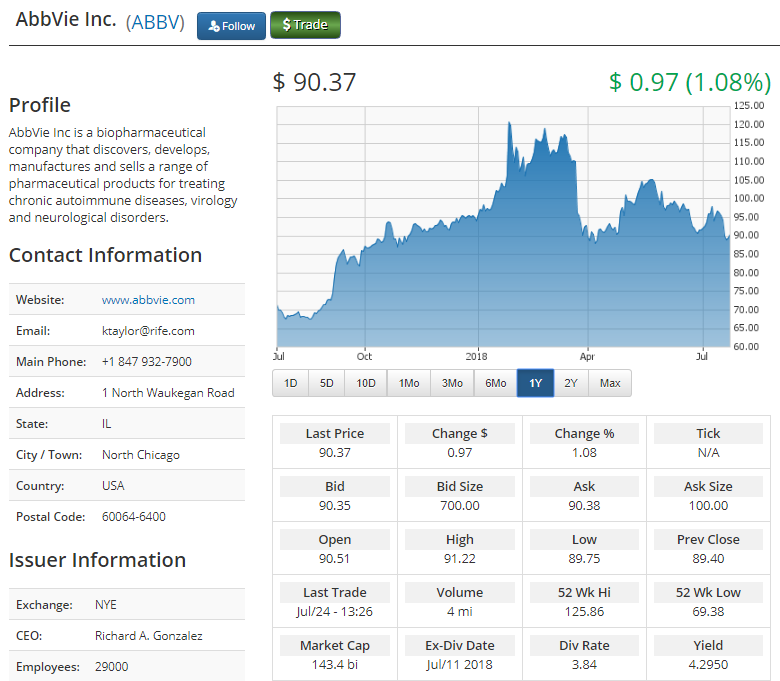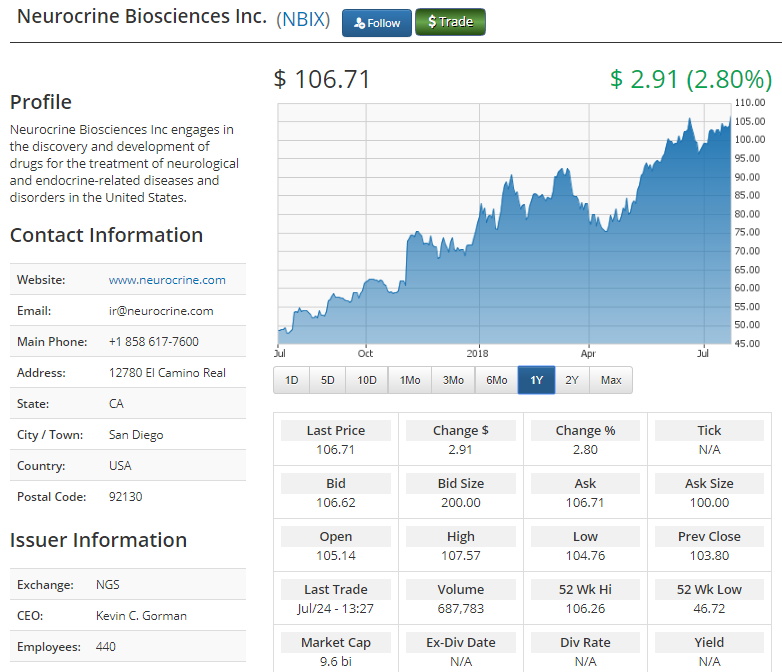 Trade Commission-FREE with Tradier Brokerage
Please email us at content@equities.com to see our Case Studies and Testimonials.

Please click here for information on our new trading platform.
Please click here to see our weekly newsletter.
DISCLOSURE: The views and opinions expressed in this article are those of the authors, and do not necessarily represent the views of equities.com. Readers should not consider statements made by the author as formal recommendations and should consult their financial advisor before making any investment decisions. To read our full disclosure, please go to: http://www.equities.com/disclaimer.
Market Movers
Sponsored Financial Content