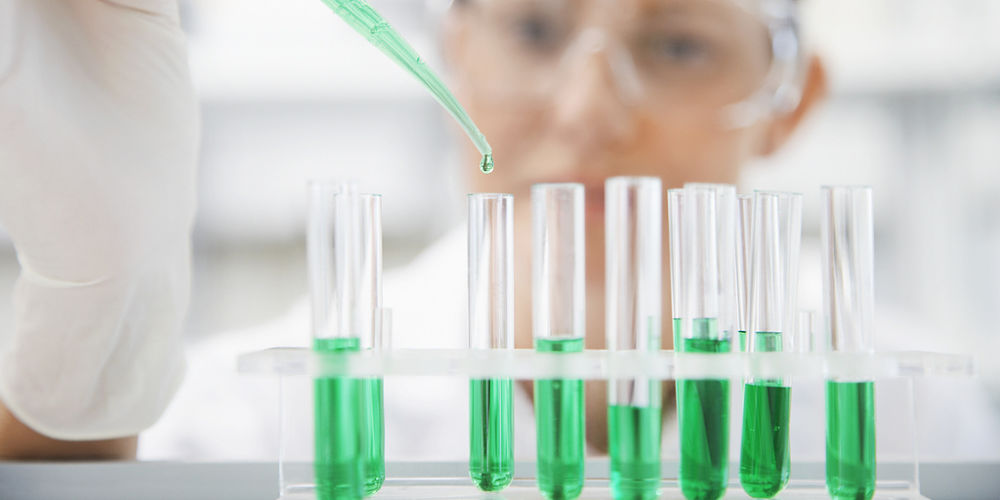 Image via myfuture/Flickr CC
Shifting a paradigm is no easy task, particularly in the generally complacent, "minimize changes" healthcare industry. Nonetheless, Pressure BioSciences (PBIO) set out to do just that in the critical field of sample preparation, which is one the most fundamental elements of scientific research. The company planned to do this by introducing their patented, powerful and enabling pressure cycling technology ("PCT") platform to the worldwide scientific research community, as a new and enhanced way for scientists to break open cells to study the biomolecules inside. The innovative platform provides an improved starting point for significant discoveries that could potentially lead to the development of new treatments, new preventive strategies, or even new cures.
As if leading this massive industry change wasn't daunting enough on its own, over the past five years, Pressure BioSciences has actually had to deal with a number of obstacles that only compounded the already high degree of difficulty. The company has had to overcome some major financial and operational challenges, not the least of which was operating with only a lean staff over this critical period, as it attempted to change the hearts and minds of the scientific community. But astoundingly, it seems that Pressure BioSciences may have finally hit that ever-elusive inflection point it's fought so ferociously to find all these years, and the proof is in the numbers.
In 2016, the company grew revenue in its key products and services segment by 27% compared to 2015, and its consumables revenue by a significant 37%. But the growth rate was even more pronounced in the 2016 fourth quarter, in which products and services revenue increased by 55% and consumables revenue was up an astounding 70% over 2015. Total revenue also increased for the fiscal year and fourth quarter of 2016 by 10% and 15%, respectively.
"In the past year-and-a-half, we've had more traction than we've probably had in the previous five," said Richard T. Schumacher, CEO of Pressure BioSciences. "We decided about four years ago that the best way to get more scientists to use our PCT platform was to go after the global key opinion leaders, and to get them to use our cutting-edge PCT technology platform for their essential sample preparation work. It has taken a number of years, cost a lot of money, and required a tremendous amount of effort, but we believe the program has been highly successful, especially in the past 12-18 months. It has been very gratifying to have worldwide experts in proteins, lipids, and DNA publish and present data in noteworthy journals and meetings that highlight the key advantages of the PCT platform in their research studies, as compared to the sample preparation methods they have used historically."
The company is building on that momentum by significantly expanding its marketing, sales and distribution capabilities. It has recently contracted with EKG Sales Associates, a well-known life sciences lead generation firm with a contact database of over 50,000 scientists from academia, government, pharma, and biotech. Pressure BioSciences has also recently announced the hire of two full-time field sales directors, and has stated that it intends to hire two additional field sales directors in the coming weeks. The expanded salesforce is a stark contrast to the company's capacity in the past, which relied primarily on two part-time field sales directors in the US, and several distribution partners internationally.
In fact, due to the previous financial constraints, Pressure BioSciences was only able to maintain nine full-time employees, all the while executing on its strategy. In spite of this, the company was still able to achieve an impressive number of milestones, including expanding its customer base from about 30 to over 150, as well as its instruments in the field from about 60 to nearly 300. The company has also added to the number of key opinion leaders using the PCT platform, which Schumacher estimates has grown from about three to as many as a dozen or more.
In addition, the company has successfully paid off nearly $3 million in floorless debt; developed and released a new, next-generation PCT-based sample preparation instrument; and signed a co-marketing agreement with SCIEX, a global leader in life sciences analytical technologies.
---
---
These accomplishments of the past several years put the company in a better position to achieve its stated goal of up-listing to the NASDAQ Stock Market. A successful up-listing would open up the company to potential institutional ownership, further validating that Pressure BioSciences is indeed on the right track. An up-listing would also generate wider awareness and recognition for the company as many financial firms are restricted from discussing stocks with their clients that are not trading on the major national exchanges.
So why is Pressure BioSciences' PCT technology so drastically different? Unlike other sample preparation methods, PCT essentially breaks open a cell through the precise application of multiple cycles of pressure, carefully squeezing the cell open. Compare that, as an example, to smashing the cells open by spinning them with small metal or plastic beads in a test tube with a centrifuge or vortex. Ultimately, the exquisite controllability of the PCT process allows scientists to have a much better, higher quality, starting point in their research. And higher quality sample preparation upstream makes downstream discovery much more possible.
According to Schumacher, the inflection point began to come into focus in early 2015, when a number of key opinion leaders in the scientific community published studies of Pressure BioSciences' PCT technology, highlighting its effectiveness as a sample preparation method. Schumacher noted an article published in the March 2015 issue of Nature Medicine by authors Dr. Tiannan Guo, Dr. Ruedi Aebersold, and colleagues, ETH Zurich Switzerland, Turku Finland, Heidelberg Germany, and St. Gallen Switzerland, as a major turning point for Pressure BioSciences.
"Professor Aebersold is generally considered one of the top protein chemists in the world," Schumacher said. "In their Nature publication, Professor Aebersold and colleagues highlighted the advantages of the PCT system for sample preparation. From that point, our lives changed. Doors were opened to multiple companies, especially companies that sold mass spectrometers, the instrument that has become the "Gold Standard" for understanding the composition of a protein. These discussions led to our co-marketing deal with SCIEX, one of the top market leaders for mass spectrometry in the world, and a subsidiary of the $60 billion Danaher Corporation (DHR)."
Last year, the company unveiled the Barocycler 2320EXTREME, the next generation in its Barocycler instrument product line, at the American Society for Mass Spectrometry's annual conference, which also included presentations from six separate research groups from around the world that highlighted the advantages of the PCT Platform.
More recently, the Barocycler 2320EXTREME received the 2017 North American Excellence Award for "Best New Instrument for Sample Preparation" from Corporate America News, a leading magazine in the US business market with more 135,000 subscribers. The Barocycler 2320EXT has also recently achieved CE Marking, which means the company is now permitted to sell the instrument in the European Economic Area (EEA).
"It's been a painstakingly slow process," Schumacher said. "It's been slow because we're breaking a paradigm that has existed for years and years, and we've had very little cash to do it, so it's taken a longer time than expected. But I believe with all the successes of the past two years, that we are finally at the important inflection point. I have said several times over the past six months that our two biggest goals for 2017 are to build a direct field sales team and to up-list the company onto NASDAQ Stock Market. We're on target to do both. We believe these and other successes have set Pressure BioSciences up well for success in 2017 and beyond."
Disclosure: In the interest of full disclosure, we call the reader's attention to the fact that Equities.com, Inc. is compensated by the companies profiled in the Spotlight Companies section. The purpose of these profiles is to provide awareness of these companies to investors in the micro, small-cap and growth equity community and should not in any way be considered as a recommendation to buy, sell or hold these securities. Equities.com is not a registered broker dealer, investment advisor, financial analyst, investment banker or other investment professional. We are a publisher of original and third party news and information. All profiles are based on information that is available to the public. The information contained herein should not be considered to be complete and is not guaranteed by Equities.com to be free from misstatement or errors. The views expressed are our own and not intended to be the basis for any investment decision. Readers are reminded to do their own due diligence when researching any companies mentioned on this website. Always bear in mind that investing in early-stage companies is risky and you are encouraged to only invest an amount that you can afford to lose completely without any change in your lifestyle. Equities has been compensated with cash, common shares and/or warrants for market awareness services provided.

DISCLOSURE: The views and opinions expressed in this article are those of the authors, and do not represent the views of equities.com. Readers should not consider statements made by the author as formal recommendations and should consult their financial advisor before making any investment decisions. To read our full disclosure, please go to: http://www.equities.com/disclaimer