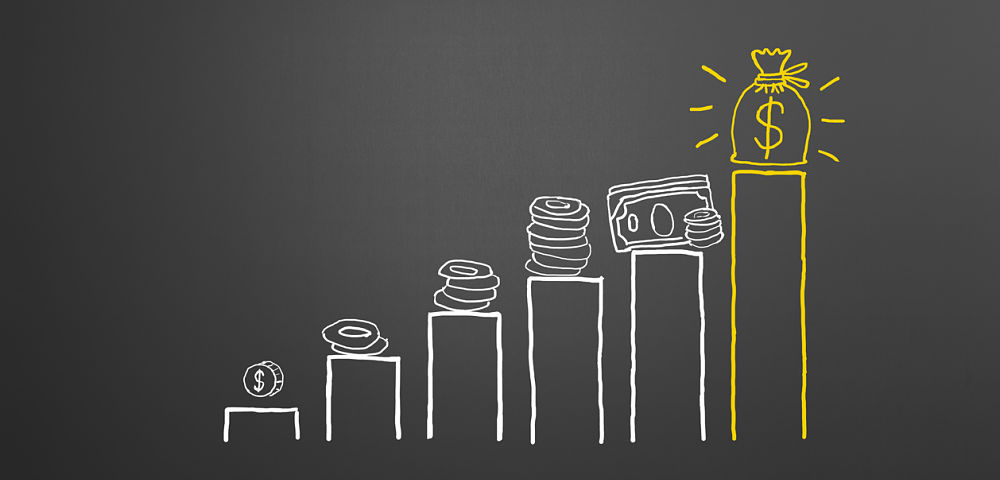 There are three hidden gems in the stock market currently that dividend investors should keep a careful eye on. These stocks are value plays that boast a relatively high dividend yield, along with an impressive 3 year Dividend Growth Rate. They are all near the lower end of their 52 week range and at an important technical support level. I expect institution demand to flow in for these dividend stocks, which will help raise the stock price of each going into the end of 2018.
The first Dividend stock on the list is IBM.
Company: IBM
Symbol: IBM
Market Cap: Large Cap
Sector: Technology
Dividend Yield: 4.31%
Dividend Growth: 11.60 ( 3 year average )
Company Profile: IBM is a world renown computer and technology company based in the US. IBM specializes in the manufacture and sale of computer hardware equipment. In addition, it provides consulting and other technology services in the computer mainframe space. IBM employs over 400,000 individuals and its gross business revenue exceeds 100 billion dollars per year.
Fundamentals: The company currently trades at a forward P/E multiple of just 10.43x. This is much lower than the industry average which is over 75x. It has a solid dividend yield of 4.31% and a 3 year average dividend growth of 11.60. The company is a leader in blockchain technology which should help support its stock price as its application continues to grow more mainstream.
Technicals: Below you will find the weekly chart of IBM. The stock is trading at the lower end of its 52 week range. It has recently bounced off critical support at 139. It is likely that the support will hold, and if so the next major level of resistance is near the 170 area, which is my target for IBM by the end of 2018.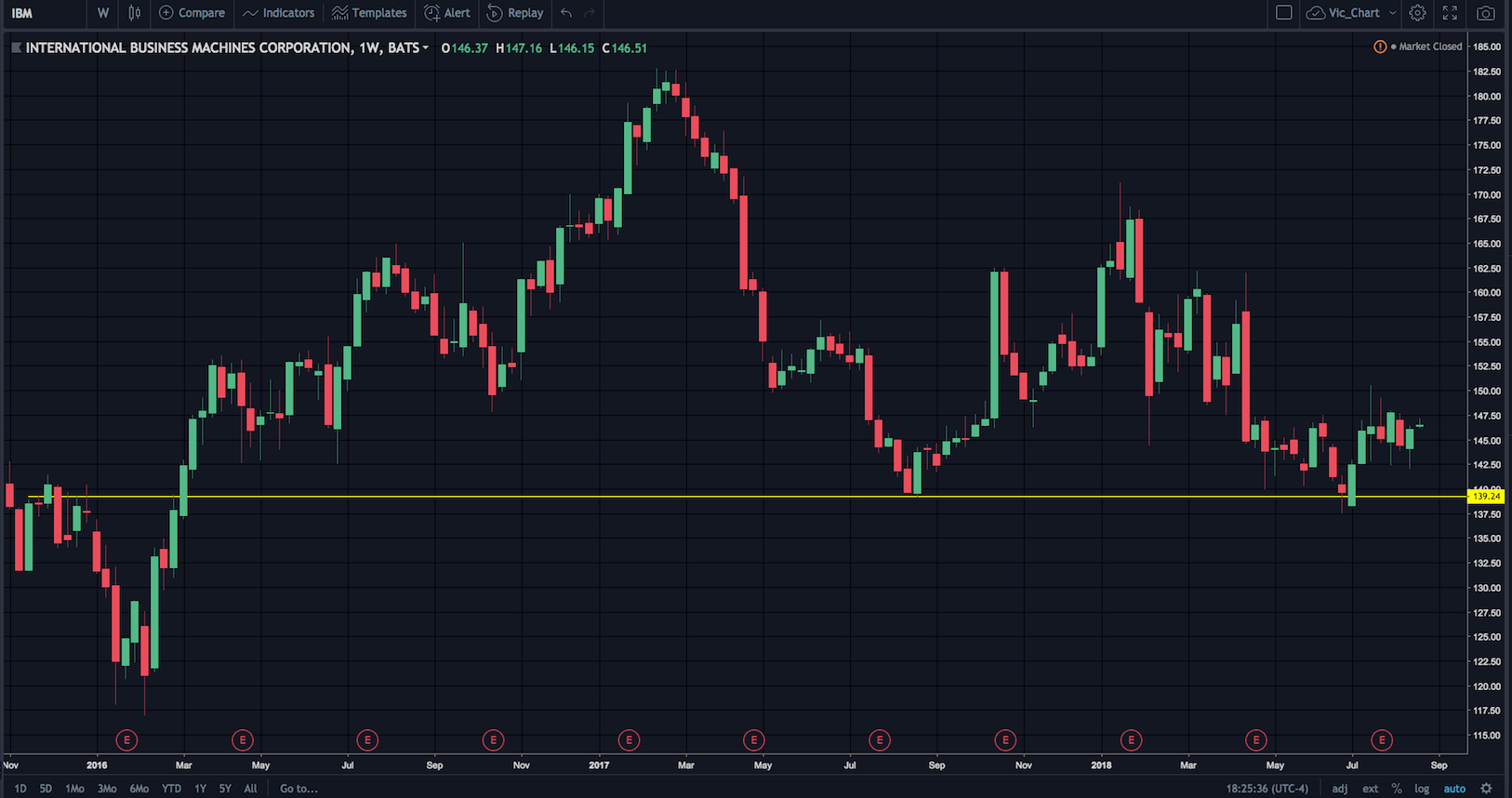 The second Dividend stock on the list is Newell Brands.
Company: Newell Brands
Symbol: NWL
Market Cap: Mid Cap
Sector: Consumer Household
Dividend Yield: 4.23%
Dividend Growth: 10.10 ( 3 year average )
Company Profile: Newell Brands is an international consumer products firm with specialties in Home products, consumables, child care products, outdoor products, and other solutions for the home and office. Some of its brands include Rubbermaid, Sunbeam, Tigex, Yankee Candle, and Mr. Coffee.
Fundamentals: With a forward P/E of 9.48, and trading near its 52 week low, value investors should take notice of this stock. In addition to being priced at very attractive levels, it also boasts a nice dividend yield of 4.23%, and a 3 year average dividend growth of 10.10%. The company has been aggressively buying back its stock and expects to repurchase about 145 million shares, a whopping 30% of the shares outstanding.
Technicals: The chart below shows the weekly chart of Newell Brands. As we can see, the stock price has been under pressure and has fallen sharply from its 55 high over the last year. The momentum to the downside is waning as it is approaching a key support level at $20. The stock is quite oversold at this time, and it is likely that if we can see a nice bounce off the $20 support level over the next few weeks, then the price would likely move higher to test is first level of resistance to the upside which would be the $35 level.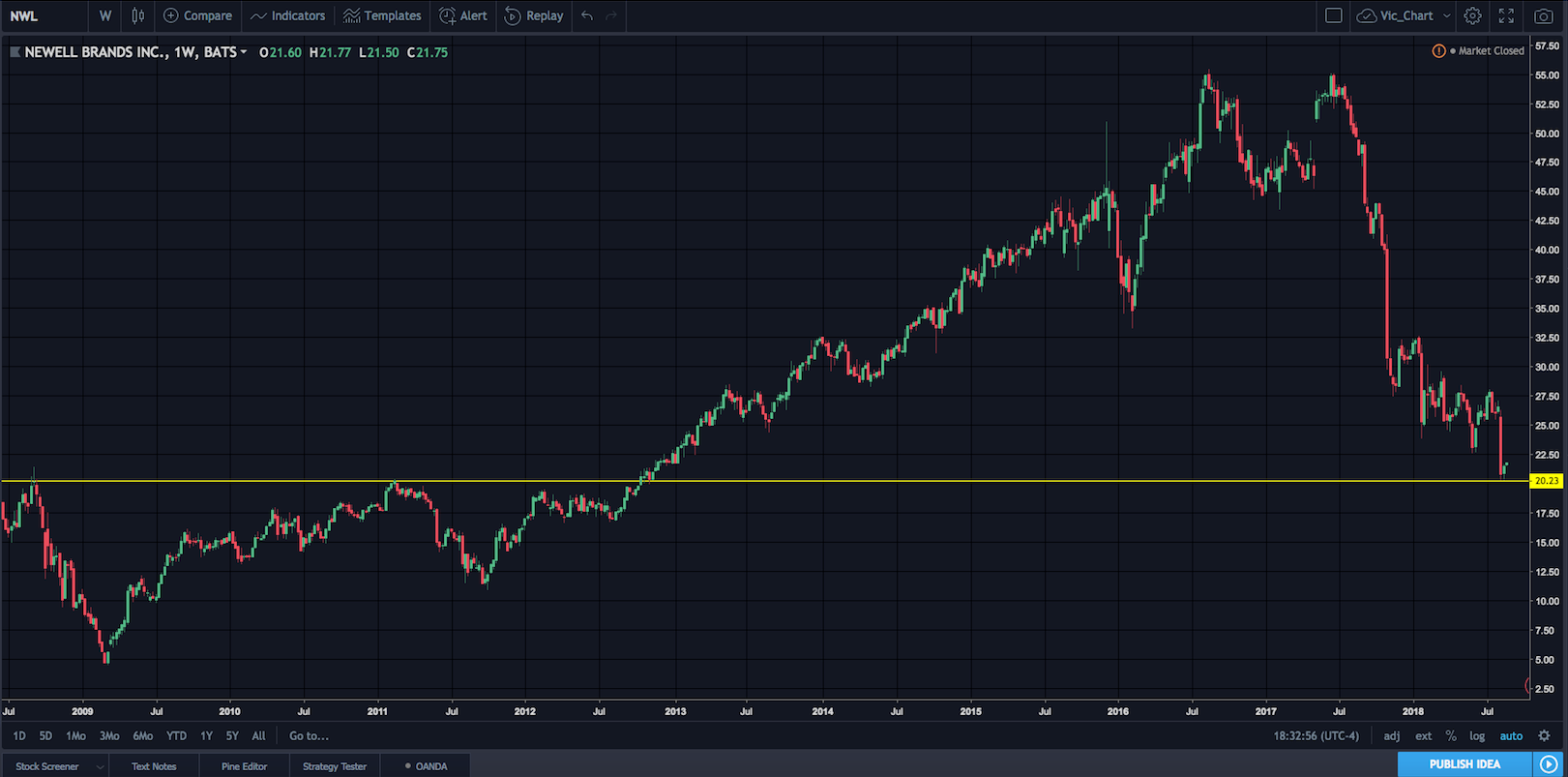 And last but not least, the third Dividend stock on the list is Summit Hotel Properties.
Company: Summit Hotel Properties
Symbol: INN
Market Cap: Small Cap
Sector: Lodging
Dividend Yield: 5.29%
Dividend Growth: 13.50 ( 3 year average )
Company Profile: Summit Hotel Properties is a REIT, real estate investment fund, that is in the business of purchasing and operating mid to upper scale hotel and lodging properties across 24 states. They are headquartered in Austin Texas. Their portfolio of properties includes approx. 100 hotels and growing. The properties are primarily located near airports, leisure attractions, and other busy locations. Some of the brands that Summit operates under include Hilton, Hyatt, and Marriott.
Fundamentals: Summit Hotel Properties pays an impressive 5.29% dividend yield, and has posted a solid 13.50 Dividend Growth over the last 3 years. As a small cap, this stock tends to be more volatile as is evidenced by the Beta reading of 1.21. The company has raised its dividend for 4 straight years. The company's quarterly revenue was up 17.9% as compared to the same quarter 2017. The company has a payout ratio of 56.4%, and the dividend is comfortably covered by its earnings.
Technicals: Referring to the chart below of Summit Hotel Properties, you will notice that it is currently trading around the 13.50 level, down from its mid $19 high from June 2017. The stock is approaching a key support level of 12.80, where prices have previously bounced off sharply to the upside. Momentum is also waning to the downside as price action has been overlapping and consolidating over the last four to eight weeks. It doesn't appear that the bears are able to push this stock much lower, and I expect demand to emerge at the $12,80 support level. After that the most likely price target would be $16.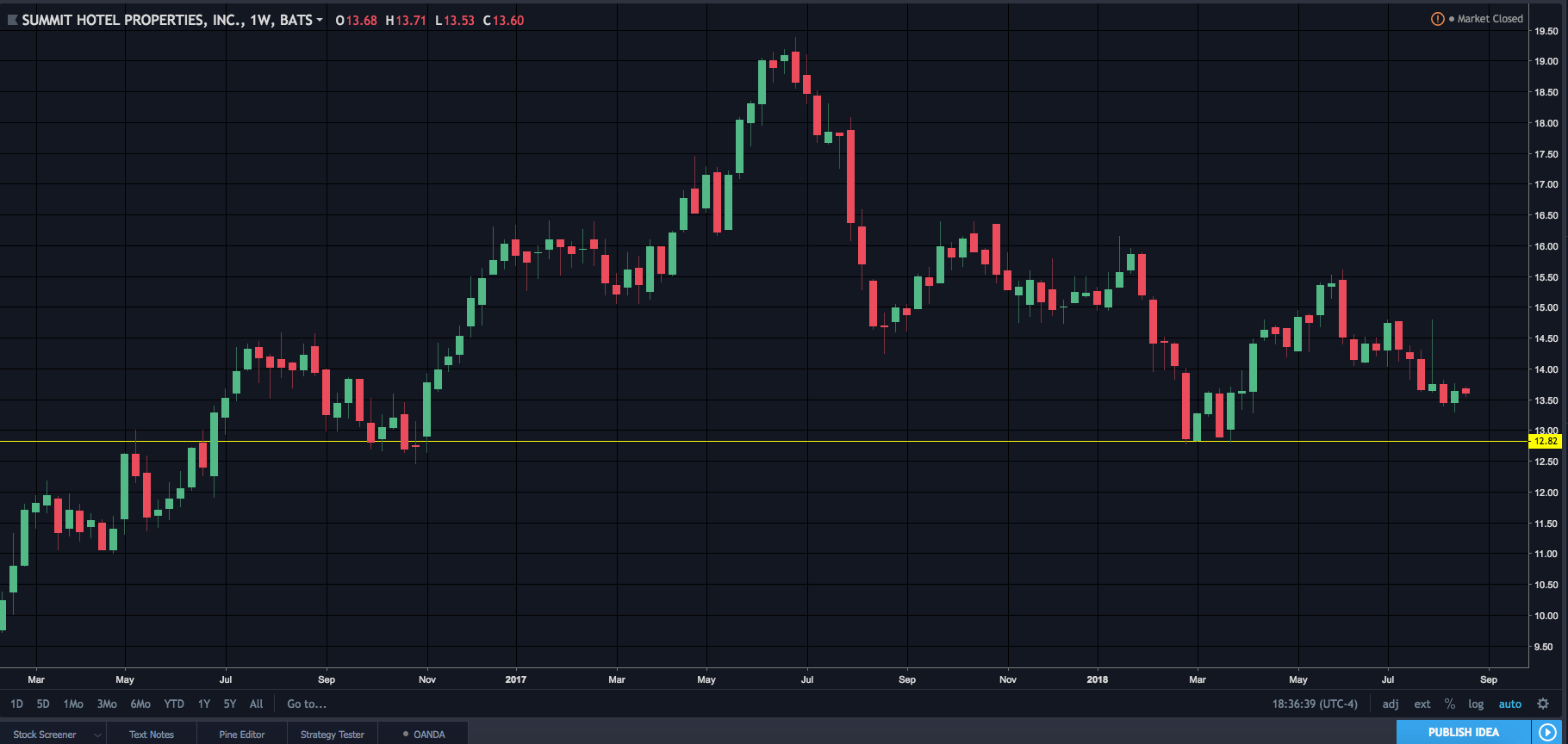 I have provided 3 dividend stocks that I believe are a great buy at this time and which I expect to rally by year end. They include IBM, Newell Brands, and Summit Hotel Properties. All three of these stocks have been beaten up over the last year and appear to be quite oversold at this juncture. In addition, they are all approaching key technical levels, that should bring in major institutional buying interest. And best of all, each of these stocks offer a solid dividend over 4%.
This article is a guest post provided by Vic Patel. He has extensive knowledge and experience in the Equities, Futures, and Forex markets. He is a private trader and educator at Forex Training Group.