Image source: Zoom Video Media Gallery
After the end of an extended Lunar New Year holiday, when 20 cities have been under lockdown due to the coronavirus outbreak, China's markets returned to a rout.
An outbreak and an already weakened Chinese economy
The benchmark Shanghai Composite Index plunged 7.7% on Monday. Similarly, the Shenzhen Composite Index fell 8.4%. The Wall Street Journal reported Monday's collapse was the biggest one-day drop in 8 years, while Quartz wrote that 3,000 stocks across the country's two major exchanges saw trading suspended after sinking below the daily limit of 10% in losses.
To make matters worse, the day-to-day wheels of commerce have ground to a halt. In 24 of China's 31 provinces, municipalities, and autonomous regions, including Beijing and Shanghai, authorities have told businesses not to reopen before Monday, February 10, 2020, at the earliest. This mandate means subways and streets usually bustling with activity are eerily empty.
Compounding the mushrooming effect from the virus, China is still reeling from a prolonged trade war with the U.S. In Q3 2019, GDP growth rates were at a wheeze. Reuters reported the country tallying its lowest percentage since 1992, a 6.0% increase in GDP from the year prior. The Purchase Managers' Index (PMI) fell to 50.0 in January 2020 from 50.2 in December 2019, hitting the neutral point between growth and contraction.
Can videoconferencing save the day?

"Business interruption and closures are likely to be especially devastating for many small and medium-sized enterprises with impacts that could last into the third quarter of the year," Kaho Yu, a China expert at Verisk Maplecroft, told Foreign Policy. "The entire production cycle across most industries in China will be delayed due to the virus breakout."
Thus, in an effort to restart operations under quarantine and keep the economy heading in a positive direction, Chinese businesses are testing videoconferencing software at scale. WeChat Work, DingTalk, Huawei's WeLink, Bytedance's Lark and Zoom Video Communications, Inc. all experienced a flood of sign-ups on Monday. DingTalk, owned by Alibaba, said more than 10 million corporate organizations were working from home on the platform, according to their Weibo post. Google, Facebook, Apple, Microsoft and Ford Motor all instructed employees to work from home until further notice.
Many of the above platforms have just started to cater to large corporations by adding more features like multiple rooms and collaborative screen-sharing. Zoom Video is one company that is designed specifically for large organizations, and its stock is coming off one of its best one-day performances in the past eight months.
An entry point into China for Zoom Video
At the time of writing, Zoom Video's stock has increased by 14% in the last two trading days as demand for the software skyrockets. Zoom's CEO Eric Yuan told Mad Money host, Jim Cramer, he had to shut off his phone because so many businesses were calling him for service.
"If you cannot travel … you need to have a very reliable secure tool like Zoom," Mr. Yuan said on Mad Money. "That's why our usage is very, very high since the last of the month, last week. Almost every day, that's a record usage."
A serendipitous outage in Microsoft's Teams software, a competing collaborative work platform, buoyed demand for Zoom. Microsoft fixed the service interruption by yesterday afternoon, but most companies were looking to move fast.
China does not represent a large portion of Zoom Video's business to date, even though it has "more than 700" employees in the country working on R&D, according to its 10-Q. Therefore, we believe investors might be turning long on the stock as paid subscribers increase from the previously untapped Chinese market.
Potentially, the beginning of a new trend
In Commercial Integrator, a website that covers business needs, Zachary Comeau considered the idea that the coronavirus might force business leaders to look at videoconferencing in a different light. For example, a business might now install the software as a risk-mitigation or disaster recovery tool. "Videoconferencing has now arced from 'convenient' to 'prudent,'" said Jeff Ashachik, VP of recruiting at HireSparks, in the website's article on the issue.
To this point, Mr. Yuan said the outbreak in China is only accelerating a broader trend across the business world.
"Ultimately, almost every company, they need to have a tool like this. I think that based on IDC estimates by 2023, that's a $43 billion market. Look at our revenue last quarter. I think we're just starting."
Wall Street has been hot and cold on the cloud videoconferencing company. Going public in April 2019, Zoom Video's stock debuted at $36 per share. Then, the stock traded as high as $107.34 in June 2019, but fell into the $60 level in October 2019.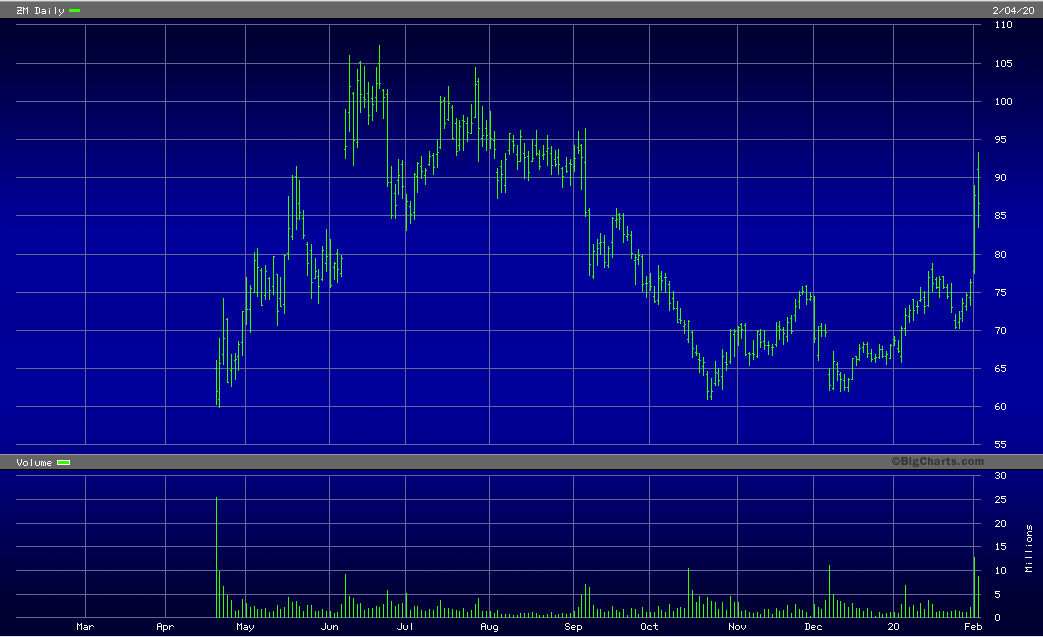 Image: BigCharts
Zoom Video will release results for its fourth quarter and full fiscal year 2020 on Wednesday, March 4, 2020, after the market closes.
_____
Equities Contributor: Stephen L. Kanaval
Source: Equities News