Short bowel syndrome is a complex group of diseases caused by the loss (or loss of function) of part of the small and/or large intestine. Patients with short bowel syndrome can't absorb sufficient nutrients and water from food, and can suffer a range of illnesses including diarrhea, dehydration, severe weight loss and malnutrition. In some cases, the condition can lead to severe, disabling and life-threatening complications. Short bowel syndrome is most commonly associated with the resection of half or more of the small intestine, according to the National Organization for Rare Disorders. Such procedures may be performed to treat diseases such as Crohn's disease, injury or trauma to the small bowel or congenital birth defects.
Short bowel syndrome is a rare condition affecting about three out of every one million people each year. 10,000 to 20,000 people in the US are estimated to have short bowel syndrome, according to Fred Ferri's Clinical Advisor 2015. There is no cure for short bowel syndrome, and patients are generally treated through total parenteral nutrition (TPN) involving IV fluids and nutrition therapy, enteral (tube) feeding, dietary adjustments, oral rehydration solutions, certain medications and further surgery.
Copenhagen-based Zealand Pharma ZEAL announced today that it has enrolled its first patient in a Phase 3 trial evaluating the potential of glepaglutide as a novel short bowel syndrome treatment. Glepaglutide is Zealand Pharma's long acting GLP-2 analog with potential for once-weekly dosing using an auto-injector pen. GLP-2 (glucagon-like peptide 2) is a naturally secreted gastrointestinal peptide that is associated with optimizing nutrient absorption. Glepaglutide was shown in a Phase 2 trial to increase intestinal absorption in short bowel syndrome patients after only three weeks of treatment.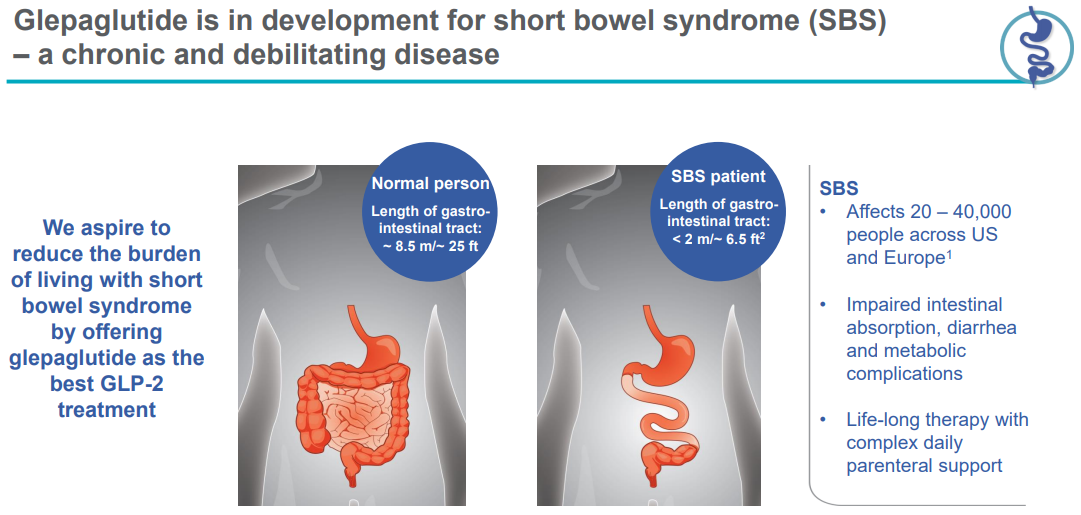 The initiation of our Phase 3 registration trial with glepaglutide is a major milestone for Zealand. We are committed to developing glepaglutide as a potentially life-changing treatment for patients with short bowel syndrome, who suffer from reduced or complete loss of intestinal function.

– Adam Steensberg, EVP and Chief Medical and Development Officer, Zealand Pharma.
Source: Zealand Pharma
Following the impressive Phase 2 results with glepaglutide, I am excited that the Phase 3 trial has now been initiated. Patients with short bowel syndrome need better treatment options and with potential for weekly dosing, I see glepaglutide as a promising new drug candidate.

– Professor Palle Bekker Jeppesen, MD, PhD, Department of Gastroenterology, Rigshospitalet, University of Copenhagen, Principal investigator of Zealand Pharma's phase 3 glepaglutide trial.
Lead candidate completed Phase 3 in severe hypoglycemia
Zealand Pharma's lead candidate, dasiglucagon, showed positive results in a Phase 3 hypoglycemia trial. A single dose of dasiglucagon was shown to rapidly increase blood glucose levels in patients with type 1 diabetes following insulin-induced hypoglycemia. The company also recently initiated a Phase 3 study in children with severe hypoglycemia.

Zealand Pharma's American Depositary Shares have been trading on Nasdaq since August 2017. After a brief post-listing rally, the shares have generally traded in a range from about $13 to $17. At the current $15.62 price, the Danish company has a market capitalization of about $480 million, a modest level given that there are two late stage candidates and a deep pipeline of peptide-based programs that address serious gastrointestinal and metabolic disorders.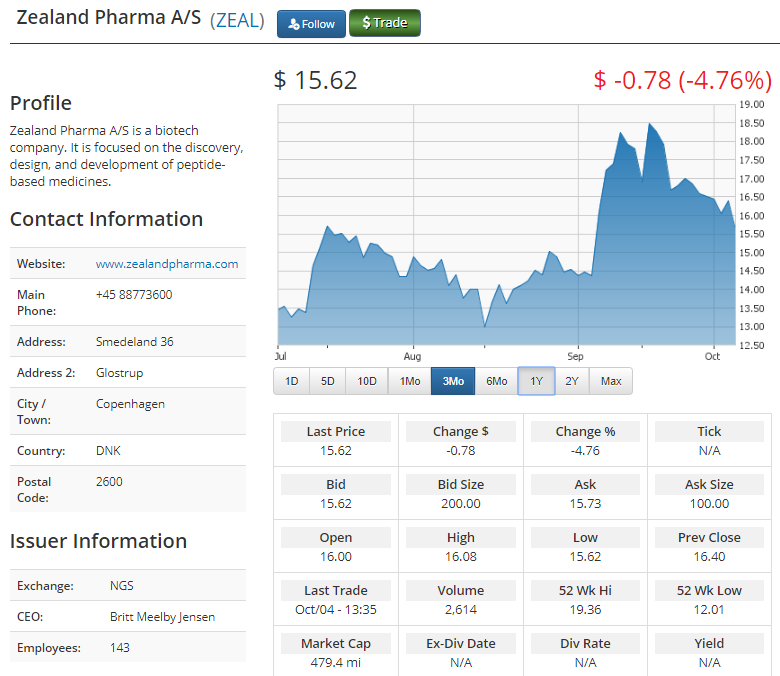 Please email us at [email protected] to see our Case Studies and Testimonials.
Please click here for information on our new trading platform.
Please click here to see our daily newsletter.