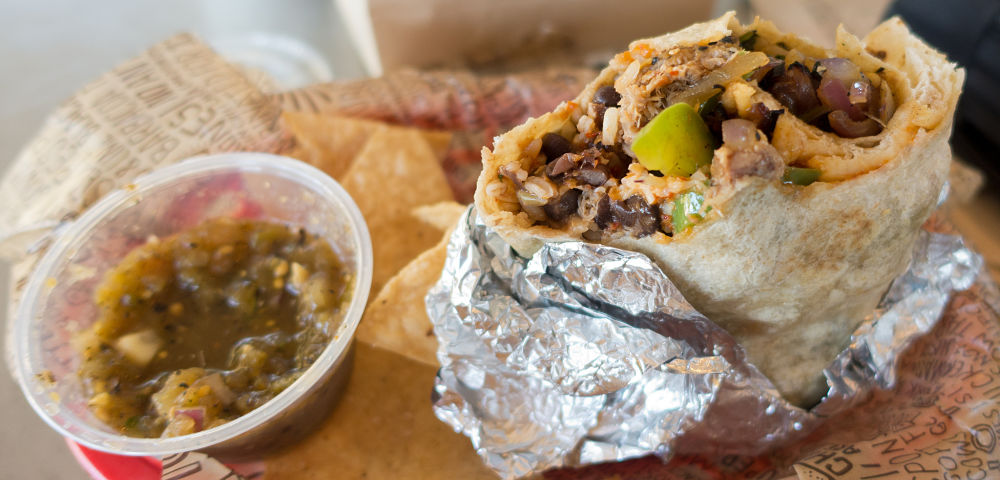 Image via Eric/Flickr CC
The restaurant sector itself isn't necessarily inspiring. Restaurants can get pushed and pulled by labor and food costs and are dominated by older, slow-growing firms. But we see a couple of plays that have great potential going forward, suggests Mike Cintolo, editor of Cabot Growth Investor.
The first was a big leader a few years ago, went through the wringer and is now back on the upswing. Chipotle Mexican Grill (CMG)CMG had an unmatched record of growth through 2015 (earnings grew more than six-fold from 2008 through 2015), but some overexpansion, poor cost controls and, more than anything, a string of contamination issues, crimped business.
Earnings collapsed 90% in 2016, sales slipped 13% and the stock eventually fell about two-thirds from its peak. Now, though, a turnaround looks to be in effect, with earnings and (to a lesser extent) sales perking up, costs and quality seemingly under control and with management continuing its store expansion plan (the store count should rise just under 6% this year).
Analysts see earnings rising 30% this year and another 34% next year, and the stock's reaction to Q1 earnings was terrific. CMG is worth watching.
A more dynamic growth story comes from Shake Shack (SHAK)SHAK, which bills itself as a modern roadside burger joint, with premium burgers, dogs, fries and shakes.
Customer loyalty seems very high. It's got a bit of a cult-like feel to it, in a good way. But competition and higher costs (food and labor, but also store opening expenses) have crimped earnings, which kept the stock under wraps following a post-IPO plunge in 2015.
However, the potential here remains huge — revenue growth has remained excellent for many quarters, and while same-store sales have lagged, they're starting to perk up (up 1.7% in Q1).
Most of all, Shake Shack has a very aggressive and impressive expansion plan — the firm had 159 restaurants in operation at the end of last year, but anticipates 50 new ones this year alone! And management believes it can have 200 company-operated restaurants by 2020 (up from 90 today; the rest are licensed)!
Because of that, analysts see revenues up between 25% and 30% during the next couple of years, with earnings growth finally kicking into gear in 2019.
But that might be too conservative — Q1 earnings easily topped expectations and lifted 44%, causing the stock to go bananas, ripping to multi-year highs on 8 times average volume. We're very intrigued by Shake Shack's growth potential and the stock's action.
Mike Cintolo is editor of Cabot Growth Investor.
Subscribe to Mike Cintolo's Cabot Growth Investor here…
About MoneyShow.com: Founded in 1981, MoneyShow is a privately held financial media company headquartered in Sarasota, Florida. As a global network of investing and trading education, MoneyShow presents an extensive agenda of live and online events that attract over 75,000 investors, traders and financial advisors around the world.