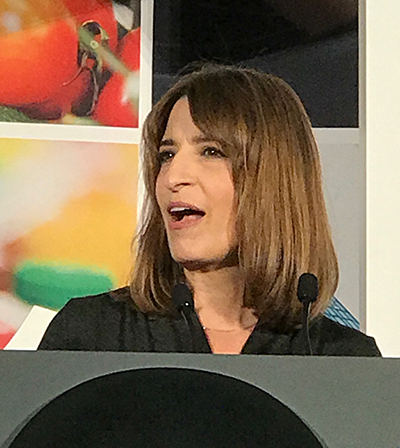 The ancient practice of yoga has become widely popular in the last decade. Praised for its low impact on the body, and proven positive effects on one's mind and health, it is very likely that most have been a student in a yoga class at least once. The idea that yoga is for everyone is key to the mission of Yoga Works. Yesterday at the ICR Conference in Orlando, Florida, Yoga Works CEO, Rosanna McCollough laid out a plan to extend the Yoga Works brand into key markets across the US.
Yoga Works started with one studio in 1987 in Santa Monica, California. The studio was renowned for its passionate and knowledgeable teachers and as yoga expanded across the United States the demand for teachers like the ones at Yoga Works became a serious need. So, Yoga Works started the Yoga Works Teacher Training Program in 1990. Each Yoga Works instructor must take a minimum of 500 hours of Yoga Alliance Certification courses and Yoga Works instructors are considered by many the gold standard around the country.

With accessories, training, merchandise and classes, Yoga has grown into a $16 billion industry. There are now 7,000 studios across the country and the number of yogis has increased from 20.4 million in 2012 to 36.7 million in 2016. Yogaworks has a focused on a studio acquistion strategy and will continue to acquire existing studios as part of their overall strategy. More and more people want to become certified and with currently 37 studios nationwide, Yoga Works has an affordable and prestigious program that has a 5-star rating by Yoga Alliance combined with global recognition. The company has a 200-hour curriculum that includes:
Advanced study of asana (proper alignment, benefits and potential risks)
Principles of anatomy
Science and art of sequencing
Hands-on adjustments
How to observe bodies
Informed use of props to improve or modify a posture
Cultivating your voice
Confidence-building through practice teaching
Yoga history and philosophy
Sanskrit names of postures
The Business of Yoga
Or they offer a 300-hour course that is more personal and hands on. The curriculum includes:
One-on-one mentor relationship to guide you throughout the program and beyond
Observing and assisting your mentor in class
A final project designed to help define yourself as a yoga teacher
Addressing yoga teaching questions and discussions in small group meetings with your mentor and other students
The 300-hour curriculum also offers workshops on:
Teaching vinyasa flow and advanced asana
Practicing hands-on adjustments
Injury assessment and management
Understanding restorative yoga and yoga for chronic illness
Yoga Works besides have consistent studios all over the country also have MyYogaWorks Online. The app and desktop programs are filled with 1,000 yoga professionals and 18,000 users tune in to reset their mind, body and soul each week. Yoga is a growing market and Yoga Works has a very interesting business model because they have united studios across the country, an online revenue stream and they are training instructors around the country as well.
---
---
DISCLOSURE: The views and opinions expressed in this article are those of the authors, and do not represent the views of equities.com. Readers should not consider statements made by the author as formal recommendations and should consult their financial advisor before making any investment decisions. To read our full disclosure, please go to: http://www.equities.com/disclaimer