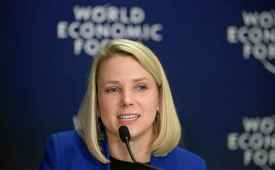 Yahoo! (YHOO) shares are down about 5% Wednesday after the company missed earnings estimates by a penny in Q2. But all eyes were on the company's plans for its Alibaba IPO proceeds. Yahoo owns 524 million shares in Alibaba, and many investors were expecting Yahoo to clarify how it plans to use this cash infusion to revitalize the company.
For the quarter, Yahoo reported a profit of 37 cents per share and sales of $1.04 billion. Analysts were expecting 38 cents on $1.08 billion in sales. CEO Marissa Mayer was "not satisfied" with the quarter, but stressed that Yahoo's turnaround story is a multi-year project.
Investors, however, didn't seem to care that much about Yahoo's one-cent earnings miss. All ears were on its commentary on Alibaba, which simply wasn't satisfactory enough to propel the stock higher.
The big news on Alibaba was that Yahoo will only need to sell 140 million shares, well below the original 208 million share requirement. On one hand, Yahoo will be able to retain a larger stake in a presumably appreciating asset and could work with Alibaba as a strategic partner. Yet, Yahoo will have less cash to distribute and put to work when Alibaba goes public this year.
"We have continued to work very strongly with Alibaba in terms of helping them with thinking about their IPO and working with them. So, we are great partners with them. We absolutely intend to be great partners with them going forward," said CFO Ken Goldman on the call.
However, Mayer and Goldman failed to give investors an idea of what Yahoo plans to do with its enormous Alibaba cash infusion. They committed to returning at least half of the proceeds to shareholders, but spoke as if the remaining funds would be stashed away for a rainy day.
"On this initial tranche, we expect the proceeds to be fully taxed. And we are committed to returning at least half of the after-tax IPO proceeds to shareholders," said Goldman. "We are doing everything we think makes sense to provide cash back to shareholders. On the other hand, we do want to have the ability to have a strong balance sheet."
Both Mayer and Goldman stressed the importance of growing Yahoo's core business. However, they conveyed that they want to grow the company organically and that the Alibaba money won't play a significant role in its growth plans – at least for the moment.
Yahoo also guided its earnings down, estimating between $1.02 billion and $1.06 billion in revenue for the current quarter. Analysts were expecting $1.10 billion in revenue.
DISCLOSURE: The views and opinions expressed in this article are those of the authors, and do not represent the views of equities.com. Readers should not consider statements made by the author as formal recommendations and should consult their financial advisor before making any investment decisions. To read our full disclosure, please go to: http://www.equities.com/disclaimer